The Spanking Blog
This is an adult site dedicated to the exploration of spanking between consenting adults. The main focus is on disciplinary spankings portrayed in various spanking videos and pictures, with sample pictures and reviews of the spanking content. The most recent blog posts appear below, and the free spanking picture galleries on this site can be found on the menu on the left. All spanking content on this site is free, and any link leading you outside of this site is clearly labeled as such. You must be 18 years or older to view this site.
[ Wednesday, March 08, 2017 ]
Tears Series- Raquel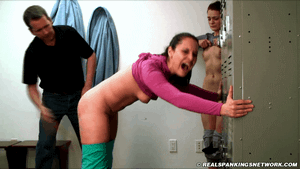 BY REQUEST:
In the world of spanking models, there are those with a spanking fetish that love what they do, and then there are those who absolutely hate to be spanked. In all of our years of filming, there is one model who hated to be spanked more than any...Raquel. Not only did she hate each and every spanking she ever received, she also had a very low pain tolerance. On top of all of this, she was often late, or sometimes did not show up at all for her shoot, which never left me feeling like going very easy on her, as she was someone who clearly needed a little real discipline in her life. I have put together 10 scenes with Raquel, each and everyone which left her in tears. In more scenes than not, these were days in which I was particularly unhappy with her, and it shows in the videos. While there might be some sort of "story line" that accompanies the spankings, you can rest assured that I was giving her a real spanking that I felt that she deserved as a result of her work ethic. While I typically take it easy on the models with a very low pain tolerance, with Raquel my goal was to teach her a very real lesson. In these 10 scenes (plus 2 bonus scenes in which Syrena is also spanked) you will see very real punishments applied with the hand, belt, strap, tawse, and wooden paddle. In many scenes her cute little breasts have been exposed and put on display, and in some cases there is full nudity. This video runs 42 minutes with her spanked to tears each and every time.
[ Tuesday, March 07, 2017 ]
Find me on Fet
As I have recently looked at some of my previous means of communication I realize that many of you have written me, without getting a response for many months. Fetlife is now my primary form of communication, and where I tend to do most of my marketing with previews pictures, new model announcements, and so on. If you are looking to contact me, for whatever reason, Fet is the best place to do so. You can view my FetLife profile here.
[ Tuesday, February 14, 2017 ]
Spanking Awards
Asking again for your help if you think me or my sites deserve recognition. This is good for my business and points people our way, helping us to continue to shoot the best content possible. If you appreciate my work, I would appreciate your support. Links below, one click to vote, no registration required.
2016 Spanking Site of the Year- Realspankings.com
2016 Most Improved Spanking Site of the Year- RealspankingsInstitute.com
2016 Male Spanker of the Year- Michael Masterson
[ Monday, January 30, 2017 ]
Spanking Awards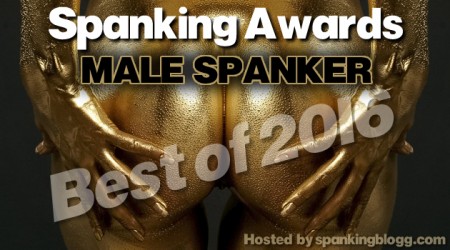 The voting has begun for the 2016 Spanking Awards. I would appreciate your support if you feel my content deserves it. Currently, I am nominated for Male Spanker of the Year, I would appreciate the vote. There will be new categories added soon and several of our models are nominated in other categories. Thanks.
[ Tuesday, January 17, 2017 ]
Realspankings.com
People are a little hesitant currently to pay for a monthly membership to a spanking website. I would like to better inform you all what you actually get and what you can expect from my flagship site Realspankings.com. First of all, I know that people are paranoid regarding monthly billing sites, as it often seems impossible to actually cancel. We have been using CCBill for close to 15 years and there is no mystery there as to how to cancel your subscription. Hell, I will make it nice an easy for you before you even think about signing up. Just want a membership for 30 days and never want to be rebilled? Having spent a couple of months on my sites and have now downloaded everything (it takes a couple months to do so as there is so much content), then simply click HERE to cancel your membership no questions asked.
The main question for most people is what do you really get with your membership. Here is a little snapshot of Realspankings.com, as of our most recent update yesterday. First of all, we update three days a week with a new scene and photo gallery, and have done so since 1999 without ever missing an update. Currently you will find:
- 2297 Scenes (this is not how many different video clips, this is total number of actual scenes online that you have immediate access to).
- 98,068 Photos (there are dozens of still pictures taken for every scene).
- 179 Models (the total number of girls who have been spanked for this site).
- Media- We offer files as a Flash file that can be viewed on your computer, without having to save and download (good for computer privacy). We also offer downloadable versions, in various sizes, both .wmv and .mp4 files, up to 1920x1080 resolution. All scenes include a face view and a bottom view for the duration of the punishment.
You have the ability to search our giant database based on implement, position, spanker, and model. To give you a sense of what you may find, here are the number of results from some of our more popular searches:
- Wooden Paddle- 467 Results
- Belt- 240 Results
- Leather Strap- 405 Results
- OTK- 600 Results
- "Monica"- 199 Results
The primary focus of our scenes is how corporal punishment is actually administered in the real world. We do not do the fantasy sort of spankings such as doctor/nurse or boss/secretary as real discipline does not take place in those scenarios. Instead you will see a very strong focus on how spanking are actually used to correct behavior in the real world. We film many domestic scenes that have the feel of very real parental discipline, as well as many scenes that focus on exactly how corporal punishment is utilized in the high schools throughout the Southern United States. The concepts are the same throughout all of our videos...a young lady engaged in a behavior that she knows was wrong, is caught, and she is then punished in a manner designed to punish her and change her behavior. As you would find in typical parental discipline and school corporal punishment, there are no warm-ups in our spanking scenes. No parent ever started with a gentle spanking in order to make sure it was easy for their daughter to get through the punishment. Our scenes start as hard as they end, with the goal of teaching a very real lesson from the beginning. You will see why we have been the number one spanking site in the world for almost two decades, as tears and bruised bottoms are very common in many of our videos.
I will be honest in saying that we do not do fun, playful, or romantic spankings on our site, so if that is your thing, this is not for you. Below is an example of exactly what I am talking about, so please watch it and see if this type of parental feeling corporal punishment is for you. If you like what you see, please take a chance with us and signup for a monthly membership. You will find another 2296 scenes in the member's area, and I am certain you will find something that you like. Take a look at our free area to see pictures from some of our latest updates and to browse our entire model index.
Visit Realspankings.com here and we thank you for considering us as your next membership site.
[ Friday, January 13, 2017 ]
Individual Spanking Clips
I am quite aware that there are many people that will not buy a subscription to a website, especially with reoccurring billing. With the popularity of Clips4Sale, i have begun a store that sells clips individually for download, with single time billing. I am slowly populating it with what I see as some of the best scenes I have ever filmed. Each clip is at the very lowest price point that Clips4Sale will allow based on the length of the video. All current videos are HD quality at 4000kbps resolution. Link below for those that are interested.
[ Friday, December 23, 2016 ]
Girls getting a good whoopin 3
When it comes to the real life corporal punishment of young ladies, the belt is used in more homes than any other implement. In most cases the belt is applied liberally over whatever she happens to be wearing, and in other homes, bottoms are still bared for some very strict discipline. In the third installment of the series "Girls getting a good whoopin", we explore how corporal punishment is actually utilized in the real world. There are no gentle warm-ups, no long-winded lectures, instead this entire video is fully focused on the severe use of the belt to teach these young ladies very real lessons. In all cases, the belt is used hard and fast, with the goal of tears and bruised bottoms. This HD video consists of 19 separate punishments, with 17 different young ladies on the receiving end. Over 1 hour and 10 minutes you will see why this has quickly become our bestselling series. This is corporal punishment administered exactly how it was intended to be, with real lessons learned, and sore bottoms for days. Now available at Spanking Library
[ Friday, December 16, 2016 ]
Clips for Sale
If you are Clips4Sale user, we are slowly adding our PPV catalog there. You can watch out trailers and browse our titles here.
[ Friday, December 02, 2016 ]
Mable's Bare Bottom Paddling
Miss Mable seems to be having quite a hard time adjusting to life at the RealspankingsInstitute. Over the course of the previous day, she found herself in a considerable amount of trouble, resulting in not only a strapping from a staff member, but also from the Dean. You would think that after the state that her bottom was left in, that she would be on her very best behavior, but as is the case with many 20-year-old ladies, this was not her reality.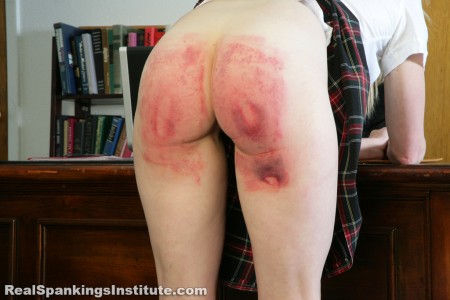 The Dean promised her that is she did not get her act together quickly, then she would be find herself on the receiving end of his heavy wooden school paddle. Clearly this promise was not taken to heart, as the very next day, she was up to her old ways. In the first class of the day, she was distracted, and spending a lot of time chatting with her neighbor. All staff members had received a notice of zero tolerance for any misbehavior from Miss Mable and she was immediately sent to the Den's office.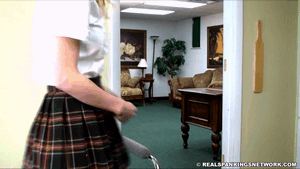 With her bottom still bruised and sore from the previous day's punishment, she nervously walked down the hall to the Dean's office. She was told to take a seat in his little waiting room, and as she feared, the paddle that was about to be used on her hung from the wall. She tried her very best to not concentrate on it, but it was all she could think about. The strap had left her bottom quite a mess, she could not even imagine how bad the paddle was going to feel. She had plenty of time to consider these thoughts, as the Dean was in no hurry, and she spent a good 20 minutes contemplating her fate.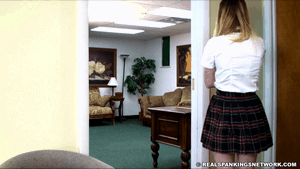 When the Dean was finally ready for her, she was called into his office and told to bring the paddle with her. With heavy feet, she grabbed the paddle and made her way into his office. As instructed, she handed him the paddle, and simply waited to see what was next for her.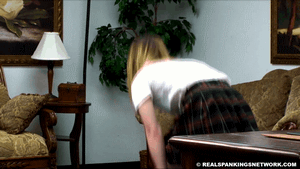 He was quite curious as to how she could continue to get in trouble, after the discipline she received the day before, and he asked that she show him her bottom. She lowered her panties and lifted her skirt so the Dean could evaluate the state of her bottom. He had her move closer to her desk, and as suspected, her bottom was a complete mess. There was no doubt that she had received two very effective strappings the day before as her bottom was still black and blue. He apologized to her, for not doing a good enough job the previous day, and promised that it would not happen again, as today, she would be receiving a bare bottom paddling, as hard as he could apply it.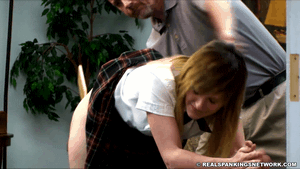 She was told to turn around and present her bare bottom to be paddled. This was not an easy task for her, but she knew that any delay would simply result in a longer and harder punishment. She bent over the desk and presented her bare butt for some much-needed discipline. The Dean wasted very little time and got right to work. Committed to not making the same mistake as the previous day, he started the punishment full force, bringing the paddle down onto her bottom in a manner designed to change her behavior permanently.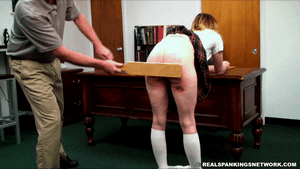 It was clear from not only her verbal reactions, but also from her bottom quickly changing colors, that he was getting the job done. He paid no attention to her reactions and continued to paddle her already sore bottom. He placed each and every swat in the exact same place, the lowest part of her bottom, assuring that this would be a punishment that lasted well beyond the actual application of the paddle. He wanted the soreness to be something that would linger for a couple of days, to serve as a long-term reminder as to the rules and regulation at the Institute. Swat after swat were placed on her bare bottom until he felt a real lesson had been learned.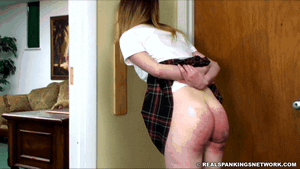 Being that there was still about 20 minutes before the next class started, he took her back out into the waiting area for a little time to reflect on her behavior. With her nose on the paddle that was just used for her education, she was required to bend, and present her now very bruised bottom. For the next 20 minutes, she was able to focus on her very sore bottom, but more importantly, the behavior that led to it. From the recent HD update to the member's area of RealspankingsInstitute.com

[ Monday, November 28, 2016 ]
Testing the effectiveness of a proper strapping with a heavy leather belt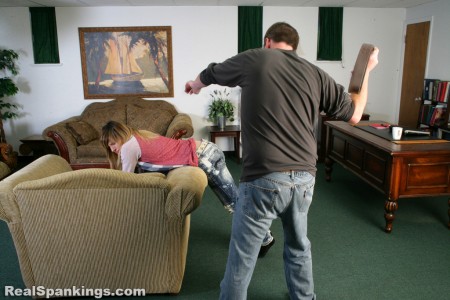 So, clearly I have a spanking fetish and it has been in place from a very early age. Like most that knew they were full blown spankos from an early age, much of the influence as to what I like to see or hear about regarding spanking and corporal punishment, is strongly rooted in childhood experiences. Having grown up in Texas, I never really had to look far to feed my spanking desires as corporal punishment was alive and well in both the homes of my neighborhood and the schools I attended.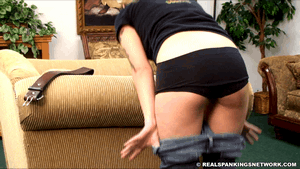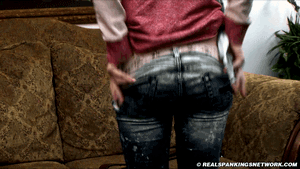 It is because of these early childhood experiences that a heavy wooden school paddle, and a leather belt, play quite nicely into my fantasies. The paddle was a very common disciplinary tool in the middle school and high school I attended. I was completely and totally fascinated with the idea that these gorgeous young ladies walking around the halls of my high school, may have, or still could be paddled on any given day. This all led to the very first series that I ever created for Realspankings.com, which is school swats. This series is alive and well, with me having just added several new girls to it in the last month alone (13 NEW models this year have participated in School Swats). The reason I created the series (well beyond getting to paddle the bottoms of such beauties) was to explore the concept of school corporal punishment and see if the ones experiencing it think it would have worked on them when they were in high school.
Outside of the school environment, if you were a young lady growing up in my neighborhood, and you were spanked at all into the teen years, this discipline was carried out exclusively with a belt. As a young pervy spanko, I would go out of my way to find out everything I could about the cuties in the neighborhood and how they were spanked. On a couple of occasions I was able to hear such a thing actually taking place. I believe this is what led to the belt being such an important part of my spanko life. As much as we like to take childhood experiences and turn them into fantasies for adult spanking videos, the reality of the situation was that there were rarely bare bottom strappings taking place, at least as far as the girls I knew that still got it into their high school years.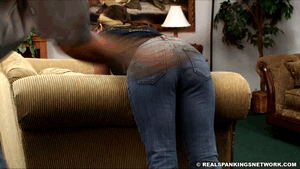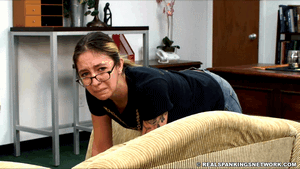 So, in the last few weeks I have started the first new reoccurring series for Realspankings.com in quite some time. Just as with School Swats, it is a series designed to test the effectiveness of real world corporal punishment, as experienced by young ladies throughout the South and else ware. I wanted to know if a heavy leather belt, used forcefully with the intent to change behaviors, over jeans is actually effective or not.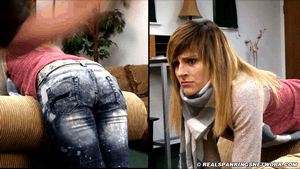 What makes this a little different from School Swats, is that I have been starting the shoot day with this scene. This means there is absolutely no warm-up of any kind prior to the belt being applied. I wanted each one of these tests to be as realistic as possible, and clearly, no young lady who finds herself in trouble with mom or dad, gets some sort of warm-up to make her whoopin easier to tolerate.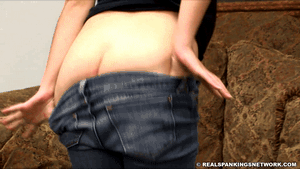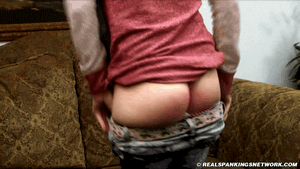 Each scene begins with a sit down with the model and a discussion of childhood corporal punishment and her experience with it, if any. We discuss the use of the belt, as a disciplinary tool, and find out her personal thoughts on the matter. After the interview, the model is asked to bare her bottom, so we can see the "before" view, and so we can see that she has not been spanked at all. I give her a basic scenario, something that a typical teen girl might find herself in trouble for with her parents, to allow her to get to the right headspace prior to the strapping.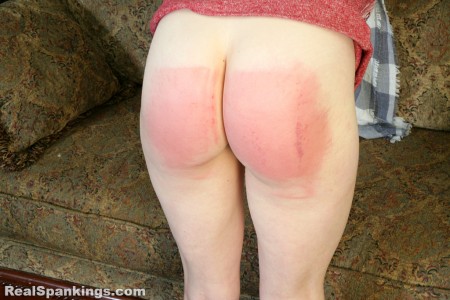 Once the scene is set, she is marched into the room and bent over for her punishment. I have been using my newest, and the largest and heaviest belt I own. This belt is the real deal and so big that it will not actually fit through the belt loops on my pants. It is also thicker than any belt I have ever purchased, and hits with more thud than you think a belt would be capable of producing. All girls then receive 30 strokes with the belt, just about as hard and fast as I can apply them. I really try to approach it exactly as I knew the girls from my neighborhood received it. The first stroke is exactly as hard as the last, and there is nothing in the way of a few gentle strokes to get them warmed up. The entire strapping is administered in a manner that is intended to change behaviors and attitudes from the very first stroke.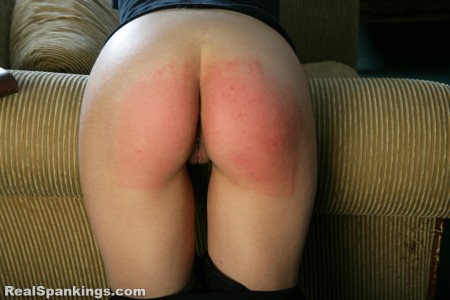 There is a camera tight on their faces, and another tight on their bottoms so we can see their reactions to a serious strapping. When the strapping is complete, they are asked to sit back down and talk about the experience. The main question that we explore is whether that punishment, applied when they still lived at home with their parents, would have any effect on their behavior. Even more importantly, would it stop them from engaging in that behavior all together. To finish the interview, they are once again asked to bare their bottoms so we can see what the actual effects of the belt were. You can see from the stills and animations included in this post that the belt is quite effective. Obviously, we see red bottoms, but there are also visible welts and bruises from the heavy belt.
Currently in the member's area of Realspankings.com, are the videos from both Miss Harlan and our newest model Mable. I think you will find their reactions, and discussion of the effectiveness of such a punishment, quite enlightening. You will quickly learn why the belt is such a widely used disciplinary tool for teen girls, as it is very effective in getting the point across. These are just the first two of many of these "belt tests" that you will be seeing in the future at Realspankings.com.