The Spanking Blog
This is an adult site dedicated to the exploration of spanking between consenting adults. The main focus is on disciplinary spankings portrayed in various spanking videos and pictures, with sample pictures and reviews of the spanking content. The most recent blog posts appear below, and the free spanking picture galleries on this site can be found on the menu on the left. All spanking content on this site is free, and any link leading you outside of this site is clearly labeled as such. You must be 18 years or older to view this site.
[ Friday, May 26, 2017 ]
Severe School Corporal Punishment with a Paddle - 2017
Now available on PPV at Clips4Sale and Spanking Library.

"Yes, we all like a little nudity, maybe some corner time, and much of what lives in our fantasies in the spanking world, but as a producer, as well of a connoisseur of spanking videos, what really speaks to me is realism. I have put together a collection of the most recent, most severe, and most realistic school paddling videos that I have produced this year. This is school corporal punishment, with a heavy wooden school paddle, administered with the sole purpose of bruising bottoms and changing behaviors. There is no warm-up, no gentle swats, this is full force school paddling, administered in the exact same manner that takes place in the high school of the South on a very regular basis. You will see firsthand why so many schools utilize this form of discipline, as it is very effective. This video runs 1 hour and 20 minutes, with 14 separate paddling scenes, and 12 different naughty girls, each filmed from a face and a butt camera. While all paddlings are administered over clothing, each girl reveals the damage to her poor bottom after so you can see the results of very real corporal punishment. This video truly runs on the severe side of spanking videos, with tears in several scenes, so it is not for the fan of fun little spankings. For those lovers of very realistic school corporal punishment, this is a must for your collection. This is a full HD video, filmed at 1920x1080, at 3000kbps."
Now available on PPV at Clips4Sale and Spanking Library.

[ Thursday, May 25, 2017 ]
Schoolgirl Canings- 2017
There is a reason that the cane was the most commonly used corporal punishment implement in the UK for more than a century...effectiveness. Nothing lets a naughty young schoolgirl know exactly how one feels about her behavior than the strict application of the cane. It hurts more than just about any other implement and the marks stay with her for days. This video features 10 separate canings, applied in a very strict and severe manner, all to the bare bottoms of traditionally dressed schoolgirls. Step into the headmaster's office and watch all of these young school girls receive 12 of the best. This video runs 1 hour and 1 minute in length. Now available at Clips4Sale and Spanking Library
Now available at Clips4Sale and Spanking Library
[ Wednesday, May 24, 2017 ]
Witnessed Spanking
There are many households in this world in which corporal punishment is not only used, but it is used on the spot, regardless of who is present. Our course there will always be those young ladies that try and push the boundaries and let their mouths or their behavior get the better of them, in the presence of someone other than family members. This video is dedicated to those parents who refuse to let a potentially awkward or embarrassing situation get in the way of administering some much-needed discipline. This video includes 12 full scenes and runs 53 minutes long and includes very real discipline administered in front of the naughty young lady's friends, and even one administered in front of a neighbor. This video includes the use of handspanking, belts, straps, paddles, and a bare bottom switching in which her friend helps her cut and prep the switches. If you are a fan of highly embarrassing and public type spankings, this is the video for you.
Watch the trailer at Clips4Sale
[ Friday, April 14, 2017 ]
Severe Hairbrush Punishment Spankings
This is intense. Now available at Spanking Library and Clips4Sale
Parents, especially from the 50's, knew this very important little secret when it comes to the proper discipline of a naughty young lady in the home…nothing changes behavior better, or quicker, than a heavy wooden hairbrush applied firmly to a daughter's bare bottom. Yes, there are many ways to apply a spanking, but when a very real lesson needs to be learned, one that will never ever be forgotten, the hairbrush is always the best option. There are very few implements that hurt as much, can bruise a bottom so quickly, and most importantly, leave a young lady's bottom sore for days, than a heavy wooden hairbrush.
This video is dedicated to the exploration of this very concept. There are no warm-ups, there is no desire to try and make the spanking bearable, this is strict and intense discipline, with tears being the goal from the very first swat. You will see exactly how very naughty behavior is dealt with, when a heavy wooden hairbrush is used to its full potential. All of the scenes are very intense and they all lead to young bottoms being left black and blue. This is severe corporal punishment, applied to bare female bottoms, and is as intense as you will ever see in a spanking video, so it is not for everyone. This video includes 9 different, very strict hairbrush punishments, and runs 42 minutes.
Now available at Spanking Library and Clips4Sale
[ Saturday, April 08, 2017 ]
Bare Bottom Whoopins with a Belt- Vol. 1
It is no secret that a leather belt is a very effective disciplinary tool and can have a very real effect on behavior. In most cases, as a young lady grows older, it is rarer for her to have to bare her bottom for a spanking. While the belt it still quite effective over clothing, there are indeed those times when a young lady's behavior requires more.
In this video, we explore real world corporal punishment with a belt, applied directly on the bare bottom. This video features 7 separate scenes and runs 45 minutes in length. You will witness exactly how well a belt, when used forcefully and applied to the bare bottom, is in changing attitudes and behaviors.
Now available at Spanking Library and Clips4Sale
[ Monday, April 03, 2017 ]
Compilation PPV at Clips4Sale
Lots of new additions to my PPV offerings on Clips4Sale, descriptions and links below. All new videos on the site have 60 second preview clips.
In this installment of our Tears series, you will see the lovely Syrena pushed to a level that is rarely seen in spanking videos. As someone with a high pain tolerance, it takes a severe punishment to really get the tears flowing for Syrena. This video shows 12 separate scenes in which the discipline is so intense that she is not only reduced to tears, in many scenes, she is crying uncontrollably. This video runs a full 1 hour and 13 minutes and features some of the hardest spankings that we have produced in years. This video features the use of the hand, belt, many different straps, paddles, and the dreaded Canadian Prison Strap used to its full potential. You will also see a real-life discipline scene in which Syrena, who was more than 2 hours late for a shoot, submits to a bare bottom paddling to tears, with zero warm-up. Another highlight of this video is a scene in which she begs to not be spanked, as her bottom is far too bruised, so instead her thighs are spanked long and hard, until they are bruised and the tears are flowing. If you like to see very real discipline administered in a manner to eliminate bad behavior, you will want to add this to your collection.
Volume 2 in our Bruised Bottoms series. This volume runs 31 minutes and features 7 separate strict punishment scenes including:
- 4 separate school paddlings
- A bare bottom strapping
- 2 strict punishments with a wooden spoon, on bare bottoms.
- A bonus interview with Devon in which she goes into great detail about the punishments she received with a wooden spoon, at the hands of her mom, well into her high school years.
Let's face it, there are times when a young lady's behavior cannot be corrected with a simple handspanking. Yes, a couple of minutes of providing her bottom with a little sting might work for a little while, but real lessons are not learned this way. When a very real lesson must be learned, sometimes her bottom has to be bruised. When her bottom is bruised, long term learning takes place, as she is reminded of her behavior for the next few days. This video is dedicated to exactly this type of discipline. In each and every video, these young ladies are spanked severely, and it does not end until their bottoms are black and blue.
With 8 separate scenes, totaling 49 minutes, you will see what a real punishment spanking is all about. Such lessons are not learned with a handspanking…instead, you will witness 5 different bare bottom paddlings, two severe spankings with a heavy wooden ruler, and a bare bottom strapping that leaves her bottom purple. All of these scenes are severe, leading to bruised bottoms, and young ladies that will be sitting gingerly for days. For the true aficionado of hard corporal punishment, this is a video not to be missed.
I was 13 when I watched through the window, as my best friend's sister, took one hell of a whoopin from her step-dad. As a lifelong spanko, this had a very real effect on me, and is a moment I will never forget. Because of this experience, and a couple of others that were similar, I have always liked to watch very real discipline spankings from a voyeur perspective. There is something special, about getting to witness that thing that was supposed to be a very private moment. That moment when a very naughty young lady is marched into a private spot for her punishment, but the circumstances allow for us to watch.
This video runs 1 hour and 10 minutes and features 16 different punishment filmed from a voyeur's perspective. There are scenes in which we simply get to watch through an open door as a young lady gets her bottom blistered. There are a couple of scenes in which the action is captured on a cell phone camera, filmed by a little brother, who just loves to watch dad wear out his older sister's bare bottom. We also get to enjoy two different school paddling in which all of the action is captured on a security camera. These 16 scenes feature the strict discipline of 11 different young ladies using the hand, straps, belts, shoe, and paddles. These are very strict punishment spankings administered in both the home and school environments. Each scene includes a voyeur perspective as well as a traditional camera angle
[ Tuesday, March 21, 2017 ]
Tears Series- Kiki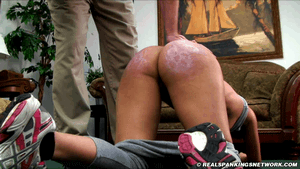 Now available at Clips4Sale
There is one true purpose when it comes to spanking and the application of corporal punishment…to teach a VERY REAL lesson. As strict parents have known for generations, the main determining factor, as to whether a lesson is being learned, is the presence of tears. If a young lady is not crying during her spanking, then she is not learning her lesson, it is as simple as that. This most basic of punishment concepts is often lost in the current world of spanking videos…but not today. This video explores corporal punishment in the exact manner that it was intended, with severe spankings that lead not only to tears, but full on crying, in each and every scene.
Over the course of 8 separate scenes (all with face and bottom views), you will watch the young and beautiful Kiki, who is still in braces, spanked in a manner that is intended to teach very real lessons. This 46-minute video shows exactly how effective strict corporal punishment can be. There are no warm-ups, all but one scene is on the bare bottom, and they all continue until her bottom is bruised, and she is crying her eyes out. Most of her punishment include various degrees of nudity, adding further embarrassment. This video includes 2 bare bottom paddlings, a severe handspanking, a butt bruising spanking with a wooden ruler, an brutal session with a Scottish Tawse, several strappings, an intense whipping with a martinet, and one of the most realistic and intense school corporal punishment paddlings ever captured on video. The common thread to all of these spanking…TEARS!!! If you want to see spankings administered exactly the way they were originally intended, this is the video for you.
Now available at Clips4Sale
[ Wednesday, March 08, 2017 ]
Tears Series- Raquel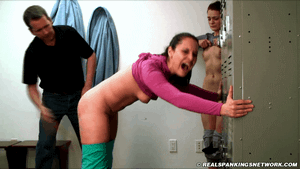 BY REQUEST:
In the world of spanking models, there are those with a spanking fetish that love what they do, and then there are those who absolutely hate to be spanked. In all of our years of filming, there is one model who hated to be spanked more than any...Raquel. Not only did she hate each and every spanking she ever received, she also had a very low pain tolerance. On top of all of this, she was often late, or sometimes did not show up at all for her shoot, which never left me feeling like going very easy on her, as she was someone who clearly needed a little real discipline in her life. I have put together 10 scenes with Raquel, each and everyone which left her in tears. In more scenes than not, these were days in which I was particularly unhappy with her, and it shows in the videos. While there might be some sort of "story line" that accompanies the spankings, you can rest assured that I was giving her a real spanking that I felt that she deserved as a result of her work ethic. While I typically take it easy on the models with a very low pain tolerance, with Raquel my goal was to teach her a very real lesson. In these 10 scenes (plus 2 bonus scenes in which Syrena is also spanked) you will see very real punishments applied with the hand, belt, strap, tawse, and wooden paddle. In many scenes her cute little breasts have been exposed and put on display, and in some cases there is full nudity. This video runs 42 minutes with her spanked to tears each and every time.
[ Tuesday, March 07, 2017 ]
Find me on Fet
As I have recently looked at some of my previous means of communication I realize that many of you have written me, without getting a response for many months. Fetlife is now my primary form of communication, and where I tend to do most of my marketing with previews pictures, new model announcements, and so on. If you are looking to contact me, for whatever reason, Fet is the best place to do so. You can view my FetLife profile here.
[ Tuesday, February 14, 2017 ]
Spanking Awards
Asking again for your help if you think me or my sites deserve recognition. This is good for my business and points people our way, helping us to continue to shoot the best content possible. If you appreciate my work, I would appreciate your support. Links below, one click to vote, no registration required.
2016 Spanking Site of the Year- Realspankings.com
2016 Most Improved Spanking Site of the Year- RealspankingsInstitute.com
2016 Male Spanker of the Year- Michael Masterson