The Spanking Blog
This is an adult site dedicated to the exploration of spanking between consenting adults. The main focus is on disciplinary spankings portrayed in various spanking videos and pictures, with sample pictures and reviews of the spanking content. The most recent blog posts appear below, and the free spanking picture galleries on this site can be found on the menu on the left. All spanking content on this site is free, and any link leading you outside of this site is clearly labeled as such. You must be 18 years or older to view this site.
[ Tuesday, May 14, 2013 ]
Spanking Mini Series
We are trying a new concept at Realspankings.com in that we are filming an ongoing mini-series following the life of two sisters, who while living in the dorms and attending a local college, are brought back home as they seemed to be getting into a lot of trouble. Their parents decide to go back to the last form of discipline that seemed to really work when they were younger…corporal punishment.
In this series you get to follow the ongoing progress of Lila and KJ as their parents attempt to bring a sense of discipline back into these college age girl's lives. Parts 1 & 2 have been filmed, with the next episode coming at the end of May,
This scene is from part 2 "The Family Meeting" in which both girls get one of the hardest bare bottom strapping of their lives.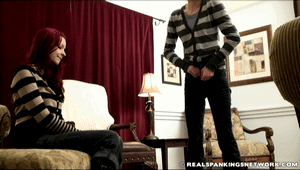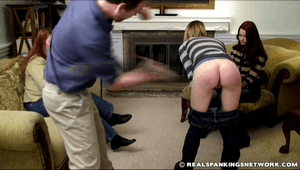 Realspankings Pass
I started my 1st spanking site, Realspankings.com in 1997 and it was as simple as me spanking my wife on camera based on requests from our members. We were the 1st company to film spanking videos exclusively for the internet and our business quickly grew. 16 years later we are still active and have the largest database of spanking videos in the world. Clearly our operation and sites have grown a lot since the early days and it is almost impossible to track all of the exclusive videos and pictures that we have created. But I am going to give it a shot here. With the all site membership offered with our Realspankingspass.com you have access to:
Realspankings.com
Current Images: 74,856
Video Files: 9,740
Total Scenes: 1,723
RealspankingsInstitute.com
Current Images:71,606
Video Files: 5,846
Total Scenes: 1,569
SpankingBailey.com
Current Images: 11,347
Video Files: 1,035
Total Scenes: 204
SpankingTeenJessica.com
Current Images: 19,135
Video Files: 1,398
Total Scenes: 322
SpaningTeenBrandi.com
Current Images: 28,084
Video Files: 1,872
Total Scenes: 470
OTK-Spankings.com
Video Files: 3,826
Total Scenes: 880
RealStrappings.com
Video Files: 4,741
Total Scenes: 997
BiSpanking.com
Current Images: 27,801
Video Files: 4063
Total Scenes: 284
There are many sites and passes that claim a ton of content, but these numbers do not lie and no one can come close to the sheer volume of exclusive spanking content available on our sites. With Realspankingspass.com you have immediate access to:
6449 Total Scenes
These scenes presented from multiple camera angles which always features a butt and a face view of the spanking provide:
32521 different video files
We shoot still images for all of our scenes, and with all sites combined there are currently:
332833 Total images
These figures are current as of today and these numbers are specific to the content that is available for download right now and is available to every member of Realspankingspass.com
Creative solution for dress code violations
I came up with a creative solution to the repeated dress code violations at RealspankingsInstitute.com, especially the repeated offense of young ladies not wanting to wear a bra. Roxie and Abigail were told to report to my office, 1st thing in the morning, wearing only shoes and socks. Once they arrived I informed them that for their inability to wear a bra on a daily basis that I would now give them new institute bras. Both of their breasts were tied tightly and they were then sent to their 1st class with the instructions to visit my office after 1st period. Upon their return they both returned for long and hard otk spankings. They were sent to their next class and told to reposrt to me after lunch for further discipline to their teen bottoms. We had a great day of filming these scenes and here is a peek at the 1st part. From yesterday's update at RealspankingsInstitute.com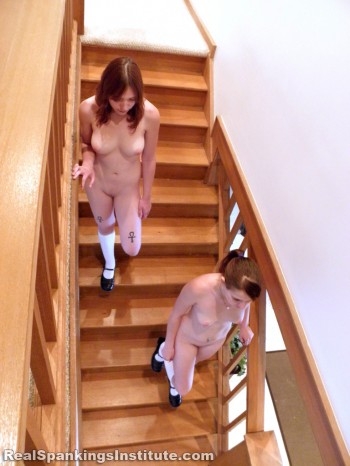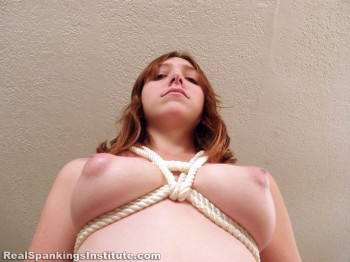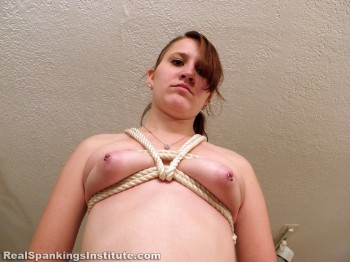 [ Tuesday, April 02, 2013 ]
Latest Spanking Content
We have been quite busy at Realspankings.com and RealspankingsInstitute.com with many new models and a very full shoot schedule. I have really been enjoying shooting two, three, and even four girls together, also including scenes with multiple spankers. Nothing makes for a fun shoot, with many options, as four girls and two spankers.
Based on member feedback at the World Spanking Forum we are also starting a brand new series at Realspankings.com. We are going to do the web's 1st spanking series in which we will film two models, Lila and Kajira, together on a regular basis. They will be playing two sisters in college, and since they have left home to live in the dorms, things have not gone so well for them. Their "parents" decide it is time for them to move back home, while still attending college, so they can be better supervised. It is decided that their current actions and behaviors are not consistent with their ages, so it is time to go back to the last real form of discipline that was effective for them...corporal punishment. The "pilot" will launch in about a month and we will follow the progress of these two young ladies as spanking in reintroduced into their lives.
Here is a small taste of updates to both Realspankings.com and RealspankingsInstitute.com from the past few weeks that feature two girls getting spanked together.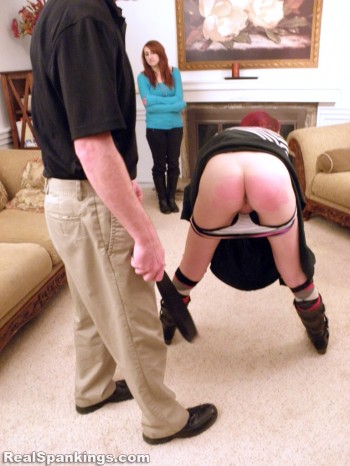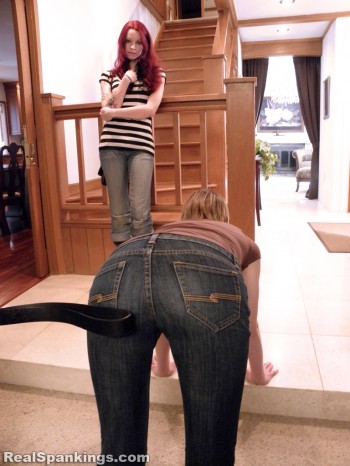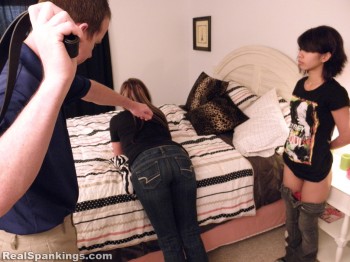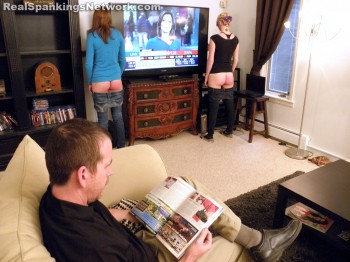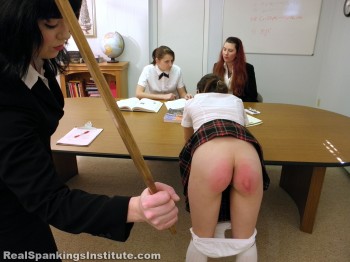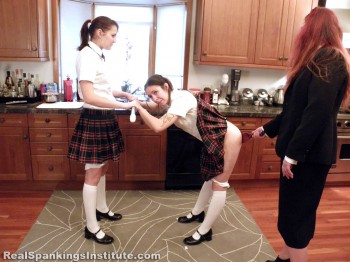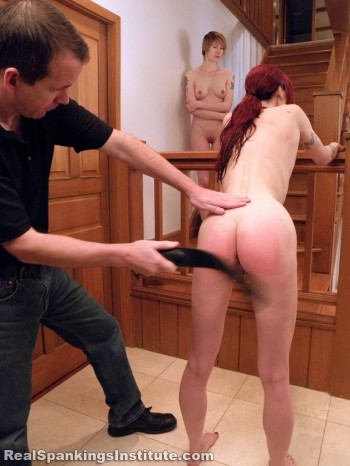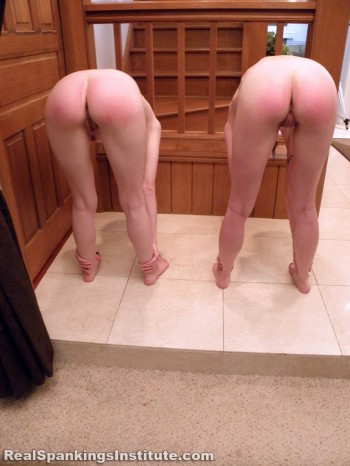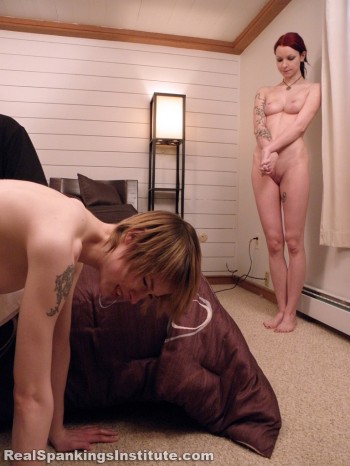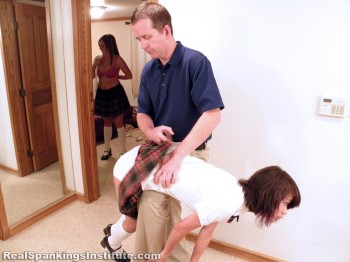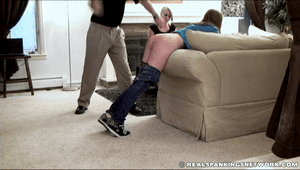 [ Tuesday, March 19, 2013 ]
A hard whoopin and licks at school.
Spanking, caning, paddling, switching, a lickin, corporal punishment…it is called many things in many places. Where I grew up in Texas, there were only two names for the application of physical pain to the buttocks…a whoopin, or licks. In the neighborhood, regardless of how you were spanked, by who, or with what implement, it was a whoopin. A traditional whoopin, and certainly the most frequent form of it was applied with a heavy leather belt. It might be pulled from that special place that it is kept for just such an occasion, it might be pulled from the belt loops from dad's pants, you might even be sent to get it, but there is no doubt that in Texas it is used for more than just holding up pants. In Texas a belt is used for a good old fashioned whoopins.

The naughty young lady might find herself bent over a bed, bent over the couch in the living room in full view of everyone present, maybe even over the kitchen counter.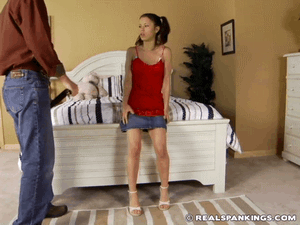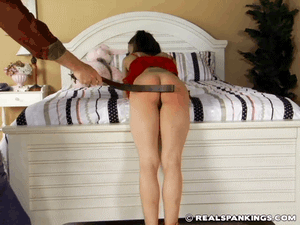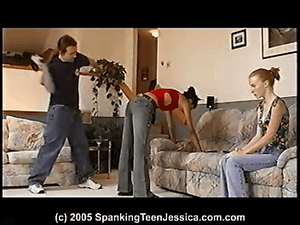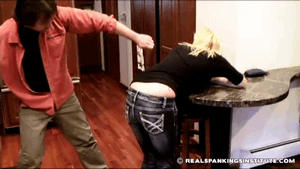 It may be applied over her jeans, her PJ's for that before bed whoopin, maybe even over her bikini bottoms when she finds herself late from that trip with her friends to the lake. For the very naughty young lady, she might even find herself baring her 18 year old bottom for a long and hard session with mom's belt.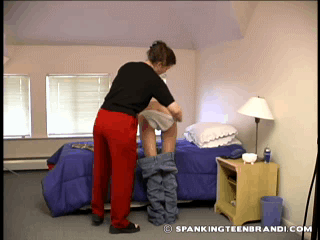 Regardless of the position, the location, or the spanker, a good old fashioned whoopin achieves results. That heavy leather belt, being applied full force to her bottom has a way to change behavior. Yes, she is 18 and legally an adult, but as long as she lives at home she is not only subject to the rules of this household, but the discipline policy of her parents. This is the South and they believe that corporal punishment applied to the bottom of their daughter is the quickest way to achieve results.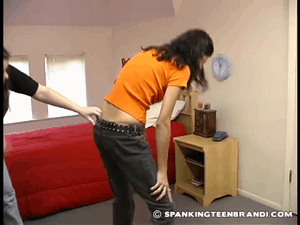 This same policy hold true for many Texas schools. In some schools they apply corporal punishment, paddling, or pops, but in the schools I attended you got licks. For such a gentle term, there is nothing gentle about it. Licks involve a young lady bending over, presenting her bottom, and then feeling the sting of a heavy wooden school paddle being applied to it. This may take place in the principal's office, in the hallway from a teacher, of even the locker room from a coach.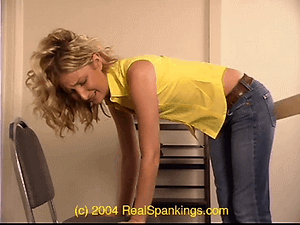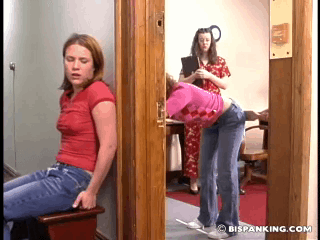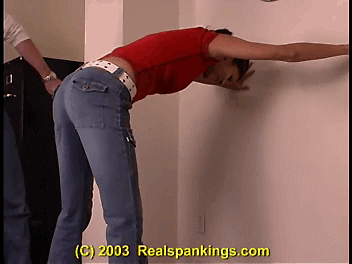 Make no mistake about it, licks equal learning. Even through a high school senior girl's tight jeans, there are immediate results. When she is bent over, grabbing her ankles, bottom high in the air, and feels that first lick, she finds herself promising to never do whatever she did again.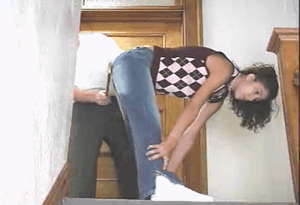 By the sixth lick to her older teen bottom, she has convinced herself that she will never break any rule, anywhere, ever again. Proper licks achieve results and the results are generally a bruised bottom and tearful eyes.
The following animations come from very realistic punishment videos in the member's area of the Realspankingspass.com family of sites. Real teens punished to tears.
[ Thursday, March 07, 2013 ]
Many girls spanked together
i have been quite busy lately, mostly doing one of my favorite things in the world...lining up a group of 18-19 year old girls and paddling their bottoms. Some of the most popular scenes I have ever filmed involve more than one pretty young lady getting her bottom blistered. In the last two months, for my sites Realspankings.com and RealspankingsInstitute.com. I have filmed more two, three, even four girl scenes that I can count. I have been choosing the right girls, with the right chemistry, that can take the hardest spankings, and have filmed some of the best content in years. It feels like the old days again at the studio with so many cute young things, running around naked, with their little bottoms bruised. I thought I would share a few pictures from the videos that have been recently added to the member's areas of Realspankings.com and RealspankingsInstitute.com. Enjoy!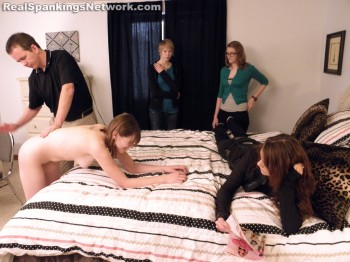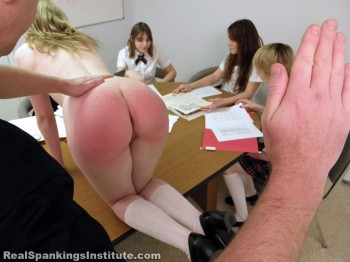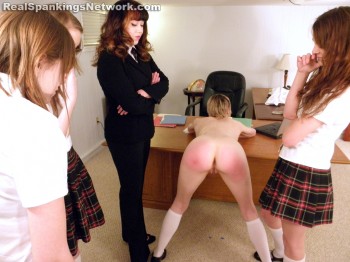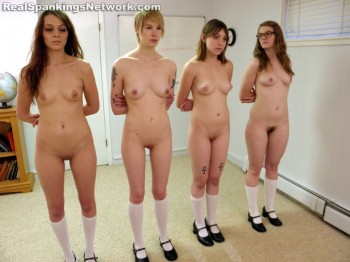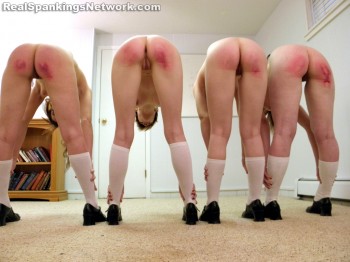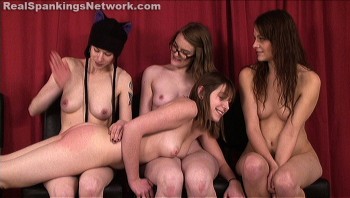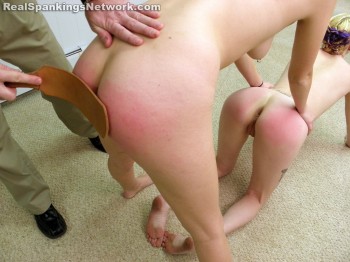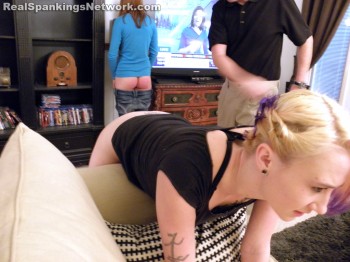 [ Friday, March 01, 2013 ]
Why a paddle is so effective
I have never hidden the fact that a large wooden paddle is my favorite implement to use when a hard punishment is required. Part of it may be the fact that I grew up in schools where a paddle was used, I think implements from our childhood always tend to stick with us as we become older spankos. The main factor is that a paddle achieves the desired results so very quickly. While I never apply a punishment that consists of just one swat, if there is an implement that has the biggest chance of teaching a real lesson, with just a single swat, it is the paddle. A paddle covers a larger area than just about any other implement and has the ability to hit with great force. Take a look at the gifs below and judge for yourself how very effective a single paddle swat can be.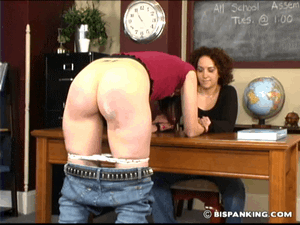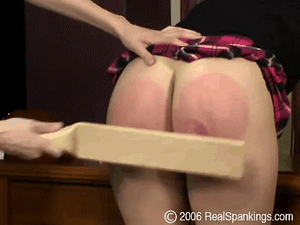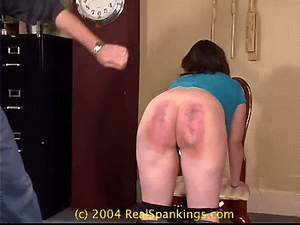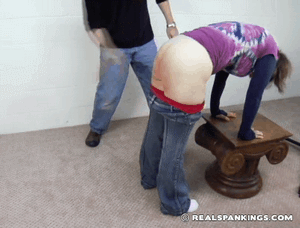 [ Wednesday, February 20, 2013 ]
Mouth soaping
Some spankings require additional punishments. Maybe some corner time, an exposed and uncomfortable position, writing of lines....or washing their mouth out with soap.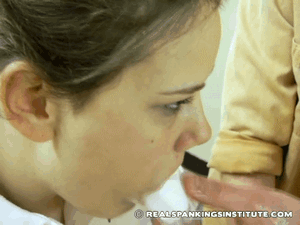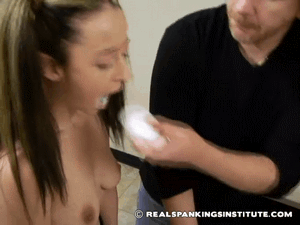 The moment of impact
Slow motion, hard paddling of her bottom.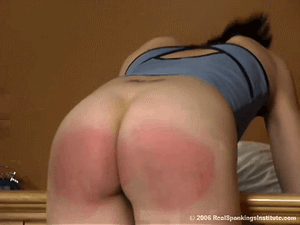 Waiting for her spanking
Sometimes it is best to give a young lady some time to think about what she did before she is spanked. This young lady had to pull down her bikini bottoms, present her bottom, and then wait for several minutes. She knows it will be a paddling and she has more than enough time to consider how much it is going to bruise her teen butt.