RealspankingsInstitute.com Free Picture Gallery
So, it is approaching a year of new content all filmed at the new studio for RealspankingsInstitute.com. I wanted to make sure that all of you out there know that while all content is new and original on the site, the last 11 months represent me being back and fully in charge of the production, and in most cases with me as the main spanker. In addition, we have a few new spankers for the site. I think the last year represents some of our best videos in more than five years. So if you have not looked at RealspankingsInstitute.com lately, it may be time to revisit and take a look at our samples. I am in the process of creating a free gallery here, so you can view some of the scenes we have filmed over the last year. You can view this gallery at RSI Free Pictures Gallery. I will not be able to get all of the pictures uploaded today, but there will be 62 in there when it is complete. Check back soon and the gallery should be complete. Here are a few samples from the gallery in progress: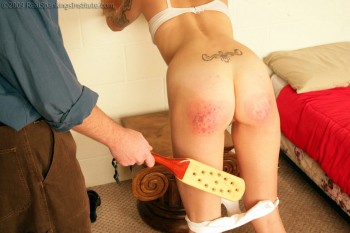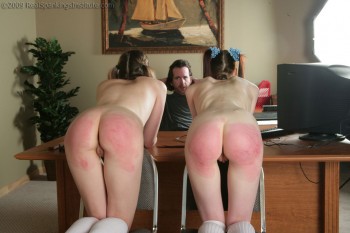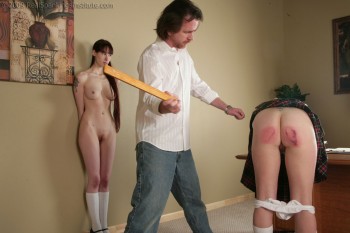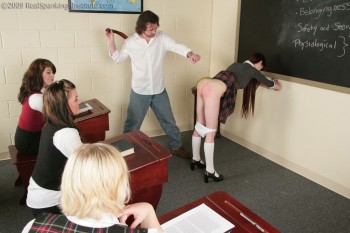 All images come from videos currently in the member's area of RealspankingsInstitute.com
Comments:
Quite lovely! My goodness, you must have a dream job.
The spencer (drilled hole type) paddle shown in the top photo has captured my attention since it first appeared in a Real spanking video. it seems to be available for purchase from the site:
http://www.spankinc.ca/
which has a link on Mr. Masterson's Real Spanking web site link area. The paddles offered by this company appear to be beautiful works of art (I don't know if the models who get to feel these would agree...) and I plan on buying one just like shown in the picture above. I have always had mixed feelings about spencer type paddles - they have a wonderful and very special sting and feel, but they like any implement with holes, do more tissue damage and I like to have a girl recover quickly and fully so we can play again as soon as possible without playing on dmaged skin. Butt the marks shown above on the models bottom are very pretty. I do think the best use for a spencer is through (over a layer of clothing - it provides a level of sting more intense than a solid no hole paddle which compenstates for the clothing being left in place and the clothing seems to prevent the "damage" (marking) done when such a paddle is used on a girls bare bottom.
anyway, just my take, but the photo is very cute, and the paddle looks awesome - thanks for the pic! Several other paddles made by this same company are seen used in other Real Spankings videos and photos - the company seems to be one of Real Spankings favorite paddle providers these days for paddles, it it seems so for very good reasons!
Monica responds with some real emotion when she is spanked with a long thin "spanking stick" kind of paddle made by this company in her "judicial punishment" video at Real Spankings. Speaking of Monica, from the post and photo by mr. Masterson on his World Spanking Forum, I think the poor baby is going to be sleeping on her belly tonight. Lets she if she has learned her lesson.... well, at least maybe for a week or two??????
AzApanks
I never received the paddle made of holes or other wise. It seems to brand the tender bottom cheeks leaveing a natural trade mark. I expect the giver must really whack those tender cheeks to get the appropriate design. I would not be as severe in my spanking. Firm but fair, just enough to teach the culprit a lesson both in humilation and pain.