The Spanking Blog
This is an adult site dedicated to the exploration of spanking between consenting adults. The main focus is on disciplinary spankings portrayed in various spanking videos and pictures, with sample pictures and reviews of the spanking content. The most recent blog posts appear below, and the free spanking picture galleries on this site can be found on the menu on the left. All spanking content on this site is free, and any link leading you outside of this site is clearly labeled as such. You must be 18 years or older to view this site.
[ Saturday, June 14, 2008 ]
Hairbrush Spanking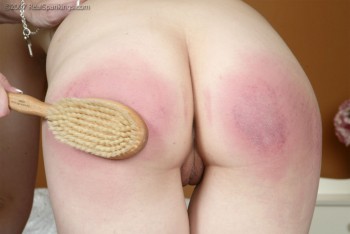 A good hairbrush spanking video is often a hard thing to find. In all of my years of spanking and producing spanking videos, I would guess that it is safe to say that a large wooden hairbrush is probably the most feared spanking implement. It hits with the thud of a wooden paddle, but with a smaller surface area, so the force of the stroke is concentrated into a much smaller area. The hairbrush is one of the few implements that seems to create both a "thud" and a "sting" when it hits. In addition, there are very few implements as capable of creating an instant bruise with each stroke. For severe offenses, the hairbrush is my first choice, due to the lasting impression is leaves. Any spanking administered with a wooden hairbrush will always be remembered, but I find its effectiveness is due to the long lasting soreness that comes with it. A bottom that received a proper punishment from a hairbrush can remain sore for well over a week. Today, I added a new free spanking gallery featuring bare bottom discipline with a hairbrush, you can view this new gallery HERE.
Summer
As a few days have passed without a blog post, I am sure there are thoughts that I have gone off the reservation again. I want to assure all of my loyal readers that I simply making a schedule adjustment, now that summer is here. I do not work a regular 9-5 job, so when school in not in session, I do not have the same time available to me for blogging. I need another week or so, for everything to be in place for me to be able to work daily again. I will reward all of you for your patience with a new free spanking gallery today. Rest assured that I am still back in the game, but I am a stay at home dad, and my priorities change in the summer.
[ Sunday, June 08, 2008 ]
Domestic Discpline
It has been a little while since I have visited the Taken in Hand website, and I had forgotten what a great resource that it is. There are many men and women out there that fantasize about a full-time relationship that utilizes domestic discipline. In these modern times, that concept is foreign to many people and often feels like a step back to the 50's. But for many, a relationship such as this can be quite fulfilling, has the ability to actually increase the level of communication and intimacy, and takes the sensual exchange of power to a new level. A true domestic discipline relationship has the ability to take some of the play out of spanking and can turn the role playing into reality.
There are very few spanking sites out there that I really consider an educational resource, but there is no doubt that Taken in Hand is truly that. This is not a site to visit when you are looking for good spanking content. This is truly a resource for consenting couples looking for information regarding the pros and cons of a full-time disciplinary relationship. Quite honestly, a relationship such as this is not always the easiest or most realistic thing to pursue. But for just about any potential problem that may come up, I guarantee there is an article at Taken in Hand that addresses how other DD couples have handled that experience.
One thing that I find the most appealing about the articles written for this site, is the love. Domestic discipline may not be for everyone, but it is clear from reading through the site, that the people who have found the right balance and are making a DD relationship work, are closer and more connected as a result. This site is an especially valuable resource for women who struggle with how to tell their husbands that they desire a little discipline in their lives. Two thumbs up for Taken in Hand and their very real contributions to the world of consensual adult spanking relationships.
Taken in Hand is a free site, and I do not get a penny for writing about them. This blog post is truly about supporting a site that is providing a service for everyone that is even just a little curious about the reality of a domestic discipline relationship.
[ Saturday, June 07, 2008 ]
Domestic Discipline- wife spanked otk with hairbrush
A nice little otk hairbrush spanking from a loving husband.
Wooden paddle updates at Firmhand Spanking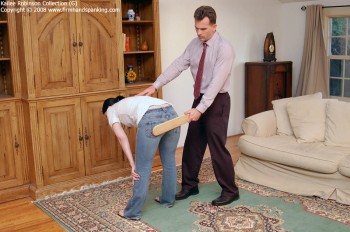 From the member's area of Firm Hand Spanking

There have been a few good hard paddling updates over at Firm Hand Spanking. The most recent update features Kailee, originally from the Realspankings family of sites grabbing her ankles for a school style paddling.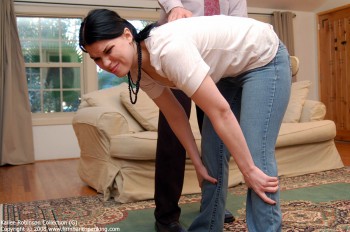 From the member's area of Firm Hand Spanking

Also not to be missed is Lizzy Madison's paddling over her cute panties and eventually her bare bottom.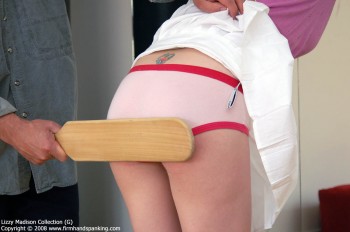 From the member's area of Firm Hand Spanking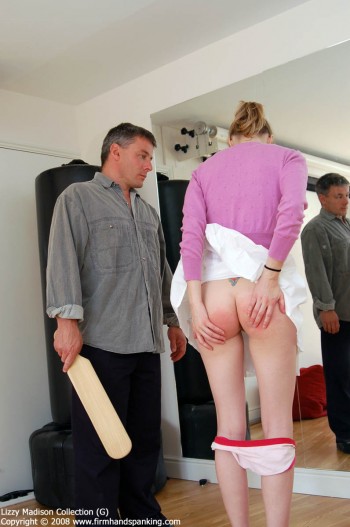 From the member's area of Firm Hand Spanking

[ Wednesday, June 04, 2008 ]
Spanking Chat
Recently I have been finding my way into spanking chat rooms again. While the chat room at World Spanking Forum is always up and running, it does not see regular traffic. When a chat does get started there, it tends to get pretty busy. A new feature is the "who is chatting" link, located in the left margin of the forum. This allows you to see who is in the room before logging in. If you are a member of the forum, your username and password will work for logging in. If you are not a member, just pick a username and leave the password area blank to login.
Over at Happy Tails there seems to be a chat every night. They tend to get started after 9:00 PM (mountain time), and by 10:00 there is a group that has always gathered. You can check who is chatting before logging in, by clicking HERE, or go directly to their spanking chat here. I skip back and forth between the two, so I look forward to chatting with you all.
[ Tuesday, June 03, 2008 ]
Is a bruised bottom sexy?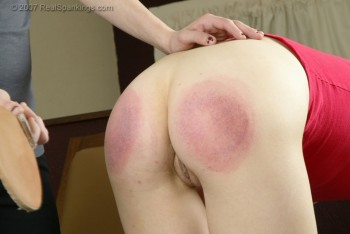 From the member's area of Realspankings.com

Is a red bottom from a good spanking more attractive to look at than an unspanked bottom? When the internet was brand new, before I had created any spanking sites, just like most of you I was searching the web for spanking content. Content was very limited in those days, with most of the content being magazine scans uploaded to newsgroups. I will admit that in those days, what I was really looking for was severe content. With very little in the way of videos, all we really had to fuel our fantasies was photo content. Without actually being able to witness the spanking, the only thing that really could demonstrate to me that a real spanking took place was the marks on the bottom. Nothing turned me on more than a picture of a severely bruised bottom.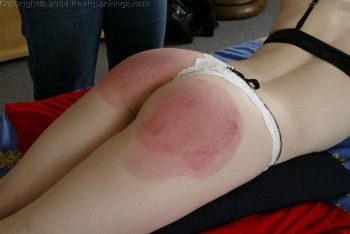 From the member's area of Realspankings.com

Over the years, as a result of more exposure to spanking content, as well as administering many spankings, my tastes have changed. For the most part, most pictures out there have videos to go with them, so we no longer have to doubt the intensity of the spanking that took place. I do not have to see a black and blue bottom in a spanking picture to know that a real spanking indeed took place. Just as with most aspects of spanking, when it comes to marks, my likes and dislikes are pretty specific. There are many producers out there that are shooting very severe spanking and especially caning videos. Ten years ago I never would have guessed that I would find content too severe for my tastes. It is not really even the fact that I find the spanking too severe, it is more the results that I am not a big fan of.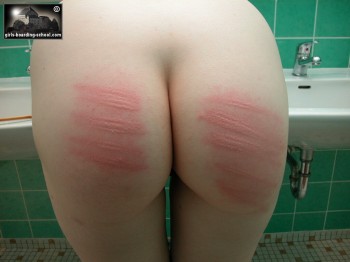 From the member's area of Girl's Boarding School
For me, nothing kills a hard spanking scene quicker than poor technique. I do not like to see pictures or videos in which the skin on someone's butt is repeatedly broken. I fully understand the occasional skin breakage, and sometimes it is hard to avoid. Sometimes broken skin has more to do with someone's diet and skincare than it does with the severity of the spanking. But a spanking or caning picture that shows multiple open wounds on the butt, turns me off in a big way. I think it boils down to the fact that as a spanker, you have certain responsibilities, and while it is your job to make sure the punishment is effective, safety is the highest priority. Someone who continues to swing a cane when a butt is bleeding is failing in more than one way. I guess I am picky in the fact that I really like to see a picture of a very bruised bottom from a caning, but if the lines are not straight, and crisscross every which way, it ruins the whole thing for me. The same is true with misplaced strokes. A picture can show a very thorough caning, with perfectly parallel lines, but if there are marks on the hip from the cane wrapping too far, the whole scene is ruined for me. You should know by now that I am obviously a big fan of punishments that involve a wooden school type paddle. But just as with the cane, I am looking for proper results when the punishment is over. I have posted many times about proper safety when using wooden implements. A nice bruised butt from a paddling is a sexy thing in my eyes, but if there are bruises from the paddling that are too high and close to the tail bone, then the picture loses all of its erotic elements in my eyes. Applied severely and properly, a well paddled bottom will have two sort of bulls eyes at the very lowest and fleshiest part of the bottom, and possibly "tram lines" which extend below the bruises.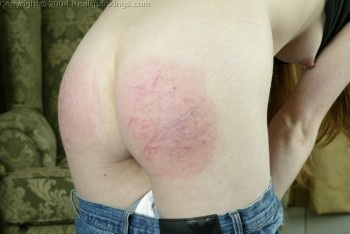 From the member's area of Realspankings.com
Now, back to the original question, is a well spanked bottom attractive? As a full-time pervert, I would answer yes. I am sure the non-spankos out there think I am totally weird even trying to present an argument that redness, welts, or bruising on any part of the body can be attractive. But those marks carry with them something well beyond color. I think the sexiness comes from the story behind the marks. A red butt demonstrates something a little naughty, not just the behavior the resulted in the spanking, but the fact that as an adult this person gets spanked. A red bottom represents a shared and intimate moment between two people. I think for those who are spanked in their personal lives, their own red bottom carries with it a sense of pride in a strange sort of way. How many of you out there who are spanked, repeatedly look at your spanked bottom in the mirror until all marks have faded? I would guess that for most of you this is the case. Why do you do this? Are the marks sexy? Does looking at your spanked bottom remind you of the experience you went through?
The spanking pictures that are the most exciting to me, generally involve a very red butt, with no area left unspanked. I also like to see bruised bottoms when the marks are consistent and seem as though were achieved in a safe manner. I can find pictures like the two below quite exciting, even with the black and blue, because these pictures represent a properly, and safely, spanked bottom.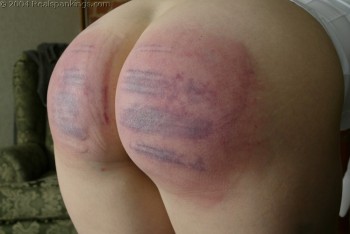 From the member's area of Realspankings.com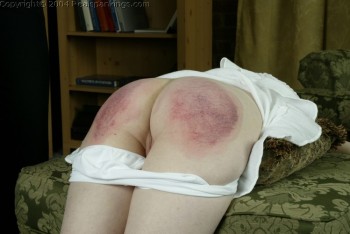 From the member's area of Realspankings.com

Unfortunately, most of the content we have to view has been done professionally with paid models receiving the spanking. For me, there is a time when an extremely marked butt can be the sexiest thing. It has to do with the story behind it. There is nothing more erotic or exciting in my eyes regarding spanking than the visible marks having truly been earned. It is one thing to see a black and blue butt from a girl who was paid to be spanked, and a far different thing from someone who is in a real life disciplinary relationship. A spanking that results in a bruised bottom that was earned as a result of their own behavior and actions is the sexiest of all. I wish there were more amateur spanking sites out there that showed this type of content. If given the choice to see the unspanked bottom of a 21 year old super model, or the spanked bottom of an average housewife who was spanked for offenses she committed in her consensual disciplinary relationship, I would choose the housewife every time. So for me, that answers the question as to if a spanked bottom is more attractive.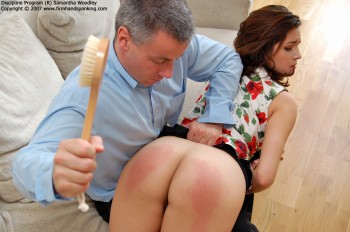 From the member's area of Firm Hand Spanking