The Spanking Blog
This is an adult site dedicated to the exploration of spanking between consenting adults. The main focus is on disciplinary spankings portrayed in various spanking videos and pictures, with sample pictures and reviews of the spanking content. The most recent blog posts appear below, and the free spanking picture galleries on this site can be found on the menu on the left. All spanking content on this site is free, and any link leading you outside of this site is clearly labeled as such. You must be 18 years or older to view this site.
[ Wednesday, March 26, 2008 ]
Free-Spanking.com
Free-spanking.com was a very early project of mine, built to be be your one stop source for all things spanking. To be quite honest, once we made our complete focus on production, this site slowly became out dated, and just quite ugly. This was before the days when we had a tech department to build websites, and this site shows my embarrassing and limited html skills at the time. Part of my full immersion back into the spanking scene, is to get back to basics and get back in touch with everything spanking. No promises of anything soon, but I have begun my web education again and I am working hard to learn to code again, as well as the most recent technology and style sheets that make websites more functional and compatible.
I guess I am trying to make a few points with this post. First, our site Realspankings.com clearly took the spanking world by surprise. We were the very first spanking site to film content exclusively for the web and we were certainly very well received. It started with a real life couple with a love for spanking that were willing to share some of our kinkier moments with the world. The devoted support we had from our members allowed us to grow big and fast. As you all know, this lead to a couple of studios, more than 100 models, many different sites, spanking forums, a spanking chat, DDV sales, AVN awards, PPV movies, and so on.
But somewhere along the way, it became just plain work. A work day used to consist of setting up a set, bringing in a single model and spending the most of the day scripting and filming a couple of really great scenes. Eventually it became about managing dozens of employees, dealing with lawyers and accountants, balancing very busy shoot schedules, and the list just goes on. It is clear by now to most of you that J and I took some time off. For me, instead of just jumping right back in to where I left off, I am taking it slow and focusing on some of what I really loved to do, before it all just became so grand in scale. I am committing a lot of time and effort to the blog, which is something that I actually enjoy doing. I am doing a total redesign of Free-spanking.com and I am doing all of the work myself. I am going to make it the site I had always envisioned it to be. There will be links, site reviews, DVD reviews, profiles of most of the spanking models in the industry, a spanking education resource, and so much more. I will then be focusing my attention on The Spanking Directory, updating all of the links, beginning to bring the spanking directory awards back into action, and adding some new and fun features that you will all enjoy. Along the lines of production, I will also be involved. My focus will be on the quality of the scenes produced, making sure that we are producing the type of scenes that created such a loyal fan base.
At the moment, it is all about me getting back to the basics. In a sense, it is time to get my hands dirty again and get out from behind a desk. Telling someone what kind of site that needs to be built, is far different than building it myself. Creating a list of the scenes that need to be filmed, is much different than dragging the furniture around the room until I have created a setting that feels realistic to me. Having a crew create content for all of our updates, is much different than filming a scene that personally really turns me on. Having someone interview a model on camera is much different than me asking her all the questions that I really want to know. This post is not about promises, it is not about guarantees of our future content or sites. It is an honest admission to where I am personally at in this crazy industry. The new studio is a done deal and a reality. There are no major plans for new sites, but a very real focus on bringing my personal touch back to the current sites. Realspankings.com and Women-Spanking-Men is what really started it all for us, and these two sites are going to get a lot of personal attention from myself and Miss J.
For the first time in years, I am very excited to be doing what it is I do best. Give us a little time to get back in the saddle, but you will begin to see the results of our efforts as we take the greatest spanking sites in the world and raise the bar even higher. Thanks to all of you for making everything we have been successful at possible.
Cheers,
Mr. M
[ Tuesday, March 25, 2008 ]
Is She Kinky?
"Men's Health" magazine often features polls of one kind of another. While I am sure that there stats are not quite up to the same standards as those we were forced to follow in grad school, they do tend to have at least a little science behind it. In their March issue, they conducted a study of 1093 women asking them about "kinky" sexual acts. I thought I would share some relevant information with you. Keep in mind that all the percents will equal far more than 100% because they could answer yes to any or all of the questions.
When asked about their Top Five Sexual Fantasies
80% want to masturbate in front of their man. Both for the excitement of being on display and so he could learn a little more about what she likes.
66% want to be handcuffed during a sexual act
74% want to be spanked during sex
63% want their hair pulled during sex
64% want to try sex in a public place
40% want to be record their sex to watch later
72% want to watch porn with their spouse
25% would like to try adding a woman into a night of fun with their spouse
47% would like to go to a strip club with their mate
It also seems that those wild college girls just get wilder as they grow older:
When asked is they would like to become their partner's "sex slave for the night"
71% of women age 18-24 said yes
75% of women age 30-34 said yes
Still wondering about your chances of a little "back door action"?
67% of women age 18-24 said they would like to try it
70% of women age 30-34 said they would like to try it
The moral of the story, most of the stuff you want to do with your lady, but are afraid to ask, she is just waiting for you to ask. So get out there and be bold and adventerous.

[ Friday, March 21, 2008 ]
RGE-Films Hidden Camera II- The Client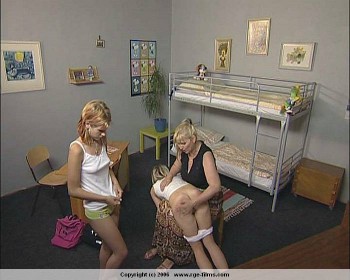 One of the few spanking producers to have been around as long as we have is Rigid-East, also known as Lupus, and most recently RGE-Films. Yes, this is the company that produces the videos that pretty much defined a new level of severity in spanking movies. They are also known for their quality, and all of their productions are filmed in an actual film studio with professional production equipment. As equally as impressive, given the level of severity, is that they feature some of the most beautiful models/actresses to be found anywhere. While for many years, you could only view their content by purchasing their DVD's and VHS tapes, they now have a membership site that features many of their available titles with regular updates. This site is Lupus Spanking.
The picture above is from a video that is available for purchase on DVD or full download at their DVD Sales Site as well as being included with a membership to Lupus Spanking. It is titled "Hidden Camera II- The Client" which is a continuation from an early Rigid-East release. What I love about this video is that a lot of the action is shown from a hidden camera perspective, and I just love to watch a spanking that has a voyeur feel to it. Below are a few more pictures from this movie, and in the weeks to come, when I launch the review portion of this site, I will provide a comprehensive review of this entire movie, as well as many other spanking DVD's. Until then, enjoy the harsh caning and realistic domestic settings.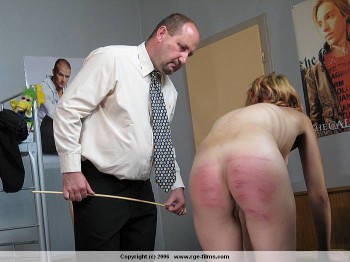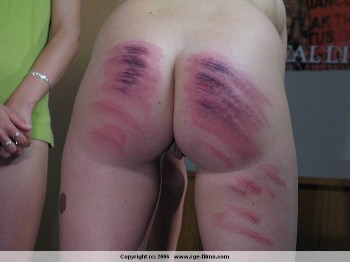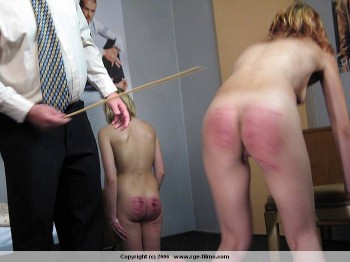 This video is included with your membership at Lupus Spanking or can be purchased on DVD at RGE-Films
[ Thursday, March 20, 2008 ]
Blog link info
All of my sites have always done well because I do my best to take a very honest approach. Just like the rest of you, I grow tired of blind links with dozens of pop up ads. I hate the new style of spanking TGP galleries that have clickable pictures that lead to free galleries, but with several of the best pictures taking you somewhere you never intended to go. I will make it simple, so you know what to expect on my blog:
Click a picture in a post- you get a high resoultion version of that picture.
Click the "MORE" link- this is for posts that have too many pictures or text to place it all on the main page. Clicking the "More" link will simply take you to the long version of the post, and most often will take you the full article that includes many pictures.
Click on a website name- This will take you to the exact website that I am positing about. Sometimes the website will be shortened and the link will simply say "HERE". I will never send you to a site that I do not believe in and have a membership to. If you ever find a link that I am posting leads you to anything other than it is supposed to, please let me know so I can quit supporting that site.
Free Galleries links- Unless otherwise stated, when I link to a free gallery, it is an internal gallery within my blog, that featured 100's of free spanking photos that I have placed into unique categories.
Side column links- They are generally self explanatory. If it says it goes to a spanking blog, it does. If it has a banner of a name of a spanking site, that is where you will end up. The links on the lower left column take you to different categories and archives within this blog. The "Bottoms of the week" and "Sorority paddling" links lead you to an organized index of all the posts I have made on this blog in which this content can be found.
If any links seems confusing or misleading, please comment on this post so I can correct it right away.
Spanking Comments
I had disabled the comments for the blog due to much spam in the past. All recent and future posts now allow comments. In addition, I have disabled the feature that only allowed blog members to comment. This means if you have something to say about any of my blog posts, feel free to leave a comment. Please note that all new comments are now moderated, so it may take a few hours before you see your comment appear. This also means that all of you damn viagra spammers and the likes, need to find somewhere else to spam. Off topic comments will not be posted, and innapropriate comments will result in your IP being added to the permanently banned list for this spanking blog. This is a free spanking site that provides a good deal of free content, please show respect when considering your comments.
Nothing but wood
The last week's worth of updates at Firm Hand Spanking have only featured wooden implements, and you know how I love wooden paddles and hairbrush punishments. Although in this case, they are using bathbrushes as the disciplinary tool. I think old fashioned wooden hairbrushes are a bit heavier and hit with a little more of a thud, but bath brushes have much longer handles and can be swung with more force. Either way the results is typically a bruised butt. This week's updates feature gorgeous Samantha Woodley getting a bare butt cheerleader paddling, as well as two wonderful bath brush spankings, leaving the fully nude young ladies bruised and sore.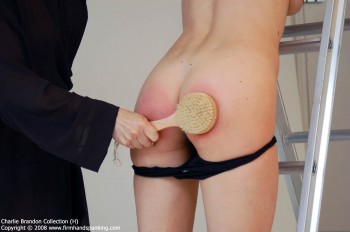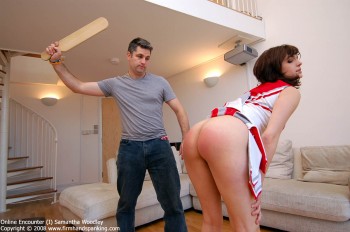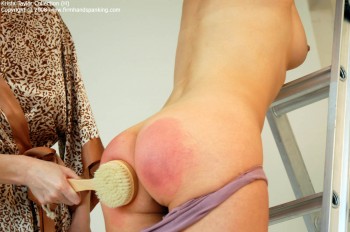 All images courtesy of Firm Hand Spanking. You can visit their site HERE to see the videos that go with these wonderful pictures.
Girls Boarding School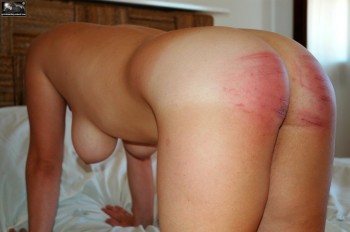 I Received an e-mail from Girls Boarding School today about tons of new free promotional galleries just put online. Thought I would post a few of the links here for you all. Tons of free pictures!
GBS Free Gallery I
GBS Free Gallery II
GBS Free Gallery III
GBS Free Gallery IV
GBS Free Gallery V
And some free Spanking video galleries:
GBS Free Spanking Video Gallery I
GBS Free Spanking Video Gallery II
GBS Free Spanking Video Gallery III
GBS Free Spanking Video Gallery IV
GBS Free Spanking Video Gallery V
All free spanking content provided by Girls Boarding School

[ Wednesday, March 19, 2008 ]
Road Trip preview
It seems that the "Maid for Punishment" trailer is getting a lot of views, so here is the trailer for the director's cut of "Road trip"
This DVD is available at Realspankings Films
School paddling gallery
As promised, I have finished the upload of the school corporal punishment paddling gallery. You can view it HERE
[ Tuesday, March 18, 2008 ]
School corporal punishment paddling pictures
One of the most common questions I am asked via e-mail is what was my favorite scene to film, or who was my favorite model to work with. The truth of the matter is that it is not a favorite model or video, it is a favorite type of scene. You might guess that as a spanking producer who is very much into the content that I am filming, that my favorite scenes would involve lots of young and naked women running around the set. But quite honestly, that is not the case at all.
My favorite scenes to film are the ones that seem the most realistic, and specifically I most enjoy filming school corporal punishment paddling videos in which the model is fully dressed. You must understand that I did not grow up in a household in which spanking took place. But I did grow up in the Texas school system, so the only reality of spanking for me as a kid was the threat of getting paddled at school, as well as hearing hallway paddlings, and hearing the many stories of students being paddled. I think most of us like to see represented in videos the things that have a strong childhood connection.
Well, young ladies bending over for several hard licks applied to their jeans, or on their tight PE shorts was my reality growing up, so these are the scenes I like to film the most. You will see that on the various sites I produce videos for that the school paddling theme runs heavy. These are also scenes in which you will see that I spent a little more time on the details and the realism. Because it was the policy of the schools I attended, I am very fond of the scenes that also include a witness. In my school district all paddlings had to be witnessed, and while a male teacher could paddle a female student, there had to be a female witness in this case.
In many of the paddling videos I have filmed, I like to explore what I know to be common states of dress in the school setting as well as the various positions that I know to be commonly used. So you will see that I really mix it up, but most often in our videos the paddling takes place over jeans, gym shorts, school uniform skirt, or just a dress. While simply being bent over a desk in the VP's office was most common where I grew up, many of the scenes I film feature the young lady grabbing her ankles, arms outstretched to the wall, hands on her knees, or bending over and grabbing a chair or stool.
I am in no way suggesting that paddling school age kids is effective or recommended, but that does not mean it did not have an impact on my spanking fetish growing up. It has been quite fun as an adult to be able reenact so many different school corporal punishment scenarios with consenting and legal aged young ladies. After just about every school paddling scene, in which someone is paddled realistically and over clothes, I ask the model if that would have served as a deterrent when she was in high school. The answer is almost always an enthusiastic yes. While many scenes involve a lot more swats or licks than is realistic, I typically like to give between four and eight good swats, which seems to be pretty common in real schools.
I have decided to celebrate my love for realistic school paddling scenes by adding another paddling gallery. Unlike the previous gallery "Wooden Paddle Punishments", which included many bare bottom paddlings, in this gallery I will only upload photos that are more realistic in nature. Some of my favorite scenes are some of the classic scenes on our sites, so the picture quality might not be as good as some of our most recent work. All of the scenes that I will post in this gallery still exist on the various sites, with full videos for every single one of them. So these are not just young ladies posing for a school paddling scene, every one of their bottoms really felt the sting of the wooden school paddle. I will upload the gallery tomorrow, but until then, here is a picture from one of my favorite paddlings from each site. Enjoy!

From Bispanking.com Claire tries to sit down on her freshly paddled bottom as Jasmine takes her licks: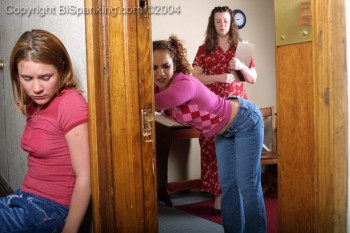 A classic Realspankings.com picture and one of the first school paddlings videos we ever filmed. Cute Holly bends over for a nice hard paddling from the VP: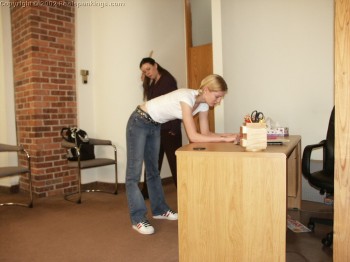 From RealspankingsInstitute.com Jasmine places her hands on the wall for a hard paddling in her gym shorts: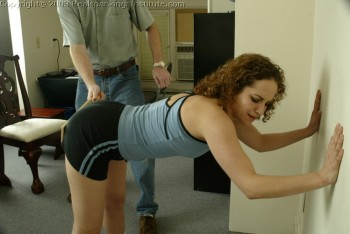 From Spankingteenbrandi.com, Brandi is paddled in the hallway with a female teacher as a witness: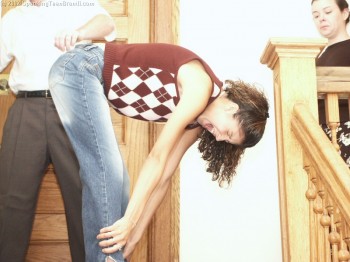 And finally from Spankingteenjessica.com, the young ladies learn that those who get in trouble together get paddled together: