Severe bare bottom caning marks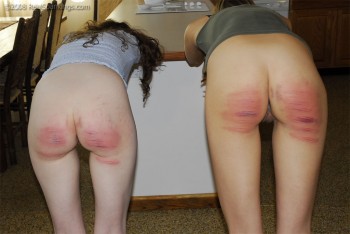 Pictures never quite demonstrate the true nature of a marked bottom. The picture above is from a recent video update at Realspankings.com in which I gave Monica and Bailey a caning that they will not soon forget. I chose the largest diameter cane in my collection, and the marks you see are from full force strokes. They had only earned 12 strokes each, but Monica's attitude led her to receive a total of sixteen. I wish you could have seen the results in person, they were amazing. Those stripes you see on their beautiful young butts, were actually some of the largest raised welts I have ever seen. The stripes easily could have been raised 1/2" off of their bottoms. Monica likes marks and wanted ones that lasted a while. Three weeks after this caning, she still had a visual reminder of her naughty ways. This is probably one of the hardest canings I have applied in the last 5 years, and you can see it all in the recent updates at Realspankings.com. From my discussion with Monica afterwards, I get the sense that she wants to know what a severe session such as this caning, would feel like with a thick wooden hairbrush. I am afraid I will probably have to let her experience the reality of a traditional hairbrush punishment. Something tells me, that will be her last request for a scene so severe in nature.
Comments:
Commenting is not available in this weblog entry.