The Spanking Blog
This is an adult site dedicated to the exploration of spanking between consenting adults. The main focus is on disciplinary spankings portrayed in various spanking videos and pictures, with sample pictures and reviews of the spanking content. The most recent blog posts appear below, and the free spanking picture galleries on this site can be found on the menu on the left. All spanking content on this site is free, and any link leading you outside of this site is clearly labeled as such. You must be 18 years or older to view this site.
[ Tuesday, March 18, 2008 ]
School corporal punishment paddling pictures
One of the most common questions I am asked via e-mail is what was my favorite scene to film, or who was my favorite model to work with. The truth of the matter is that it is not a favorite model or video, it is a favorite type of scene. You might guess that as a spanking producer who is very much into the content that I am filming, that my favorite scenes would involve lots of young and naked women running around the set. But quite honestly, that is not the case at all.
My favorite scenes to film are the ones that seem the most realistic, and specifically I most enjoy filming school corporal punishment paddling videos in which the model is fully dressed. You must understand that I did not grow up in a household in which spanking took place. But I did grow up in the Texas school system, so the only reality of spanking for me as a kid was the threat of getting paddled at school, as well as hearing hallway paddlings, and hearing the many stories of students being paddled. I think most of us like to see represented in videos the things that have a strong childhood connection.
Well, young ladies bending over for several hard licks applied to their jeans, or on their tight PE shorts was my reality growing up, so these are the scenes I like to film the most. You will see that on the various sites I produce videos for that the school paddling theme runs heavy. These are also scenes in which you will see that I spent a little more time on the details and the realism. Because it was the policy of the schools I attended, I am very fond of the scenes that also include a witness. In my school district all paddlings had to be witnessed, and while a male teacher could paddle a female student, there had to be a female witness in this case.
In many of the paddling videos I have filmed, I like to explore what I know to be common states of dress in the school setting as well as the various positions that I know to be commonly used. So you will see that I really mix it up, but most often in our videos the paddling takes place over jeans, gym shorts, school uniform skirt, or just a dress. While simply being bent over a desk in the VP's office was most common where I grew up, many of the scenes I film feature the young lady grabbing her ankles, arms outstretched to the wall, hands on her knees, or bending over and grabbing a chair or stool.
I am in no way suggesting that paddling school age kids is effective or recommended, but that does not mean it did not have an impact on my spanking fetish growing up. It has been quite fun as an adult to be able reenact so many different school corporal punishment scenarios with consenting and legal aged young ladies. After just about every school paddling scene, in which someone is paddled realistically and over clothes, I ask the model if that would have served as a deterrent when she was in high school. The answer is almost always an enthusiastic yes. While many scenes involve a lot more swats or licks than is realistic, I typically like to give between four and eight good swats, which seems to be pretty common in real schools.
I have decided to celebrate my love for realistic school paddling scenes by adding another paddling gallery. Unlike the previous gallery "Wooden Paddle Punishments", which included many bare bottom paddlings, in this gallery I will only upload photos that are more realistic in nature. Some of my favorite scenes are some of the classic scenes on our sites, so the picture quality might not be as good as some of our most recent work. All of the scenes that I will post in this gallery still exist on the various sites, with full videos for every single one of them. So these are not just young ladies posing for a school paddling scene, every one of their bottoms really felt the sting of the wooden school paddle. I will upload the gallery tomorrow, but until then, here is a picture from one of my favorite paddlings from each site. Enjoy!

From Bispanking.com Claire tries to sit down on her freshly paddled bottom as Jasmine takes her licks: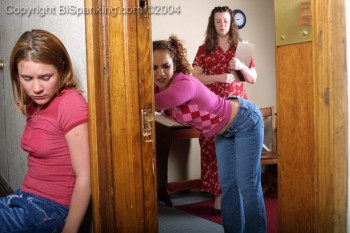 A classic Realspankings.com picture and one of the first school paddlings videos we ever filmed. Cute Holly bends over for a nice hard paddling from the VP: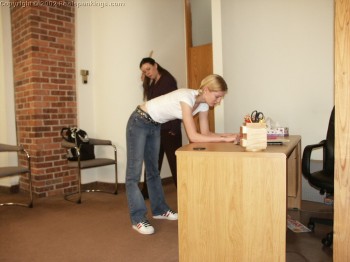 From RealspankingsInstitute.com Jasmine places her hands on the wall for a hard paddling in her gym shorts: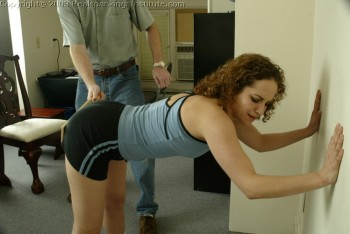 From Spankingteenbrandi.com, Brandi is paddled in the hallway with a female teacher as a witness: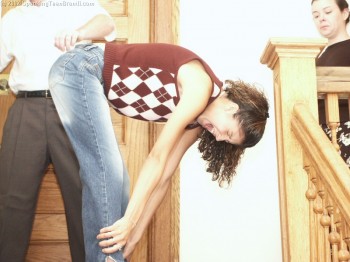 And finally from Spankingteenjessica.com, the young ladies learn that those who get in trouble together get paddled together: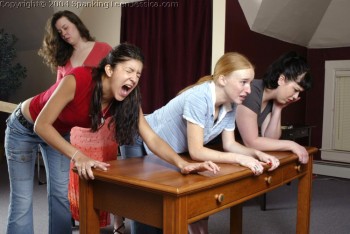 Expressions of pain during a spanking
Sometimes it is a bruised bottom that demonstrates a proper punishment spanking, other times all you have to do is look at the face of the young lady being punished. It is clear from the expression on Helen's face from Realspankings.com that lifting her skirt for a hard caning from Coach is not an enjoyable experience. Click any photo for a high resolution version.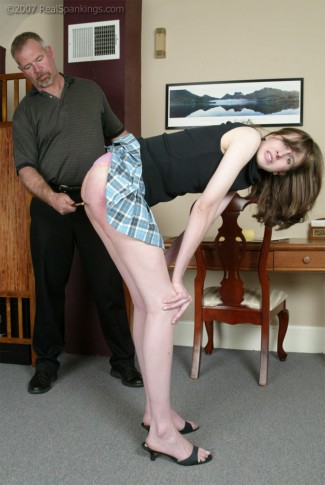 Also from Realspankings.com is Janelle. Clearly this is not an paddling that she is too thrilled about receiving. I really like this picture due to the realism. A naughty young lady, in her bedroom, dropping her pants and panties for a bare bottom paddling, with her hands on the bed. Something tells me that this scene brings back memories for many of us.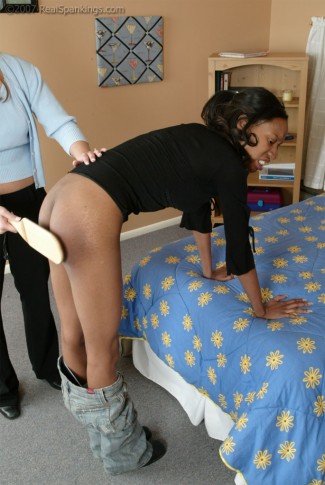 Both of these scenes come from recent updates at Realspankings.com part of the Realspankingspass.com family of sites.

[ Monday, March 17, 2008 ]
Fresh Faces- Spanking Hotties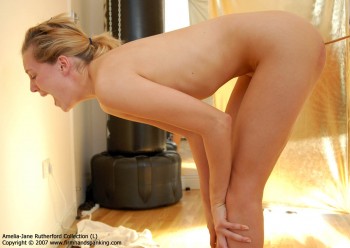 I thought I would profile some of the newer faces on the popular spanking sites that I find to be oh so hot. These young ladies go beyond great butts, and the ability to take a hard spanking, they are all truly beautiful with a face that fits the role of a naughty young lady perfectly.
Too many pictures for the main page, so click the MORE link to view the entire gallery. As is always the case, the MORE link always links you to an internal page on my blog and never to another site.
Happy Tails
Happy tails is a nice little spanking forum hosted by friends of mine. They have carved out a nice and friendly spanking forum. You can check them out at Happy Tails Spanking Forum
[ Sunday, March 16, 2008 ]
Maid for Punishment
During the more than ten years of producing spanking videos for my various sites I wrote what I felt to be some pretty good and believable spanking content. On occasion I took the time to produce some full length spanking movies and tried to push the envelope with production value and scripts. My goal was to film a spanking movie that people would watch from beginning to end, without just fast forwarding to the spanking parts. It is a hard task, especially when using models and not actors. Had I been able to hire fantastic actors that were willing to take a hard spanking, clearly I would have. "Road Trip" was my first serious attempt, and it was a spin off of our successful site RealSpankings Institute. I really wanted to create a movie that featured a setting in which legal aged girls were being spanked in somewhat of a realistic situation. We enjoyed great success with this movie, but the moment I finished editing it, my mind began to look toward the future, learning from the difficulties of our first full scale production. It took more than a year of planning and scripting, but eventually "Maid for Punishment" became a reality. It was much larger in scope than anything we have ever done before but the time and effort was worth it. While it would be a later movie that actually earned us an AVN award, I still consider "Maid for Punishment" to be my masterpiece. Once again, I tried to create a situtation that provided a believable scenario that allowed for young women to be punished for real offenses. Clearly it is not Hollywood, but it is still something I am very proud of today. Below I have posted the trailer to this movie. All of our DVD's are available at Realspankings Films
Question
I like to write the occasional article, and at least in the past, it seemed people liked to read them. I know I have been an on again and off again blogger who has somewhat dissapeared from public view. Maybe no one even cares what I have to say anymore, there is really no way to tell. I sometimes think the only attraction was that I was this person that they could watch spank young ladies online and that there was some sort of interest in getting to communicate with a public spanking figure. I have felt that my unique experiences in the industry as well as having served as a real life disciplinarian for countless young ladies allowed me a perspective that might help guide people in the pursuit of active and safe spanking relationships. I have tried to explore spanking in somewhat of a scientific and psychological manner and provide insight into areas that I felt might be overlooked by beginners. If there is something you would like me to attempt to write about, please post a comment and let me know. I am back to blogging everyday and want my blog to be about more than just showcasing the latest pictures and videos on various spanking sites. I have always felt that my insight is what set my spanking blog apart from all of the others and I would like to be able to head in that direction again. Your input would truely be appreciated.
Cheers,
Michael Masterson
Still spanking the boys at Women Spanking Men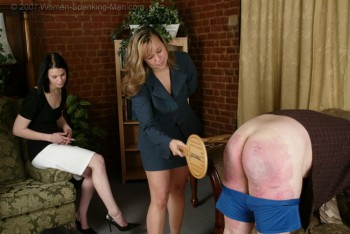 It has been a long time since I have discussed Women-Spanking-Men but the site is alive and well. It is still one of the only sites in which men are given punishment style spankings without a lot of the goofy FemDom stuff that I see on many sites of this kind. I am so distracted on the sites in which it is just all about the verbal, with way too much of "you are such a naughty boy" dialogue. Women-Spanking-Men clearly focuses on the physical application of the discipline and as you can see from the pictures below, the discipline is very real. When the men come to be spanked, they want a real spanking and Women-Spanking-Men still delivers. With the addition of "the boy" as a featured model on the site, you get a male that looks the part of a naughty little school boy and he can really take a spanking. In addition, when you click the "MORE" link for the rest of the pictures, you will see "the boy" take a very rare caning on the front of his thighs. Click the link below for more pictures from Women-Spanking-Men that show hard spanking action.
[ Saturday, March 15, 2008 ]
Birthday Spanking
Alright, this clip is a little different for a couple of reasons. First, I do not typically post clips of fun, playful, or birthday spankings. In addition, I never post anything that involves teen girls that are not at least 18 years old. But this birthday spanking is just too cute, very innocent, and certainly is non-sexual. The reason I am posting it is because it demonstrates that spanking can be fun and innocent. It also demonstrates that people of all ages enjoy some aspect of spanking. It is hard to tell from this clip who is having more fun with it, the girl giving the spanking or the girl receiving it. It does go to show, that even when it is just for fun, people can't help themselves and like to spank hard, and even the person being spanked hard does not seem to mind all that much. If anyone finds that this clip is innapropriate for this blog, just let me know and I will remove it. But I think it is just a couple of innocent teen girls having a little fun with a birthday spanking and is no where near being adult content.
[ Friday, March 14, 2008 ]
World Spanking Forum
Be sure to drop in and check out the redesigned World Spanking Forum. It is as busy as ever and there are some new features that allow exclusive preview of various videos from the Realspankings group of sites.
Japanese schoolgirls getting spanked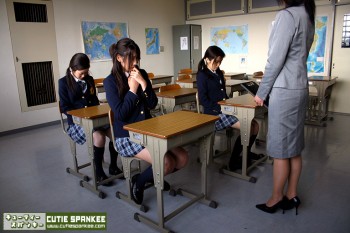 With the exception of yeasterday's post about the site HardCaning.com, I never post a review about a spanking site in which I am not an active member. I would have joined, but some of those European billing systems don't seem to like my debit card.
I have not posted about www.cutiespankee.com in a while because I have not been an active member. I resigned up a few days ago and have been catching up ever since. I can honestly say that I was not dissapointed and I feel they have come a long ways in the last few years. They just posted their 241st scene and they are wonderful. There are a few things that I find highly attractive about this site. First, I do not believe that they have a studio, everything seems to be a location shoot of some sort, so there is an added degree of realism with the setting. Take this picture for example: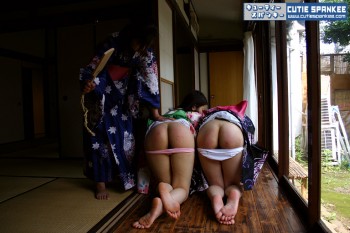 If there was ever an image in my mind of a traditional Japanese mother punishing her daughters, this fits pretty closely. Another factor, and this may just be because they are an Asian site, is that they do not hesitate to present realistic parental spanking scenarios. Many of the scenes are mother/daughter scenes. Another appealing aspect is the use of realistic costumes. They just love the kimonos and they are worn often. There are many scenes with nurses as well full maid outfits. But the biggest bonus as far as I am concerned is their fantastic classroom. It doesn't appear to be a few desks just shoved in someone's living room, I believe it may be an actual classroom. A few years ago they did some school type scenes, but now they have dozens of videos featuring naughty school girls, in traditional Japanese school girl outfits.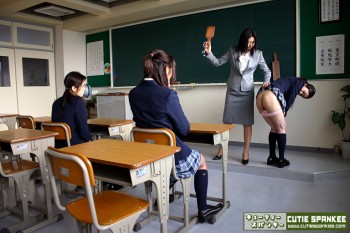 The final fews things that I am really enjoying is the fact that almost every scene starts with a hand spanking but moves on to an implement. Unlike most sites on the web, they are using a wooden paddle in close to half their scenes. As you know I am a big fan of the wooden paddle, and while the traditional Japanese wooden paddles are a little shorter, they seem to get the same reaction. I feel their spankings have gotten a little harder, and if you are a fan of young Asian girls, these young ladies define beautiful with their fair skin and petite bottoms. This is a real Japanese site with good subtitles for those of us limited to English.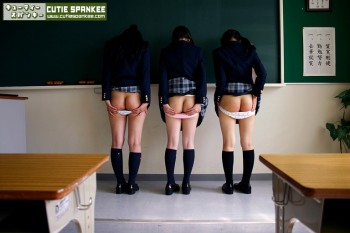 For the most recent work of www.cutiespankee.com I give an enthusiastic two thumbs up. You can visit their site HERE