The Spanking Blog
This is an adult site dedicated to the exploration of spanking between consenting adults. The main focus is on disciplinary spankings portrayed in various spanking videos and pictures, with sample pictures and reviews of the spanking content. The most recent blog posts appear below, and the free spanking picture galleries on this site can be found on the menu on the left. All spanking content on this site is free, and any link leading you outside of this site is clearly labeled as such. You must be 18 years or older to view this site.
[ Monday, March 14, 2005 ]
Realspankings Pass
I noticed that I have not made any mention of our new site Realspankings Pass. I thought I would let those of you that are not aware that it does exist and provides you with a large discount to many of our sites. With the pass, you have full access to realspankings.com, realspankingsinstitute.com, bispanking.com, spankingteenjessica.com, and spankingteenbrandi.com. All of these sites are produced by me and feature exclusive content that does not exist anywhere else on the web. All of the sites combined have more than 20 GB of content and more than 100 hours of hard punishment video. If you belong to two or more of my sites, you will find the Realspankings Pass to be a very good discount.
[ Friday, March 11, 2005 ]
Lovely Sarah is back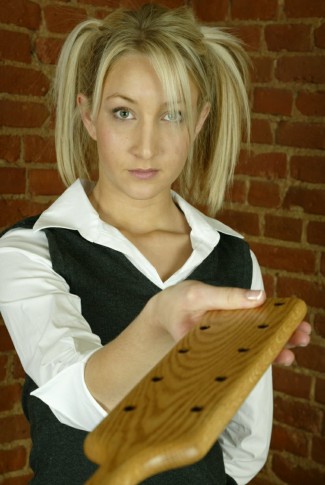 Many months ago we were quite dissapointed to learn that one of our most popular models, Sarah, would no longer be doing shoots for us. But now it seems that she is back. She returned to us a few weeks ago and is enthusiastic as ever. She surpirsed us all by bringing some extra excitement with her. First, she brought a good friend of hers that wants to give mdeling for us a shot. After doing her friend's new model orientation, we discovered that her friend has fantasized her whole life about being spanked hard, but is still a spanking virgin. She had great trouble concealing her excitement as I explained to her the various scenes we do. She is gorgeous and I am sure that our Realspankings.com members are going to be quite impressed.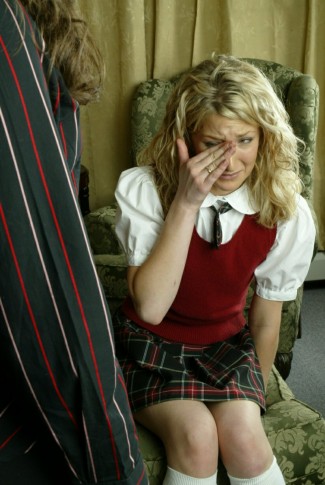 Sarah also revealed some new information to us that we were completely unaware of. She asked if it would be possible to do some scenes with other models in which their was sexual contact. It appears as though Sarah is very bisexual and never hesitates to engage in some hot girl/girl action. She has been looking over our model list and asking about certain girls that she wants to have an encounter with. Looks like Sarah might have to make a couple of guest appearances at bi.spanking.com so she can satisfy her cravings.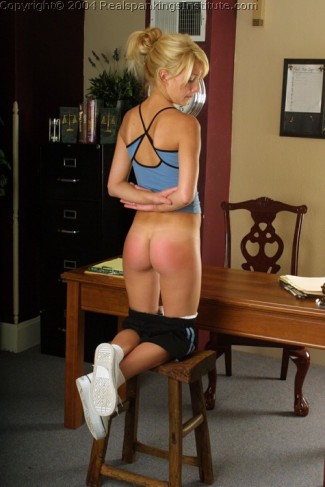 We are very excited to have Sarah back and look forward to the addition of her hippie/model friend. Look for them both this summer, I am confident that we will be seeing a lot of both of them.
More models that like to be spanked.
It seems the spanking Gods have been with us lately with new models. It seems that the majority of the new models to walk through our doors nowadays really like to be spanked. In the last four months we have signed on four new models with a desire to be spanked. The one thing that always confuses me are the girls who have boyfriends or husbands who won't spank them right. Out of the four new models, all of which are in a relationship, none of them are getting what they desire at home. In all four cases their significant other knows about their fetish, but do very little to satisfy it. It is great for us when we explain to a new model that the majority of our scenes involve a sense of being in trouble and really being punished, and they reply excitedly with "Thank God"! These are not girls who are looking for fun little handspankings during sex, they want to be in trouble and they want to be properly punished. They all have shown a lot of enthusiasm in finally getting to explore their fantasies. For the first time ever, we are having models bring in scene ideas that they want to explore, without us asking for them. This has all led to some really exciting content as well as some new additions to our "Real Discipline" series. It makes our day a lot more fun and exciting when working with girls who are living out their fantasies. You should see the looks on their faces when I tell them that they can pick the implements for the day's shoot, and then take them to the implement closet. They are like kids in a candy store as they go through more than 200 different implements that they can be spanked with. Sometimes I tell them to pick three and they return with 10. They just can't make up their minds and want to feel them all. We are looking forward to a very fun and exciting summer with a new group of girls that can't wait to have ther naughty bottoms spanked black and blue.
[ Tuesday, March 08, 2005 ]
Spanking from Japan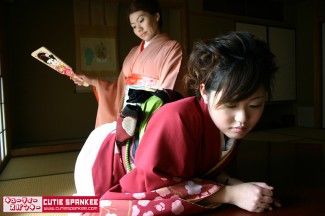 I will have to admit that I missed the boat on www.cutiespankee.com. I have been aware of the site, but never really took the time to check it out in detail. My first impression was that it was a site that dealt with posed girls and soft spankings. I think part of it came from the fact that I did not see many red butts in their photos. Having now watched all of their videos, I have changed my mind on my opinion of this site. I think that they may just do their photo shoots before the videos, as a result, the butts are not very red.
Having now looked at all of their content, I am very impressed. First, the models are all gorgeous. They now have five different models and I would be lucky to have any of them working for me. Something else that I was not aware of, is that this seems to actually be a site based in Japan. All of the shoot locations are clearly in Japan and Japanese is spoken throughout. There are subtitles that allow you to follow the plot. Most of the scenes have a domestic feel and there is plenty of content for those that like to watch mother/daughter spankings. They use more costumes than most sites and the scenes have a very real feel to them. They explore many themes including teacher/student, mother/daughter, employee/boss, doctor/patient, maid/employer, and so on.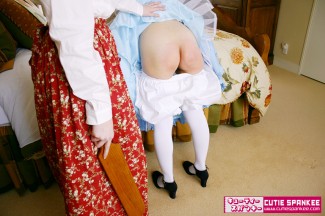 The spankings themselves are quite good. I was surprised to see that many of the spankings are quite hard. They use many implements in their scenes, with most of them including a handspanking and the hard application of an implement of some sort. The cane is featured often as well as the hard use of the hairbrush, wooden paddles, rulers, and other implements. From their free samples I expected light use of these implements, but their videos quickly proved me wrong. While I would not classify much of their content as very severe, as someone who likes to see very hard spankings, I was not dissapointed.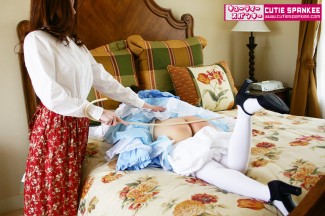 I can now honestly give www.cutiespankee.com my approval and I would recommend it to anyone that is looking for unique content, with good production value, hard spanking, and fantastic models. You can visit their site at www.cutiespankee.com or view more free picture samples by clicking the "more" link below.