Spanking from Japan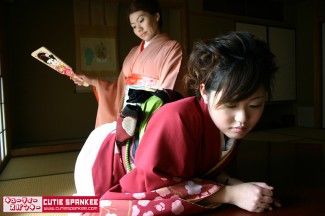 I will have to admit that I missed the boat on www.cutiespankee.com. I have been aware of the site, but never really took the time to check it out in detail. My first impression was that it was a site that dealt with posed girls and soft spankings. I think part of it came from the fact that I did not see many red butts in their photos. Having now watched all of their videos, I have changed my mind on my opinion of this site. I think that they may just do their photo shoots before the videos, as a result, the butts are not very red.
Having now looked at all of their content, I am very impressed. First, the models are all gorgeous. They now have five different models and I would be lucky to have any of them working for me. Something else that I was not aware of, is that this seems to actually be a site based in Japan. All of the shoot locations are clearly in Japan and Japanese is spoken throughout. There are subtitles that allow you to follow the plot. Most of the scenes have a domestic feel and there is plenty of content for those that like to watch mother/daughter spankings. They use more costumes than most sites and the scenes have a very real feel to them. They explore many themes including teacher/student, mother/daughter, employee/boss, doctor/patient, maid/employer, and so on.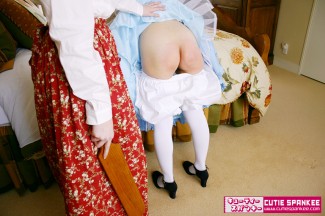 The spankings themselves are quite good. I was surprised to see that many of the spankings are quite hard. They use many implements in their scenes, with most of them including a handspanking and the hard application of an implement of some sort. The cane is featured often as well as the hard use of the hairbrush, wooden paddles, rulers, and other implements. From their free samples I expected light use of these implements, but their videos quickly proved me wrong. While I would not classify much of their content as very severe, as someone who likes to see very hard spankings, I was not dissapointed.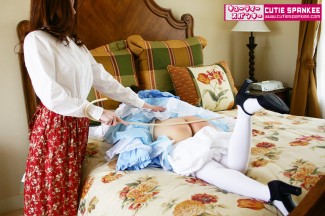 I can now honestly give www.cutiespankee.com my approval and I would recommend it to anyone that is looking for unique content, with good production value, hard spanking, and fantastic models. You can visit their site at www.cutiespankee.com or view more free picture samples by clicking the "more" link below.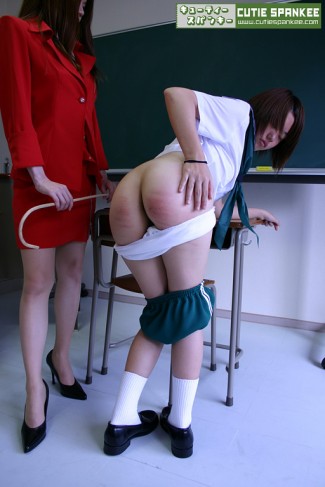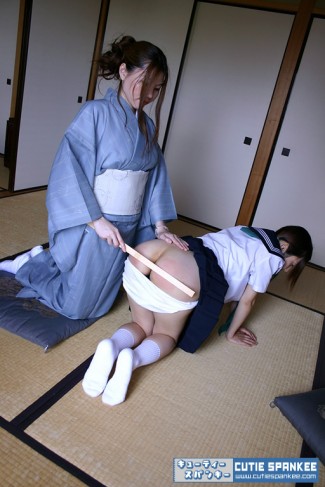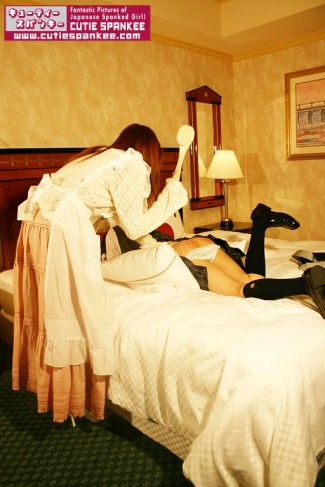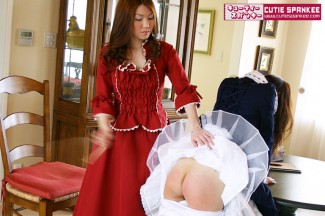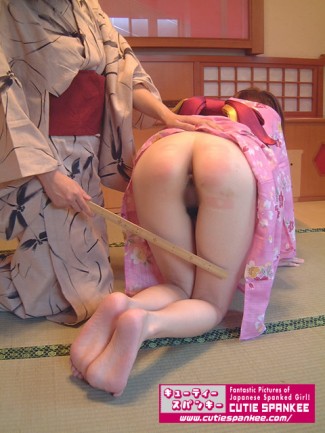 Visit www.cutiespankee.com for more free pictures and video samples.

Comments:
What I find really hot about the photos I have seen on that site, is how the bottom is exposed just enough for the spanking to take place. If I didn't have so much money tied up in your sites I would join theirs just for that reason alone! I also like the position used in the photo where a man is spanking a girl with a wooden coat hanger. (I didn't like the implement choice, just the way he held her under his arm in a standing position).
There is just something so erotic about seeing a person's pants/panties pulled down just enough for the spanking...nothing else being exposed. It seems more realistic. My favorite position would be OTK with the disciplinarian pulling the pants/panties down. My second choice being the spankee held under the disciplinarian's arm while still standing.
I have seen you do a few videos where just the bottom is exposed...two that come to mind being drop seat pjs videos and a scene with Amy where she lowers her pants, goes over your knee, you pull her panties down, and then spank her with a strap (she is naked from the waste up in this one but that had to do with WHY you were spanking her, lol). Any chance you could try MORE videos where JUST the bottom is exposed?

I WOULD BE INTERESTED IN PURCHASING DVD OR VIDEOS, WOULD YOU SUPPLYTO SOUTH AFRICA, KINDLY ADVISE ON THE PROCEDURE. THANKS KIND REGARDS,MAX SWARTZ