The reality of the use of the belt to punish a teen girl's bottom
The videos I film for my various websites, while some you have to suspend reality a bit, I certainly try very hard to provide realistic corporal punishment as it exists in the real world. In actual reality, corporal punishment exists in the home between a parents and a child, in some schools, judicial, and between consenting adults. For most people, our spanking desires began at a young age and were generally a result of something we experienced or something we saw growing up. There will never be anything sexy for me about a five year old getting a spanking from a parent, but I am guilty in the sense that there is indeed something exciting about an older teenage girl getting punished for something she very much deserved. Whether it is in the school environment, in which she elects to receive a paddling, or in the home environment in which she bends over for a well-deserved spanking from a parent, there is some excitement in thinking about that concept.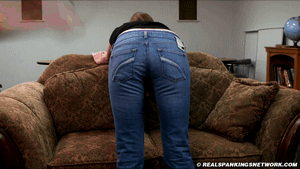 I have written before about the fact that it is not that it is a teen that makes it exciting; it is the fact that it is real. Yes, there can be "real discipline" between adults, but for the most part it is indeed consensual and one or both adults probably have a spanking fetish. True corporal punishment is generally non-consensual and involves someone being punished for something that they did and they are getting a punishment that they in no way want. There are still a few schools out there in which a high school girl can be paddled and have no say in it, but for the most part, corporal punishment is something she elects to receive in lieu of another punishment. So, if we really want to consider how corporal punishment does indeed still exist in this country, and does not involve young children, what we are looking out is the reality of how an older teen my still be disciplined in the privacy of her own home.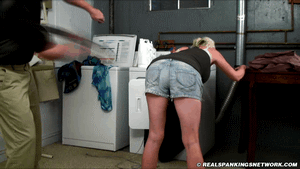 While this can happen anywhere, it is still only common in the South. My own experiences growing up, as far as the girls in my neighborhood getting spanked, there were a couple that I know that were spanked well into the high school years. This being out of the maybe 4-5 girls who I could get to share the fact that they were spanked at all. Having just recently visited my Texas home town, I can tell you that not much has changed. If we go a little deeper into the woods of places like Mississippi and Alabama, I would have to guess that a 17-18 year old girl, still living at home, is not immune to the spanking process when it is needed. Every girl that I knew, or have interviewed for my sites, that was spanked past the age of 14 pretty much had the same spanking experience. With very few exceptions the punishment was from her mom or dad, with a belt, over whatever she happened to be wearing at the time. This would typically be tight jeans, or jean shorts, with the occasional spanking taking place over pj's or maybe even a swimsuit. Yes, I have heard about the occasional bare bottom spanking, but as far as I can tell that it pretty rare for an older teen girl.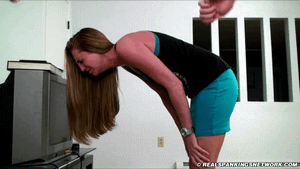 So, if we are considering real life corporal punishment, in this day and age, in this country, of a fully developed girl approaching adulthood, the reality of it is dad's belt applied forcefully to her teen bottom. I accept this and embrace this on my site. I still do not feel that corporal punishment is the most effective form of punishment for kids or teens (I have never spanked any of my kids of any age), but if we are exploring realistic corporal punishment, then this scenario needs to be addressed. As people who are into spanking and want realism, it is hard not to find the thought of an 18 year old girl, getting in more trouble than she has ever known, being sent to her room to have her bottom worn out with the belt, at least a little bit exciting.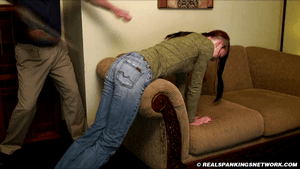 Just as with the school corporal punishment videos that are so heavily featured on Realspankings.com we tend to shoot realistic strapping videos pretty heavily. Our members seem to really like to be able to watch the reactions of real girls, some as young as 18, receive what is a genuine punishment. When I bend a young lady over and pull off my belt, my goal is indeed to apply the exact same punishment that young ladies who still get spanked at home would receive. I have learned that a proper belt spanking, even over jeans and panties can be quite effective. The belt I use is not as thick as many Western belts I have seen, but it is enough to get the job done. I would guess that I give more strokes than the typical dad would to his daughter, but I am filming a video, and 5-6 strokes is just not enough to make our members happy. I do not believe in any sort of warm-up and always swing as hard as I can from the very first stroke. Tears are not uncommon during the strappings I administer and every young lady certainly ends up with major welts and a fairly bruised bottom. I did a great one last week in which it was a candid interview with Alyssa and she compared my strapping with the frequent ones she received from her dad growing up and it was quite interesting to get that perspective.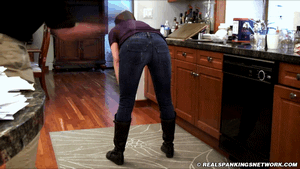 So, if hard and realistic strappings are something that you like to see, and you want to see them administered as they are on a daily basis in the homes throughout the South, I can be quite honest in saying we are producing some pretty good work in our new studio. We still film tons of strappings on the bare, but we try to provide a good mix with the very realistic ones. With the strappings that are over jeans, all scenes end with a bare bottom reveal so you can see what the actual results are of a hard strapping. This gives you a little insight as to the little secrets that naughty teen girls are really hiding under those tight jeans when they are walking the halls of their high schools. All animations above are from recent strappings filmed in HD for the member's area of Realspankings.com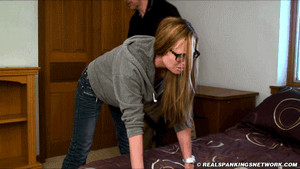 Comments: