Painful bondage and the dreaded crotch rope
Last time I discussed my interests in bondage I focused mainly on the variations of bound breasts and various painful things to do to the nipples. As with any fetish my interests change over the years, or at least expands to include different things. Honestly, I was at least a dozen years into my spanking fetish before I began to find any aspects of bondage all that appealing. As discussed in my previous post about bound breasts, my main focus in regards to bondage in general has to do with bondage as some sort of punishment. Just watching some helpless woman tied up and struggling does not really do it for me, but when you throw in aspects of bondage that are intended to serve as a punishment and provide specific pain to an erogenous zone of a women's body, then you have my attention. Which brings me to the increasingly popular crotch ropes.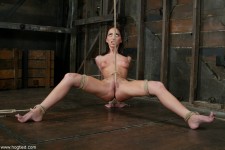 Now I must admit, for whatever reason, ten years ago this would not have appealed to me all that much, but now I find it quite exciting. The use of a crotch rope on hogtied.com has become almost standard with every update they do. While I still would rather see painful applications focused on a women's bottom, I like the crotch rope. I think a lot of it has to do with the fact that a sensual part of her body is clearly being punished. It is not just general bondage in which you know they are uncomfortable, it is clear that their pussy hurts (pardon my use of the word, but vagina seems a little clinical for these purposes). It is also clear in the scenes that these woman are not enjoying it at all. I can't really relate because I obviously do not know what it feels like, but it seems like it sucks a lot. So for me this ties closely with what I like in a good spanking video as well as what I hate. If what is going on seems like it is enjoyed, or at least is being tolerated, than it does not do much for me. But when I watch the rope pulled tightly and dissapear between her legs, it is instantly clear that this can be considered a punishment. I have yet to see an update that included a crotch rope in which the women wasn't basically begging for it to be removed.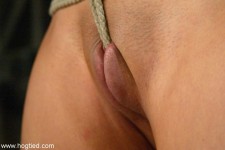 I have found that as far as general bondage goes in which no specific part of the body seems to be punished, I like the pictures and videos in which the bondage creates access. My thoughts are always on spanking, so the positions that present the bottom in a unique way tend to be my favorites. Tell me you can't think of at least a dozen creative kinky things to do to the young lady's bottom below.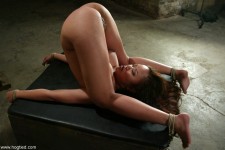 While hogtied.com is definately all about the bondage, certainly every women to enter their doors feels a taste of the whip. The whippings would be considered mild by my standards but their canings show promise. I do not think there is a spanking site in the world that can compete with the amount of foot canings administered on their site. If you are interested in bondage or just looking to expand on your spanking interests, hogtied.comis worth a peek. As always, you will never see me recommend a site that I do not personally belong to. If you join, drop me a note and I can point you in the right direction for scenes that I can't get enough of.
Comments:
I especially love the ones like that first one. She can relieve the pressure on the crotch rope by supporting her weight with her arms, but her arms will tire so her efforts are futile. This also works well using a crotch rope and forcing her up on her tiptoes. Eventually her legs will tire out so she will have sore calves as well as the pain caused by the crotch rope.
free access of celeb nude pic