My first spanking picture
Around the time I entered the 5th grade, my parents bought their own business, which led to my mom going to work each day with my dad. This was the first time since birth that I found myself unattended in my parent's house. When my parents were away, my older brother was always at home, but it still led to me being able to do some things that I could not before.
One of these things was the ability to look at the "Playboy" and "Penthouse" magazines that my parents kept on the bottom shelf on their nightstand. The very first glimpse that I had that I was not alone in my spanking desires was to be found in the "forum" section of Penthouse. It seemed that just about every month in the letters there was a spanking reference. For months I would read and reread every forum article that involved spanking. I read these so often that I could tell you what page, in any given issue, the spanking story was on. At this point in my life I was not even masturbating, but I quickly learned what pushed my buttons.
Several months into my newfound freedom a new issue of Penthouse arrived (my parents had a subscription). In this issue I saw my first glimpse of spanking media. I do not remember the context in which the picture appeared, but I knew that I liked what I saw. The picture below, a vintage spanking photo, is the first spanking picture I ever saw. As I kid, I had no idea this was a posed picture, and I wondered for months what these girls had done wrong and what school they had gone to. I knew the picture was old, but I thought it was the real thing. I was so intrigued by this photo, that I no longer waited until my parents were out of the house to look. I would often sneak into their bedroom and take a quick peek at the picture.
While I do not have the information in front of me, I do know who the picture was taken by. I have a book with a collection of old spanking photos and it is included inside. I will try to track down the name of the photographer, he deserves credit, he was clearly way ahead of his time.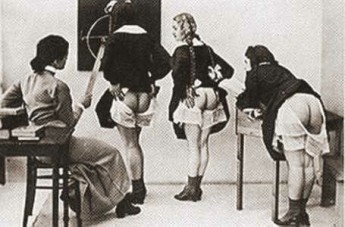 Comments:
Wow, that post could have been written by me. Well, except for the part about that picture, never saw it. Penthouse Variations was around by the time I was sneaking around, and it had some nice pictures and stories too.
My first time was very similiar as well. I was a kid(probably around 10yo) going through my grandfather's old playboys in the basement. I found a picture i will NEVER forget, in fact i ripped it out, so i have it somewhere. It was from a movie that i'm STILL Chasing down called "love is a four letter word". It was a picture of 4 or 5 sorority girls, topless with just undewear covering their bottoms. Their hands were tied above their head and there was a woman holding a paddle in the middle of them. I've LOVED spanking ever since.
Krakow hotels
http://hotels.krakow.pl
Venice hotels
Fort Lauderdale hotels
resources.php?city=Amsterdam
Istanbul hotels
San Francisco hotels
Anchorage hotels
Reading hotels
Orlando hotels
Cambridge hotels
Genoa hotels
St Helier hotels
Car insurance order now online
1155
http://www.lowcostresort.info/page/1154.html
beagle Venice
http://www.hotelsjobs.info/crucible_Italy/elude_Toscana/beagle_Florence_1.html
you Antwerp
http://www.hotelsservice.info/franglais_Belgium/encrust_Capital
Region/you_Brussels_1.html
elusion Mestre
http://www.mykrakowhotel.info/deliberative_Italy/polyhedron_Toscana/elusion_Siena_1.html
reissue Pitlochry
http://www.bestrhotel.info/miser_United
Kingdom/syphilis_Scotland/reissue_Glasgow_1.html
savvy Sorrento
http://www.lowcostlodging.info/pimento_Italy/vernation_Campania/savvy_Naples_1.html
Kissimmee hotels
http://www.hotel-phuket.ws/phuket82_en/United_States/District_Of_Columbia/Washington-hotels.html
pc games cheats