Domestic Discipline Articles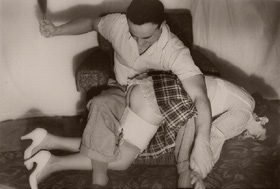 Lately, I have been reading articles on domestic discipline as a full on lifestyle. The Taken in Hand website has proven to be a valuable source for intelligent and well thought out articles exploring this subject. It is nice to read the perspective of many women on this topic.
I have always found it amazing that there are so many women out there in relationships in which they have confessed to their man that they want to be punished when they misbehave, and the man does not want anything to do with it. Being that I am into the whole concept of spanking and discipline, it is hard for me to step out of my current mindset and see things from a different perspective. But, it does not really matter what my wife is into, I am sure that I would do anything I could to help her explore her sexuality. There are many articles on how to get your spouse into either end of a DD relationship here:
http://www.takeninhand.com/taxonomy/term/26
But for many women, it goes well beyond the erotic elements and they are truly seeking a harmony in their relationship that they feel can be gained through their husbands stepping up and assuming more of an authoritative role. Many of the articles touch on the fact that if the man truly loves the woman, then he will do anything in his power to make sure the relationship works, including spanking her. There are several women who have posted who have no desire to be spanked, they simply want to be obedient to the man they love. They seem to appreciate the man taking the time to correct their behavior and helping them to be a better person. This all seems good in theory, but there are many men out there that I would not trust driving a car, much less guiding an actual person through life. Regardless there are many good points made on the benefits of a relationship such as this:
Benefits to the relationship- http://www.takeninhand.com/taxonomy/term/78.html
Benefits for her- http://www.takeninhand.com/taxonomy/term/77.html
Benefits for him- http://www.takeninhand.com/taxonomy/term/76.html
The site, while a little difficult to navigate, offers a fresh perspective on the whole domestic discipline relationship and leaves out the whole erotic element. The goal of the articles is not to arouse you, but rather to help couples make an informed decision before pursuing a relationship such as this. The articles are some of the best I have ever read in regards to domestic discipline and spanking in general. They cover a broad range of topics on the site. There is an article that simply explore why a woman has a desire to be spanked by the man she loves:
http://www.takeninhand.com/node/290
As well as an article written by a women who is spanked as a punishment by her husband, without her consent. She simply grew up in a very traditional family and married a very traditional man. Just a few weeks after their marriage he blistered her bottom in a way that prevented her from sitting down for a few days. She is not bitter about the way she is disciplined, she actually appreciates that he cares enough to guide her in the right direction. It is common enough where she lives, that the parents and relatives on both sides of the family know that she is spanked.
http://www.takeninhand.com/node/141
For women who have longed for a relationship such as this and have no idea where to start, this is a great site for you. For men that want to better understand the whole concept from a women's point of view, this site is a must read. At the very least it should provide hope for all of you men out there seeking a spanking based relationship, you will see that there are many women out there that want to receive what you want to give. Finally, there is a small personals section for people seeking a real domestic discipline relationship.

Comments:
My husband listened to my needs when we were married. He does spank my bottom when he feels the need to correct me. I am a better person, and am grateful for the love he shows me
I couldn't believe that it actually happened.....She was wearing a brown, fuzzy, angora sweater, blue, hip hugger jeans, black, school girl type shoes with a silver buckle on the top, lavender, fuzzy, angora socks and her dirty blond hair was up in a bun. The fuzz from her sweater and socks, was the longest and fuzziest that I've ever seen. She looked so beautiful and sexy. I couldn't stop staring at her. She had me so aroused. My boxers were sticky wet with semen from the constant drip coming from my erection. I had also peed in my pants from having to deal with such a large erection. To top it off, she had purposely embarrassed and humilitiated me all night, which aroused me even more.
We got back to her place and she told me that she had a pair of blue, footed pajamas in her bedroom that she wanted me to go and change into. She said to me that she was going to be putting me to bed very shortly and that she wanted me wearing the pajamas.
I couldn't believe what I was hearing. I stood there for a moment not knowing what to say, or do. Finally after stuttering and stamering, I blurted out, "Yes Tawnya" and went to her room to put the pajamas on.
I got undressed and my boxers were drenched with sticky wet semen and pee. My erection was so large, that when I put the pajamas on, my erection was making the pajamas push out. It was obnoxious. I knew that as soon as I walked back into the living room, she would see my huge erection. The thought of it was embarrassing and humiliiating, but was also very arousing.
I walked back into the living room and she stared right at my erection that was pushing the pajamas out. She let out a quick laugh to shame me, but then her expression turned very serious. She told me that since I had an erection, she was going to have to punish me. She said that she was going to put a diaper on me before putting me to bed. She told me that she was going to tape the diaper to me nice and hard, so that I wouldn't be able to get to my penis and relieve myself. She told me to stand there while she went to her bedroom to get a diaper for me. As she walked by me, the long fuzz of her sweater brushed right up against my arm as she walked by me. I wished that I could have felt her fuzzy sweater against my skin with my bare arm. The thought of it made my erection pulsate and I could feel me erection dripping semen at a more rapid rate.
She walked back into the living room holding a diaper in her hand. She sat down on the couch and told me to lay over her knees, so she could put the diaper on me. I stood there for a second and many thoughts went through my head of this whole scenerio. The thought of her wearing the fuzzy sweater and socks, the thought of her wearing the other attire, the thought of her embarrassing and humiliating me all night, the thought of me wearing these pajamas in front of her, while she was wearing that sexy, fuzzy outfit, the thought of laying over her knees while she put a diaper on me. I was so aroused by all of these thoughts. I felt dizzy and was relieved to be able to lay over her knees.
I laid over her knees and I was face to face with her fuzzy socks. I looked up in time to see the fuzzy arm of her sweater reach over and around me to unzip my pajamas. This was all that i could take anymore. I let out a moan of, "Oh Tawnya" and ejaculated all over the inside of my boxers and pajamas. I could feel the sticky wet warm semen running down the inside of me legs. She pulled down my pajamas and boxers and saw what I had just done. She was very angry and told me that now she would have to punish me very severely. She said that she wasn't here for my pleasure, but for my pain. She told me that she was going to give me the most torturing, painful spanking, that I've ever received. She said that she was going to give me a bare bottom spanking with her hairbrush, then a whipping with her belt and then she was going to spank my penis with her hairbrush. She told me that the punishment would be so painful, that I might not survive it. She said that if I didn't survive the punishment, that she was going to put a girls dress on me, with my diaper underneath and place my body in the middle of town for everyone to see me. She pushed me off of her knees and I fell to the floor. She walked into her bedroom to get her hairbrush.....stay tuned for more of this true story!