Spanking Implements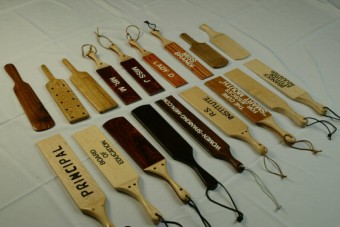 Have you ever wondered how many implements are needed to film 30 spanking scenes a week? I thought I would give you a little peek at some of our implements. Click the "more" link below to view around 65% of our implement collection.
Here are some of our smaller wooden paddles, best suited for over the knee spanking.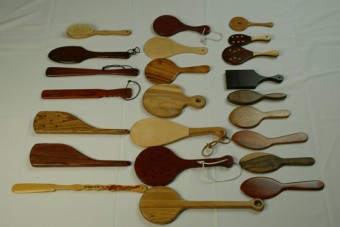 These are some of our unusual shaped paddles.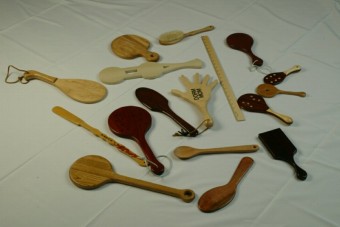 Here are just a few of our various leather implements.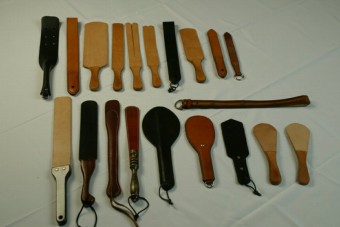 No collection would be complete without a few canes.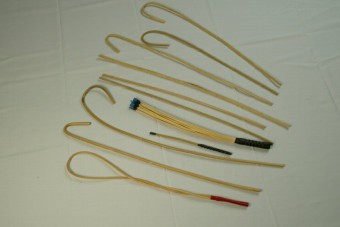 A few months ago I asked that we keep a month's worth of broken implements, just so I could see how many implements we break. The picture below is of all of the implements that had to be retired in the month of January, due to breaking or cracking.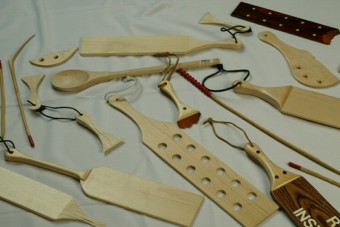 Comments:
Well damn..that's an impressive collection Mr. M. It's almost hard to believe that these pics only represent half of your toys of torment collection. So who broke the Cocobolo RSI institute paddle, in the 6th picture at the lower right corner? That one being one of your thicker paddles..I'd say someone went home with a seriously sore bottom.
Very nice,
Razor
That's quite an impressive collection. I did notice that the paddles you use are shorter than most of the ones I saw or became aquainted with while I was in school. Especially principals had much longer paddles. Usually a piece of 1x5 pine or oak about 34-36 in. long. One principal had one that instead of rounding off the edges, he wrapped it with 1 in. wide white adhesive tape (except for the handle). He always gave either 5 or 6 swats and never once failed to leave massive bruises and top of the lungs screams and crying. I was lucky enough to avoid it personally but my older brother got it and he had blood blisters along with the bruises. It was always done out in the hall and it struck fear into every kid in the school. everything stopped when we heard the first swat. The scream usually came after the 3rd or 4th swat, followed by the loud uncontroled crying.
That has got to be one of the best collections I've ever seen. Good paddles and straps can be expensive,how much does your site spend ec=ach month on replacements?
Do you use single tails or flogger whips too?
Very nice pictures,
Thanks, Shelby
Luckily, most of our implements are provided by sponsers. We provide some links to their site and they provide us with implements. In addition, we have a few highly skilled members to our sites that provide us with implements in exchange for memberships. So my cost to aquire or replace inplements is $0. We do have some floggers that we use on occasion for our dungeon scenes, but we do not use single tails. Most of our dungeon type scenes appear on , a site that often features the more sexual side of discipline.
I love that last pic...it looks like a grave yard for broken paddles.
Very nice and informative website.
I`d like to buy wooden paddles, where is standing "principal,r.s. institute, brandi,jessica ... . How can I buy it & what does it cost?
I`d like to know your whole prices of your woodej paddles . Because I`d like to buy some.
Thank you very much.
I`d like to order wooden paddles from YOU. How much cost your paddles like = "R.S. Insitute" "The Cure for Jessica - Smart Mouth" ?
I`d like to order your wooden paddles = "R.S. Institute" and "The Cure for Jessicas Smart Mouth". How much does ist cost?
i like your website very much but please do get us more information about it
Can I buy yourd paddles on this site? thank you