More outdoor spanking action
It seems I cannot get enough of shooting outdoors at the new studio space. Something about the young ladies having to bare their bottoms outside adds such a public element. It is not as though we are in the middle of the woods… on just the other side of our wall is one ofthe busiest intersections in Denver. Today we shot for the member's areas of Realspankings and RealspankingsInstitute. It seems poor Lila was not doing her chores at the Institute, which now includes cleaning the pool cover. The Dean gives her a very long and hard handspanking in the sunroom and then makes her pick a switch and clean the pool while naked from the waist down. The Dean reinforces her late chore by switching her bottom while she cleans the pool. After the switch breaks, the Dean tracks down a paddle and continues to bruise her bottom while she works. After a long hard paddling she is left alone to finish ner work, still on display with a very bruised bottom.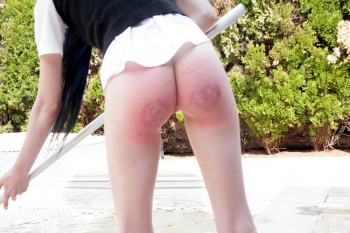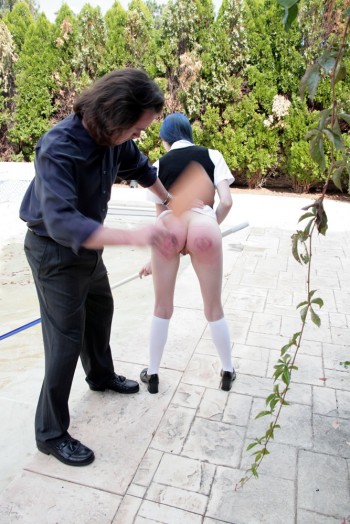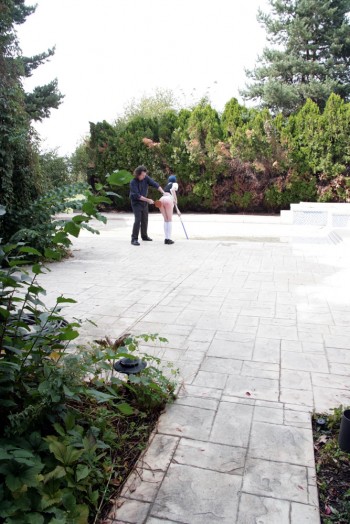 For the next scene Lila is marched from the house out onto the estate grounds for a very hard strapping. Her shirt is raised and her breasts are exposed, as she is then required to bend over the garden wall. I decide to really let her have it today and do my best to recreate how I remember the hardest whuppins in Texas took place. While her jeans are left up (which is much more common way in real life to administer a hard strapping) I make sure that my heaviest belt teaches her a very real lesson. She receives just under 20 strokes as hard as I can swing. I end the punishment with having her remain on display, breasts exposed, facing the perimiter of the estate. While the walls are high, I have noticed that passengeres standing on the buses that pass behind the property, have a full view onto our grounds. One can only imagine that at least a few passengers have had a glimpse into the embarassing and public punishments our yougn ladies have been receiving outside over the last few weeks. Soon the weather will be just perfect for blistering some very cold bottoms and some snowy, outside, naked cornertime...yummy!!!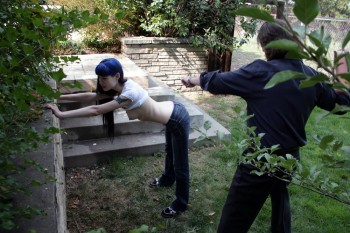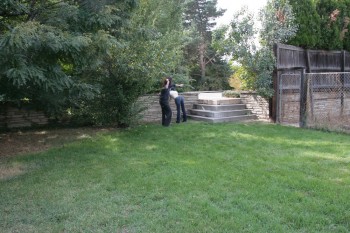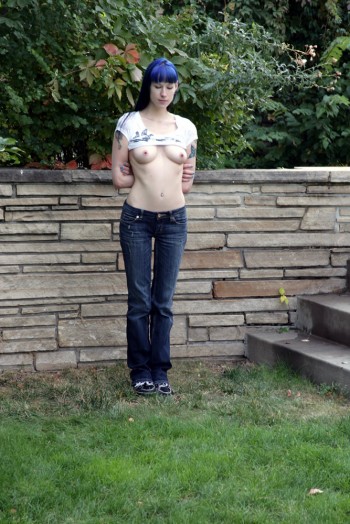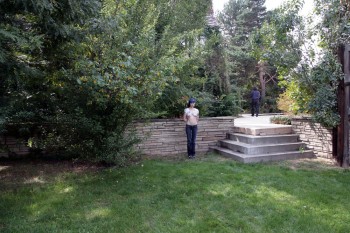 Comments:
One of the most dramatic images I've seen in a spanking video was in your first full length production, Road Trip. I can't even remember the exact circumstances, but it was night, the girls were naked and soaking wet with warm water (illicit use of an outdoor hot tub, I think) and they wound up standing outdoors in the cold, while STEAM came boiling off their skin, looking almost like smoke, as if they were on fire. It looked like some expensive Hollywood special effect, but it was fortuitous physics. So, yes, there are some very interesting possibilities outdoors once it gets cold.
With that said, I continue to be intrigued (and curious, in a nosy way that I know is none of my business) about your new arrangements. An estate in town, near a busy intersection, is even harder to imagine being affordable than one in the boonies.
And, don't you find it much harder to shoot outdoors, no matter how much fun it may be (and I entirely agree that the embarrassment and "we're doing something naughty" factors must be off the chart outdoors)? Isn't the light harder to control? (When I see "making of" featurettes for studio movies, they have all sorts of reflectors and fill lights to avoid dark shadows due to harsh sun-lighting.) Don't you have even more than the usual problem with sound -- the wind carrying away the actors' words, noises from the outside world intruding?
But my biggest puzzlement is reserved for how blase you seem to be -- even positive -- about the chances that people on public property may be able to see or hear the shooting sessions. I thought you'd spent years trying hard to AVOID that very thing, so you won't have cops or politicians hassling you for creating a public nuisance or being a bad effect on public morality. Seems like one ticked-off Puritan bus passenger (possibly a mother who had her child with her) could cause you a world of difficulty.
So I kind of hope that you are exaggerating (because it IS so fun) the extent to which your shoots are actually perceptible from the other side of the wall. I don't want you to get in trouble and have to move AGAIN.
With that said, those are wonderful photos and it looks like it was a tremendous, creative, exciting shoot. I just hope no bus passengers could actually tell much about what was happening.
I love that you are able to do more outdoor shooting. Jessica, Brandi, and the other two girls locked outside naked, knowing that a well-punished bottom awaited them when they got out of the cold was one of my favorite scenes from Road Trip as well.
But I share Michael's trepidation re: being visible to the public. There was a man arrested and charged with indecent exposure for being naked, drinking coffee in his own kitchen at 6AM, because some mother cut across his property with her child on the way to the school bus stop.
Mark
Hello.
I'm Japanese mail spankee.
age30.
Please try to get along with each other.
female spanker hope simultaneous as for the woman
Ha! Should have spanked her for the blue hair if nothing else.
Very nice post! I like your blog!
I love the outdoor shots. I know it's discipline, but it's so agonizingly sexy!