1st shoot at new studio
Today we filmed out 1st six scenes at the new studio. Oh my it is nice to have a fresh location. Today we shot in the new gym, in the kitchen, the new learning lab....and OUTSIDE!!! Way too much fun to be able to just step out the door for some filming. The location is a large estate, so while it is not in the woods, we have three acres of manicured property with an 8ft stone wall around the perimeter. Today we did a nice hard paddling outside and during our 1st shoot poor Sophie was sent outside to pick her own switch. There is so much more to come. Here is a little peek from today.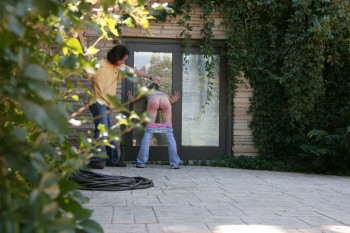 Comments:
There's a mystery here (that, for us fans, is not our problem and none of our business) -- how can this possibly be affordable? If I didn't know better I'd think you were "mansion squatting." But however you're managing it (and I'm sure it's on the up-and-up, I just can't imagine HOW), it looks WONDERFUL and very fun.
Sophie in a French Maid's uniform may be the yummiest thing I have ever seen. Did she strip the leaves and twigs herself before the switching? "Don't blame me if you get scratched, it was YOUR job to make sure this switch was smooth"? Is the maid uniform a survivor from the Maid For Punishment wardrobe? I don't think I've seen it before.
Best luck with the new studio. I hope it proves more satisfactory for your operations than the previous one.
SWITCHING ... what a wonderful word for the yard where the branch has been cuted and for the target where it will be "cinglé" (smart, lash, sting, scathing?) as Sophie is succeeding to a memorable triple action on butts and legs for Jasmine, Claire and Kailee as well as various scenes in Painfull Summer and Trip on the Road with Jessica/Brandi and also with the unforgettable Jennifer.
More switchings, inside or outside, that's what I whish, in agreement with few other words for some marvellous pics, such as swing and swipe, swift and swirl, swish and switch, ...
julesdesp Resurgo eadem mutata: the spiralee wish.
Mike,
Congrats on your new "set" (It seems like set is too small a word for 3 acres with a pool surrounded by a stone wall). I agree with Michael that Sophie looks quite yummy in that maid outfit picking out her switch.
I remember seeing suggestions from years ago to do outdoor spankings and you only being able to do them on your road trip up to the mountains. And a pool! The possibilities of pulling down bikini bottoms to punish wet bottoms.... Looking forward to great things.
Do you have a rough time table for when the new site shoots will start appearing on the sites?
Best!
(Blue) Mark
I was wondering if I could move into this private estate and be your personal assistant?

The switch is rapidly overtaking the cane to become my favourite implement. That cruel, whippy sound, the way it can be swung much harder and more times without harming the receiver nearly as much... more MORE switching videos please! As many as possible with the poor lady in straight legs, touching toes position