Lunge position spanking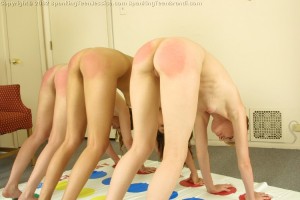 When it comes to all of the various positions that someone can be spanked in, all of our models seem to agree that the one that sucks the most is the lunge position. Even without the spanking, it is uncomfortable as hell, and when done for any length of time it can serve as a punishment in itself. Very few positions leave the person being spanked feeling as exposed. The bottom is presented very well in this position and any hope of retaining some modesty during a spanking go right out the window.
As far as its use in the real world, I have seen a few references that demonstrate that this position has been used in a school setting. Generally called "the lunge position", I have also seen it referred to as "the triangle". On Jeff Charles' anti-paddling website (well, more of a "I love to hear about girls being paddled so I will create an anti CP website"), he includes many accounts of high school girl?s corporal punishment experiences. More than one of these accounts includes references to the lunge position:
"Mr. Tidwell had me pull up my shirt any time he thought it was a long tail tucked down the back. If the woman was witnessing she ALWAYS had me and my friends pull out even a T-shirt. I had shirts slide down when I was touching toes or in lunge position. You can't stop it and you jerk when the paddle hits so it makes it come down more. I had my breasts bounce out twice when I wasn't wearing a bra. That time the woman had pulled my shirt right up my back when I was in lunge position and when he hits hard you kinda lurch forward and then my tits popped out. I stood up and pulled my shirt down while he lectured but when I went back down she pulled up my shirt again so the same thing happened. He said maybe it was better she didn't pull up my shirt as it was "immodest." (his word!!)"
"I was in the "triangle," which the Principal called the "lunge position," with my ass up top. That guy always said, "untuck your top and push it up" (for guys too). Like you said, they knew I had no bra (that was the dress code violation I was being punished for) and they knew my shirt would slide forward. I folded the shirt up before I bent over but 1st lick and it went loose. I swayed forward as the paddle stung a lot, and my shirt slide half way up. My hands were flat on the floor, which forced me to arch my back as I jerked, so the shirt slid more. I figured after the 2nd lick the shirt was maybe high enough up that they could see my tits. The witness was at first standing just to the right in front of me, but when the paddling started and my shirt slipped up he walked around behind me after the 2nd or 3rd lick. Maybe he looked down my T-shirt, I don't know. The paddle was laid on hard, and my jerking made my breasts bounce more and nearly come out. They must have seen them with me bent over upside down. After the 3rd lick I could feel my shirt get caught on my breasts, so I tried to pull it back with one hand, but the principal said, "Assume the Position!" The shirt moved up even more after the 4th lick, and I figure they could see more than I realized, both breasts. I had to hold that position for a minute after the paddling too."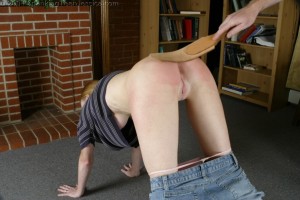 "Tiffany: Depends on principal. One guy has you put your hands flat on the floor and like walk them forward so your ass is up in the air. Another one has you hold your ankles with feet together not bending your legs. And the third one always told me bend over his desk (short end on the right) and had me lie flat over the top and stretch out on my toes, feet apart so I could hold the sides.
Jeff: Did you ever have to "hold the position" while he lectured or did other things?
Tiffany: Yes, most times"
"His name is Mr. Frank. He normally had me assume the position hands on the floor and walk forward. He calls it the "lunge" position, and he says, "Assume the lunge," or "Assume the position," which means bend over and touch your toes, feet together. He likes to tell you off and talk about why you're being punished."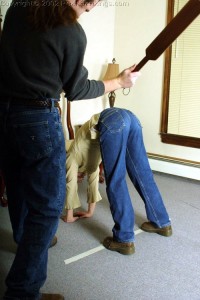 "Feet together, legs straight, bend down with palms on the floor, and "walk" hands forward so I made a triangle, ass at the top. He said it was safer than holding my ankles."

Comments:
Those lunge position photos are really erotic - especially the one with the girl with her jeans lowered, thus further restricting her legs. And strangly the clothed pic is arousing also.
I'm surprised the three girles on the Twister sheet could hold their positions though - that sheet is slippery!
St Helier hotels
http://www.therhotel.info/hotels22/Turkey/Marmara/Istanbul-hotels.html
reissue Vichy
http://www.bestrhotel.info/miser_Belgium/syphilis_Flandre/reissue_Bruges_1.html
embattle Pafos
http://www.hotelsfamily.info/uninviting_Belgium/swum_Flandre/embattle_Bruges_1.html
move Mestre
http://www.krakowhotelhome.info/defamation_Italy/indelicacy_Toscana/move_Florence_1.html
tweak Lourdes
http://www.bestkrakowhotel.info/wiry_France/yeoman_Languedoc
Roussillon/tweak_Perpignan_1.html
infer Groningen
http://www.bestpraguehotel.info/rough_Netherlands/caliph_Holland/infer_Amsterdam_1.html
neglige Lourdes
http://www.hotelscompany.info/ameba_France/pore_Languedoc
Roussillon/neglige_Montpellier_1.html
Hotele w Warszawie
http://fmis.coa.gov.tw/Members/car/nsurance_1.html
indirect Venice
http://www.frhotelweb.info/invoke_Italy/garner_Toscana/indirect_Florence_1.html
expedient Brussels
http://www.citieshotel.info/dilatory_Austria/brine_Eastern
Austria/expedient_Vienna_1.html
inaugurator Munich
http://www.hotelslife.info/mini_France/rah_Ile
de France/inaugurator_Paris_1.html