The switch applied to the thighs and a brand new spanking movie.
A few days ago we finished shooting our latest movie. While smaller in scope than some of our larger productions, I feel we created something very unique. We ventured out of the studio and shot on location at the same mountain house that we used for "Painful Summer". In addition to Jasmine, the star of "Maid for Punishment", this movie also features Claire and Kailee in their first feature roles. The three young ladies find themselves in a lot of trouble during a backpacking trip and elect to be punished at my hands instead of going to jail. The girls quickly learn to be careful what they ask for as they endure a long and grueling punishment.
In trying to provide something a bit different for our videos, this movie features the use of the switch. We have used a switch in the past, but never at this intensity. The use of the switch was not limited to their bottoms; the main focus was on the backs of their thighs. Even with models as tough as these three girls, a switch to the thighs quickly reduced them all to tears. The pain is very specific and it was clear from the first stroke that a proper switching gets immediate results.
After the switch was applied thoroughly to their thighs, they endured two additional punishments. All of them received the belt applied as hard as I could lay on the strokes. Once again, tears were immediate and I have never seen any of these girls react so emotionally to a punishment. You will get to see how effective a belt can be when used full force. After some very painful time kneeling on bricks, the girls were then pulled over my knee, restrained, and then given a very fast and non-stop session with a large wooden hairbrush. This is close to as hard as I have ever used a hairbrush and their bottoms quickly showed the results of my efforts. Once the naughty backpackers were taught a very real lesson, I took their pants and panties and sent them back into the woods. As they hiked away their bottoms and thighs clearly displayed the visible results of their infractions.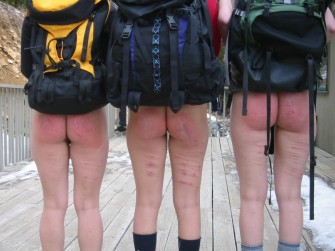 The movie has gone into the editing process and will be available in a few months. This is a short movie that focuses primarily on the spanking, without too much additional dialogue. It will probably be offered on DVD and pay-per-view, and while very severe, will run on the lower side of our price range. All three punishments administered were very severe, so this will not be a movie for those looking for the softer side of discipline. For anyone who has ever wanted to see what a proper switching applied to the thighs is really like, you will be quite happy. I will keep you posted as we get closer to a release date.

Comments:
I really like the photograph with the bare bottoms below the backpacks, thanks for posting it (and you can probably guess that I would appreciate a bigger version!) But my question: any chance that the movie also will show the front view?
I always regretted that that "twister" movie never showed the front view of the girls playing that game. I would expect that to look very interesting... but I guess it wasn't recorded.
i have just got into thigh spanking as a punishment. very effective. she tears up almost instantly. i try to be a little more gentle as the skin is much more sensitive there. i love the pics cant wait to buy the movie.
To Mr. M,
What will the new movie featuring Jasmine, Claire and Kailee be titled and approximately when will it be released (1 month, 2 months, 3 months away, etc.)
hey dude
i saw the pictures of the bruised thighs,iam into thigh spanking,strapping and caning,where can i purchase this type of video