Spanking Hotties from other sites
Some of my favorite spanking models
Clearly, I am a fan of spanking. I do not just produce spanking content, I am a consumer just like you. Clearly I feel some of the hottest spanking models around exist on my various sites, but throughour the industry there are also some models that I really enjoy watching getting their bottoms smacked. I thought I would highlight a few for you.
Firm Hand Spanking is a site that has come a long way fast. One of the things that they do very well is realistic school paddlings with wooden paddles. One of the true beauties in this area is Amy Denison.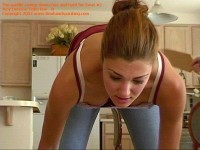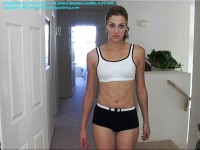 She has an amazing body and some of the best legs in the business. Most of her scenes tend to focus on school scenarios and when she grabs her ankles for a hard paddling, you can't help but take notice. Based on my personal correspondence with her, she seems to come about her desire to be paddled honestly. She went to school in the South and found herself on the receiving end of the paddle on more than one occasion. You can view all of her videos at Firm Hand Spanking

Girls Boarding School is another site that has quickly grown in popularity. The main focus of this site is caning videos, but they have some amazing models on their site. The one that really stands our for me is Linda.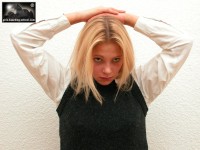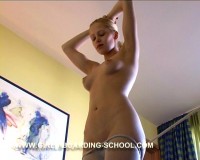 There are very few models that have look as good naked as she does and she can take a pretty hard punishment. Linda is one of the original models at the Girls Boarding School so she is featured in many scenes.
Comments:
So these are advertisements for "Firm Hand Spanking" and "Girls Boarding School". But what are your opinions on the site called "Spanking Shame", which is at
http://www.spankingshame.com/
?
Maybe that site is too sexual for you, but for me it ranks directly after the "Real Spankings" collection of sites, and after "Girls Boarding School". So if you could comment on it, that would be very interesting.
The problem I have with Spanking & Shame is that the spankings are a little soft for me and they are usually drawn way out. If the videos included everything that they do and then they administered a hard spanking, without 30 second pauses in between each smack, I would really like the site. I like the scenarios, the models, the nudity, and the forced humiliation, I just think when they actually spank, it should be a quicker and more painful experience.
Michael,
Can you comment on other Spanking Movie Production houses you like. You appear to be only covering online sites here. Overall, the Movie (VHS, DVD) area is as important if not more important than the online area. I am a fan or the European production houses myself and feel they are doing some of the best work today.
Incidentally I agree about Linda at GBS
Hi Mike,
Unfortunately, there are only a few out there that I care all that much for. I would have to say that Lupas is on top of their game at the moment. I feel this company has grown with the quality of their productions over the years. They may get just a little caught up in their plot, but at least they are trying to improve the quality of the genre.
There are certainly some quality scenes that have been produced by Nu-West over the years, but as good as some of this content is, I disagree with some of their practices. Most of their movies are around $70. This is for less than an hour of content, and they often give you a scene, and then replay it from 4-5 different camera angles. It is annoying when they advertise a video as "1 hour of hard hairbrush action" and then provide you with three scenes, that really last about 12 minutes, and then just show them again and again from each camera. If their price was better, with a little more content on each tape, I would have many more of their titles in my collection.
Cal Star has probably produced more videos than anyone over the last 20 years, but with them it is hit or miss for me. They have a lot fo good stuff out there, but a lot of it is not all that great. They have never been all that good with previews or descriptions, so if you do not have specific information on a video, it is a bit of a crap shoot. One of the first spanking videos I ever saw, and still one of my very favorites, is "Headmaster's Study II". It features two Asian girls receiving a very serious punishment and also includes one of the best hand punishments scenes ever filmed.
Nettles Corp. is beginning to produce some decent stuff. They have a long way to go in regards to production and editing techniques, but the girls are hot and the spankings are hard. With a couple of production classes, they could really take off and begin to make their mark. Their "Russian Slaves" series is their eraly work and there is not much there that I like. The "Russian Discipline" series is a little closer to what I like and some of the models are really amazing. Give them a year or so and I think we will all be impressed.
It has been awhile since I have ordered anything from any of the British spanking productions. While dated, Moonglow has some good videos out there, but once again, like Cal-Star, I find their videos to be either hit or miss. While many of the British productions are good, I most frequently find the typical British scene to be a little drawn out, with a 12 stroke caning often taking more than 10 minutes to apply. I feel more spanking content is the way to make a spanking video longer, not more time in between strokes.
Certainly I plug some of my stuff on this blog, but for people that know me, I do not lie about my production. When I began my sites and more recently my film company, I decided to do things exactly the opposite of the things that annoy me about most spanking companies. The two productions that I have put out that I have dedicated the most time and money to are "Road Trip" and "Maid for Punishment". To date, I think there are very few spanking productions ever that can touch either of these movies. The plot is limited, but somewhat believable, and there is no sense of the movie being padded with filler material in order to make for a longer video. In fact, bith were cut way down in order to fit on a DVD. In each case there is close to one solid hour of spanking footage. The new Director's cut of "Road Trip" includes the 1 hour and 40 minute feature, with more than three hours of bonus materials, all of it being spanking footage. I feel our feature presentations are the best in the business.
If you have specific questions regarding a certain company or video, feel free to e-mail me () and I can give you my thoughts on the video. Do not forget to check out spreview.net. David Pierson has the biggest resource for spanking video reviews and they tend to be pretty honest about their reviews.
yes
Spanking & Shame. The excellence of this web site is in its portrayal of the process of each slut arriving for punishment - having their punisher pull their knickers off - spreading their legs - fully exposing the cunt and shitter (which Girls Boarding School does less well) - as well as the humiliation of a rectal thermometer. Guaranteed to bring the prettiest whore down to earth
3TRfD2XOnHK yXYBiMIJDB GQSWqxSjlHn