Favorite Punishment Position
My favorite position to use when spanking.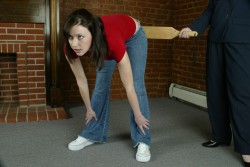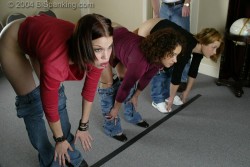 When spanking someone, I employ a variety of positions, each serving a different purpose. There are positions that are assumed due to the embarrassment factor, ones that put the most intimate of parts on display. There are other positions that I have people assume that are very uncomfortable and create a general soreness in areas beyond that of the bottom. Some positions are better for severe punishments because they allow me greater control over the person being spanked. If I was forced to choose only one position that I could use, it would be with the naughty girl bending over with her hands on her knees or ankles.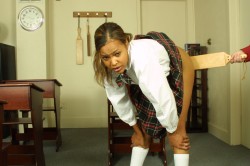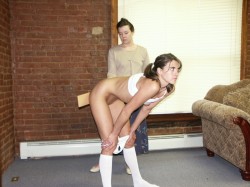 This position is one that I like the most for a variety of reasons. There are few positions that leave the person being punished with a feeling of "presenting their bottom� as this one does. While assuming a wide stance with the bottom high in the air, there is a definite sense of vulnerability. There is also an added embarrassment, this position allows very little privacy and their goods are on display for the world. I like the fact that they have nothing to hold onto to make staying in position any easier. They are forced to concentrate on staying in position, thus reducing the chances that they can just check out mentally during their punishment. This position also allows them a fairly stable stance which allows for spanking with harder implements like a wooden paddle. As long as their stance is wide, they should be able to hold their position even through the hardest of swats. When bent way over, the muscles of the bottom are pulled tight and every stroke is felt as it should be. This position also allows easy access to the thighs, should extra punishment be required. Should this punishment have a sexual element to it, the ass, mouth, and vagina are all easily accessible for penetration.. There are very few positions that allow you to switch between penetration and punishment with such ease.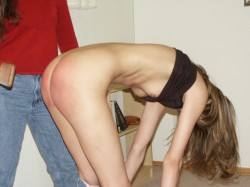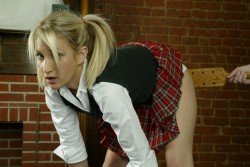 While I will always use a variety of position when spanking, this is by far my favorite.

Comments:
The Hair...If I'm disciplining a woman in this position, I like for her hair to be pulled forward while her head is bowed. The second pic from the bottom is a good example of this. In the middle and toward the end of a punishment which employs this position, I generally like to grab and hold a thick lock of hair while listening to and discussing how she's feeling throughout the pleasure and/or punishment. This increases the physical control and adds a little more emotional closness between the subbe and myself.
So what's the source of this second picture? I can't just make out what it says. Something like "B Spanking"? So what site is it from?
The site is bispanking.com. There are many more free samples from this this site in my free picture galleries. Click on the link at the top left of the main blog page to view the free galleries. This was an amazing scene to film. Three beautiful butts, presented in a wonderful way, paddled until they were all black and blue.
i agree bent over hands on knees is the best. a mirror can be used also in two ways. one is in front for the spanker to see her expressions only downside is she can see the swat commin. second is to put it one the floor so she can look down and see her reflection. adds to the humilation. when i have someone in the hands on knees position there are two rules. if she moves from position or loses count i am forced to start all over again. those rules get broken quite a bit.
Favourite position: My favourite position is the bottom getting the caning standing erect.This was the way we received our canings in the school.The House master would hold our one hand in his and cane our bottoms while we lounged forwarsd with each stroke and even move a step or two further. By the end of a severe caning we found ourselves at the end of the room.This shows the full bottoms and the clenching makes iot perfect. Besides the whole bottom is well caned.
only hard fetish bondage tools & bondage position
I love OTK spankings its more personal