Favorite Spanking Pics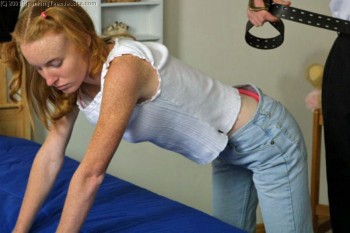 The picture above from Spankingteenjessica.com is one of my all time favorite spanking photos. While there is no actual spanking taking place, no bare bottoms or nudity, I have always loved this picture. In the early days, what I wanted to see most was a marked butt that showed that a real spanking had actually taken place.
As I have grown older I tend to better appreciate the more traditional looking pictures, as they were back in the early Janus spanking magazine days. Even more specifically, I tend to gravitate towards the photos that are taken before or after the spanking. I like a spanking picture, that from that single photo, most of the story is told, or at least enough to really let your imagination run wild. This is why you so often see me posting "cornertime" pictures as well as "anticipation" pictures. Sometimes it is just more fun to imagine what is about to, or just happened. In an attempt to allow my blog to load faster, most posts with more than one picture will be placed in the extended text. Simply click the "MORE" link to see additional pictures that I have taken, that I have always considered favorites, or sum up the type of scene I have described.
Lyndsey an early model for Realspankings.com sits in the Dean's office waiting for what is clearly about to happen. Without ever watching the video, or seeing another picture from this scene, it is clear that this young ladies bottom is moments from feeling the paddle.
Kailee, also from Realspankings.com assumes the traditional position with her hands on the bed as she waits for her paddling. Unfortunately for her, in this video she only takes a couple of paddle swats over her pants and panties, all of the rest are applied to her bare butt, leaving her bruised and sore for days.
One of Brandi's very first shoots for Realspankings.com. This picture captures the mood perfectly. It is more than just the fact that she is dressed like a cheerleader and grabbing her ankles, the look on her face tells it all. What makes this picture great is that in the early days Brandi struggled a lot to give us the right look on camera. So for this, one of her first ever school paddlings with a wooden paddle, we described to her what exactly was going to happen, and then shot these pictures before the scene took place. That look on her face could never be faked, that is the real look of an 18 year old girl knowing she is moments away from a very painful punishment.
This is Jasmine from both Realspankings.com & Bispanking.com. You do not need to see the look on her face to know exactly what just happened. Jasmine grew up getting strappings with a belt at home, so one of her favorite type of scenes to do was a realistic whipping over her jeans. On this particular day, I gave her exactly what she had asked for and just as when she was growing up, this strapping did not end until the tears were flowing.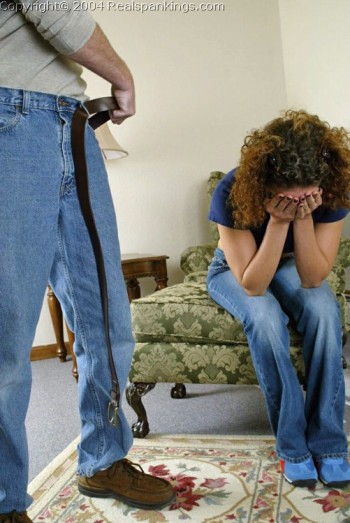 Poor Liz from Realspankings.com, I do not think she was cut out to be a spanking model as hard as she tried. I do not think we did any scene with her in which she did not burst into tears almost immediately. She was so tiny, her butt bruised very easily, and her reactions were some of the most sincere I have ever witnessed during a spanking. This picture was more of a candid shot than a posed one. She always needed a little time after a scene to compose herself.
Once we had filmed enough traditional schoolgirl content, we finally added our site RealspankingsInstitute.com. This is Bobbi in one of the first scene for the new site. We rarely used this area of the studio to film scenes in, because it was more part of where the administrative work was done. But the old house and all of the great woodwork sure gave a nice an traditional feel for a setting. Here Bobbi is made to wait for a long time as she considers the walk up the stairs to the Dean's office. A trip to the Dean always means a hard paddling and Bobbi's body language certainly reflects that she knows what is coming.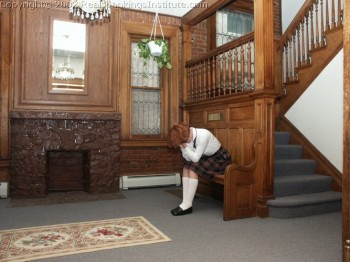 This scene for Realspankings.com was one of the primary motivators for starting the Institute site. I also consider this to be one of the best non spanking photos I have ever taken. Tiffany is so beautiful, the setting is very authentic, and the school girl uniform is very traditional. After we all had a look at the results of this scene, we knew that we needed to do much more just like it.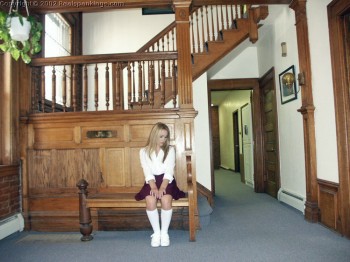 Comments: