Classic School Paddling video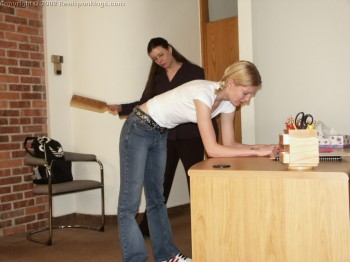 I wanted to begin a new feature on the blog in which I showcase some of the videos from the earliest days of the various websites that are part of the Realspankingspass. This week is one of the very first school corporal punishment style videos we filmed in our first studio. Due to the number of downloads my blog sees, I am only able to give you a low res version of the video here. This week's video features Holly from Realspankings.com receiving one of her very first school type paddlings. For those of you who followed Holly's career over the years, you may have forgotten how sweet and innocent she used to look. No tattoos or crazy hair colors, just an innocent 18 year old girl bending over for some hard swats with a wooden school paddle. Click the link below and "save target as" to download to your computer. Enjoy
Comments:
WOW I almost forgot how inocent she was back then and now all hard core with tatts, piercings any way one of my all time favs. THANKS for the Memories
Great video! Unlike some "school discipline" stuff(which are someone's fantasies) it was realistic. Depicted what conventional School CP is or was like. Regardless of one's opinion about school CP it was a fine piece.
Some would prefer that she be wearing some type of uniform, not jeans. But lets face it, few public high schools require uniforms. Am personally not a fan of the uniformed school girl scenario but to each his own. Liked this much better.
One thing that would have made it even better was when she was asked to have a seat after the paddling would have been showing her easing into the seat with visible discomfort.
As I said, think most barebottom school paddlings are fantasy. But on the other hand-there is one FF scenario that has possibilities. Girl sent to office for a dress code violation, an exposed thong. So she has to lower her jeans and take the paddling over her thong. She will be very careful not to let any red skin show after that!
I loved her early films. Thanks for the reminder.
There's not much to be said. Take a girl in jeans, make her bend over, and then whack her butt with a wooden paddle, and you've got the makings of a memorable spanking scene. I hope nobody ever deviates from that formula.
Cool clip-thx for sharing that one. I'm not a huge paddling fan in spanking erotica, but there is something intriguing especially with a paddling over tight jeans, as shown here.
Nicely done!
Dave