The Spanking Blog
This is an adult site dedicated to the exploration of spanking between consenting adults. The main focus is on disciplinary spankings portrayed in various spanking videos and pictures, with sample pictures and reviews of the spanking content. The most recent blog posts appear below, and the free spanking picture galleries on this site can be found on the menu on the left. All spanking content on this site is free, and any link leading you outside of this site is clearly labeled as such. You must be 18 years or older to view this site.
[ Friday, October 09, 2009 ]
More You Tube Spanking
Not exactly sure why my stuff gets banned and content like this stays on You Tube, maybe it is the fact that they screen for keywords in English. Either way, this is a pretty good scene from what is clearly a mainstream movie from Asia. Enjoy!
Still playing with alt.com
I am trying to figure out how to embed a link that takes you right to the spanking partner results on Alt.com. Wish me luck:
Alt.com Spanking Search Results

Alt.com
I have been aware of Alt.com for quite some time but neve really gave it a go before. After someone recommend to me that it might be a good place to find spankers, I finally joined and signed up for a Gold membership. A couple of things surprised me from the very beginning. The first is the fact that when you see an Alt ad on a website that lists "singles" in your ara, alt is those banners are actually pulling real profiles from their database. This means that the people you see on their banners ae really the people with active profiles. The other thing that I did not expect is the fact that this is a giant community of people. There are chat rooms for your specific area or kink, there are 1000's of member's blogs, there is free video chat you can participate in or just watch. I logged in this morning and there were more tan 10,000 people online...at 8:00 AM. I did not think they would evr have much that I was interested in, but it is far more than just a personals site. Anyone can signup for a free "standard membership", but that limits what you can do. People with paid memberships can view your profile and contact you, but you cannot initiate the contact as a free member. I know ths sounds like one big advertisement, but I fully stand behind any site that I endorse and this site is good. It is a good mix bewteen MySpace and FaceBook meets spanking and BDSM personals. So, take a peek there is a lot you can do there for free. If you like it, upgrade to a paid membership to unlike all of the goodies.

[ Thursday, October 01, 2009 ]
My Space and Facebook
I am still trying to figure out this whole social networking thing and am now actually participating on the sites. My MySpace page is Here and my Facebook username is "Michael Masterson". Look forward to seeing you all there. Cheers!
Women Spanking Men models needed…apply now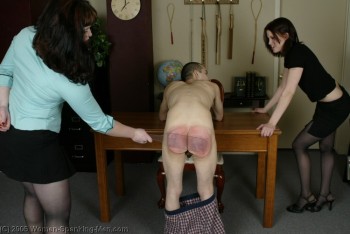 All right all of you naughty boys out there, it is time for you to report for some very serious discipline. We are once again accepting application for males to be spanked. My apologies that the form on the Women-Spanking-Men website has not been monitored in recent months. You can now send an e-mail directly to , or fill in the form on the website. Both this e-mail address and the online form go directly to Betty. Please be aware that Miss J and Lady D are no longer doing scenes, so do not request a punishment from either of them. Our primary spanker for men is Betty, with Kailee and Monica also available on occasion.
Primary consideration will be given to Denver based males available during the week. In addition, the format for the spankings has changed a bit. We will no longer just be doing scenes in which a man comes in and is simply spanked for 30 minutes. We are moving towards a format more similar to Realspankings.com in which we will film several short scenes with more of a storyline. This is not to say that you still can't have a say in how you are spanked, and we are fully willing to explore your particular fantasies if they are a good fit for the site. We are looking for men with a boyish appearance, or at the very least, a slightly smaller ass. In general this is a non-paying position that simply let's you get spanked on camera by beautiful and strict Dommes. However, the right local person, with the right look and body type, may be able to earn a regular paycheck should you look the part and be able to take a hard punishment style spanking. We will still consider out of state applications, but you will really have to be exactly what we are looking for in regards to a male spanking model.
So take a look at Women-Spanking-Men for an idea as to what you can expect. Clearly this is very real discipline with tears being the goal. We are not looking for actors, we are looking for young men who require serious spankings for real infractions in your life. You can and should expect a blistered and bruised bottom that will be sore for days. If you are up for it, drop Betty a line, it may just lead to the spanking you have always dreamed/feared.
Cheers,
Michael Masterson