Lovely
Looks a bit like a dream I often have…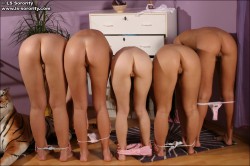 From www.ls-sorority.com
Comments:

Wow, Mr. M we must have the same dream catcher! LOL

Beautiful!! (as well). It seems that the dresser-drawers aren't the only thing that's open!! Three cheers, for these Bottoms of The Week!!!
What an adorable picture. They are all gorgeous, but each bottom has a personality of its own.
Thanks for the picture Mike! Very nice indeed!
~MJ
Hey, Mike!!! I thought you just got back from Vacation??? Are you going to post anything new?? How 'bout an update? Love your Blog!!!! It's one of the best Spanking sites out there. If you can "comment" back..Please do. Best wishes, Bill B.