Using anticipation to increase the effectiveness of a punishment spanking.
Research has clearly demonstrated that a punishment is most effective when it is applied as soon as possible after the infraction. While I do know that this in indeed the case, I often like to delay the actual spanking once a transgression has taken place. I do believe in addressing the behavior the moment it takes place, but I feel that a spanking can often be made more effective by delaying it. For today's blog post I will go through what I feel to be the most effective ways to use anticipation to enhance the overall effectiveness of a spanking.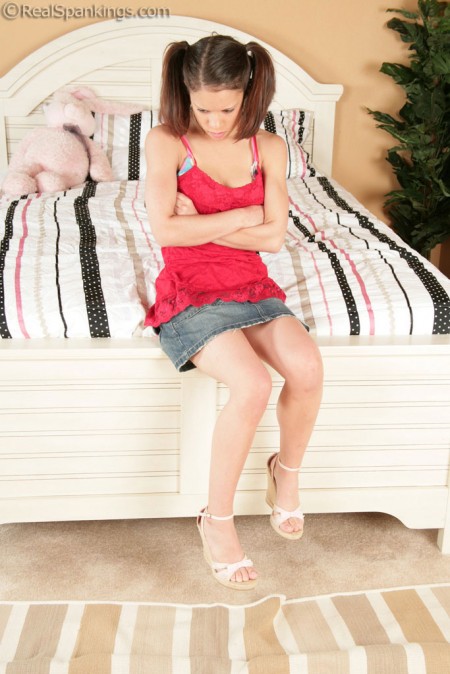 A method I often use, and one that is quite popular with parents that utilize corporal punishment, is to send the offender to another location to wait for her punishment. She is not told how long she will have to wait, and in many cases, she is not even told what she will be spanked with. As she sits in the bedroom waiting, this really allows her imagination to get the best of her. As much as she might try to distract herself, her mind is always brought back to the fact that she is about to have her bottom blistered. This adds a lot of overall stress to the event, which I see as a positive thing. We want all aspects of a disciplinary spanking to be as memorable as possible, so any tool that I can use to make the entire experience undesirable, I will put into action.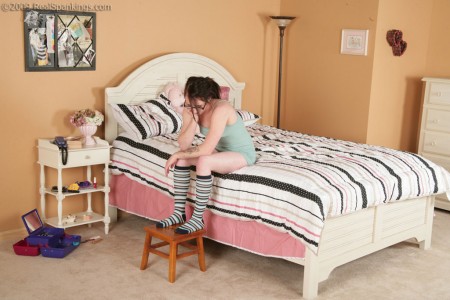 As she is sitting there, she is able to run 100's of scenarios through her head, as well as reflect on previous spankings she has endured and contrast them to what she is in trouble for this time. She is forced to consider every implement that I own, as she has no idea what is about to be used on her. She might try and convince herself that it will not be that bad this time, while just seconds later the thought of the last time the hairbrush was used on pops into her head. This gives her time to not only reflect on the punishment she is about to receive, but to revisit many past punishments in her head. Even for those that enjoy spankings on some level, the anticipation can often be as bad as the punishment itself.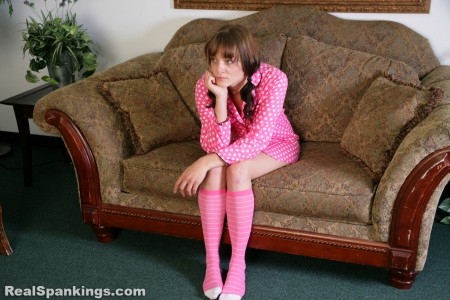 I like to capitalize on the stress, fear, and anticipation that she is feeling at the moment as much as possible. For anyone, as a child, teen, or adult, that has ever experienced this moment of anticipation, there is a particular moment that really defines this whole experience, and that is often footsteps headed in your direction, or the sound of the knob turning on the door. It can best be compared to the moment that you look in your rear-view mirror and see a cop with light on behind you. It gives you that rush of adrenaline that sweeps through your body, and instantly increases your heart rate. It is at this moment that the stress levels go through the roof, as you know the moment that you have been dreading for at least several minutes is finally about to happen. In my home, there is no carpet, with hardwood floors throughout so the sounds of footsteps carry very well. When I have a young lady sitting on my bed waiting for her punishment, I make a point of getting up and walking in that general direction every five to ten minutes. This allows her to experience that "oh shit" moment at least a few times before her punishment actually begins. Even better, I will walk all the way to the bedroom, and turn the knob on the door, before going back to whatever I was doing, and allowing her more time to consider her behavior.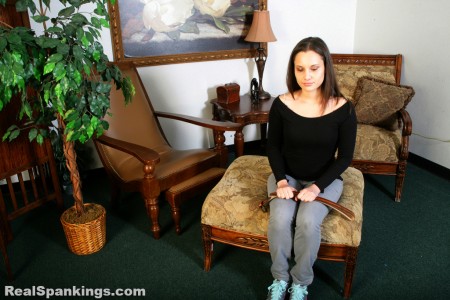 This same scenario can be further enhanced by adding additional elements to the process. One that I find is very effective, especially if she is in a considerable amount of trouble, is to have her get the implement that is to be used on her, and have her hold it while she waits. This is not quite as effective for lesser punishments utilizing a lighter implement, in which case I would rather have her guessing what is to be used, so she can picture the worst. But if I am going to paddle her bottom with a heavy wooden school paddle, or use a hairbrush, I will probably send her to wait with it in her hand. With the implement in hand she is better able to visualize and imagine just how very bad it will be. We have added a tactile element to the equation and she can actually touch and feel the implement. She will not only be able to see the implement that is going to be used, but to feel its weight. Knowing that she is going to be paddled is one thing, but holding the actual implement really allows her to contemplate exactly how it is going to feel, and more importantly, the long term effects of such a heavy implement.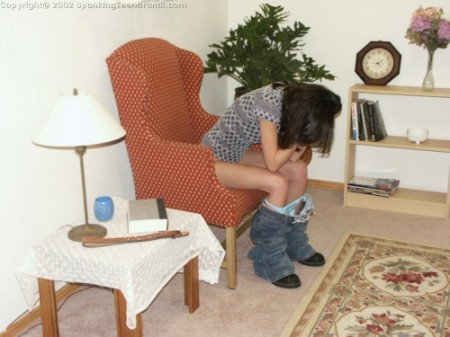 Another element that can be used when a young lady is sent to her room to wait for her spanking is varying degrees of nudity. This can be as simple as her being told to sit with her pants and panties at her ankles, all the way to her being fully nude. Even in the privacy of the home, for many people, having some or all of their clothing removed adds a feeling of vulnerability. This is supposed to be a real punishment so I have no problem in doing whatever I can to make the overall experience as bad as possible. Beyond just the physical pain, if I can play on emotions such as fear, apprehension, embarrassment, stress, and vulnerability, I will do it every time. I am trying to create an overall experience that will decrease the likelihood of the behavior ever being repeated and will put everything into play that I think will help. It is one thing to be in trouble and to be told to bend over for your paddling, it is a far different experience to be told to strip naked, grab the paddle, and go wait in your room until I am good and ready to bruise your bottom.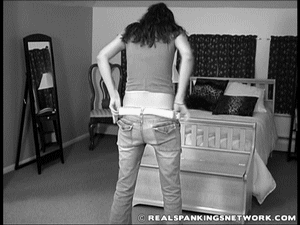 Something else that I use quite often is to have her assume the position that she is going to be punished in, and then just have to wait. Typically she will not be required to hold a position as long as I would make her wait in the bedroom, but there is no reason, depending on the position, that she cannot wait five to fifteen minutes for her spanking to start. On many occasions I have required a naughty young lady to drop her pants and panties, right there in the middle of the living room, and grab her ankles for a spanking, only to then finish watching whatever show that happens to be on TV, or at least wait for a commercial break. This not only adds a bit of a physical stress to the overall punishment, but once again leads to feelings of embarrassment and vulnerability. It also helps her completely visualize exactly what is going to happen. Just as with the footsteps down the hall, every time the program goes to a commercial break, her body goes through that "oh shit" moment as she considers if her spanking is about to begin.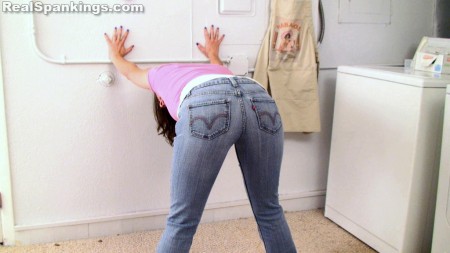 The next method that I use to increase the feelings of anticipation for a spanking is to cover the offense, tell her the punishment, and then "sentence" it for a particular time. There are a few different ways to accomplish this. The first is to tell her exactly when and where her spanking will occur. I am quite fond of a punishment being handled at the beginning of the next day, so a young lady might find herself at work with a recently spanked bottom. Or, if possible, trying to choose a time that is quite fitting for the punishment. Consider the young lady who went out with friends for drinks and then came home far later than she said and without informing me. It seems perfectly reasonable that the next time that she goes out, that she does so with a bruised bottom, so she will have a very real reminder for the duration of that outing to assure the same thing does not happen again.
Another variation that I have found to be very effective, especially when it comes to more severe punishments, is to tell her exactly what she has coming, and then tell her that we will take care of it later. "Later" is not defined in any way, which leaves her with the thought that it could occur at any time. This might be five minutes, five hours, or even better, five days later. What this does is really allow for reflection on exactly what she did wrong. A couple of days later, she is trying her best to go through her day as she normally would, but every few minutes the thought of the looming punishment will cross her mind. If I have promised her five minutes over my knee, for a hard bare bottom session with my heavy wooden hairbrush, there is really nothing that can completely remove that from her mind. This allows for her mind to frequently consider this event, while at the same time, considering why it is going to happen.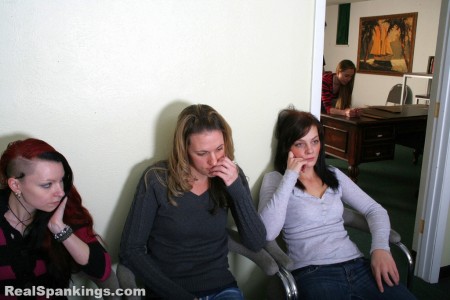 I have listened to and read many accounts of school corporal punishment in which both of these techniques are used. In some cases, all the paddlings that take place in a school, happen at the same time while class is not in session. This might mean a young lady has to report to the office at the end of the day, or to come to school early the next morning for her paddling. In the famous case of Amber Page, at Grand Prairie high school in Texas, she was not paddled the Friday that she was caught smoking, but told that she would indeed be paddled. The next Monday she wore four pairs of shorts to school, with overalls on top, hoping to have a well-padded bottom for her paddling. Her actual paddling did not take place until a full week later. For the young lady that tried to get to sleep at night knowing that she will be paddled the next morning, all the way to 17 year old Amber, who went to school each and every day for a full week not knowing if that would be the day, you would have to imagine that the sense of anticipation influenced the effectiveness of the punishment in general.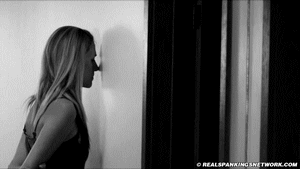 The final variation, one that I have written about in great detail many times before, is corner time. While many utilize corner time after a punishment, I am more likely to use it before. It plays on many of the things I have already described, but it tends to help her focus completely on her behavior and the punishment that is about to happen. When a punishment is sentenced for a different time or date, she will find moments throughout her day in which she is able to distract herself from what she knows will be happening in the future. But with corner time, especially if done right, you are removing all distractions from her mind, except the upcoming spanking and what she did to earn it. I try to place her in place in which there is no external stimuli to distract her from the task at hand. There will always be some degree of nudity, and often it will be a position that is difficult to maintain, which forces her to be focused. Something as simple as requiring her to hold a coin against the wall with her nose, or to kneel with her feet having to remain off the ground, keeps her completely on task and does not allow the mind to wander. This allows her to think about only one thing, the fact that her behavior, led her to a place, in which she not only earned a spanking, but deserves one.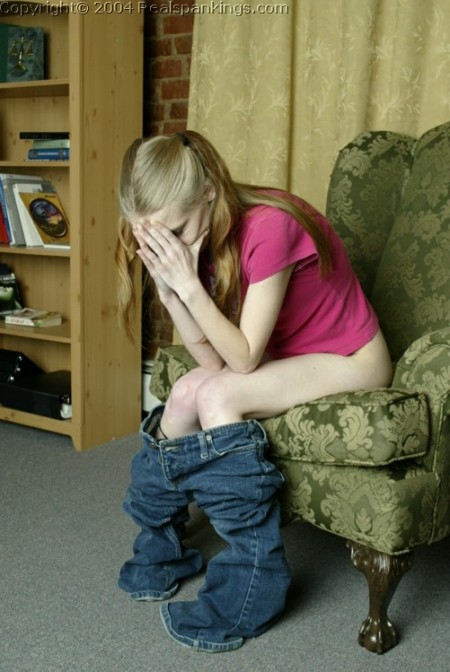 When someone engages in a behavior, which previously has not only been agreed upon as unacceptable, but it has been agreed upon that will be result in a physical punishment, it is best to address it the moment it happens. But, by utilizing some of the techniques above, it is possible to allow anticipation to be an effective addition to any punishment.
All images in this post come from the very real punishment videos in the member's area of Realspankings.com
Comments:
Great post, great blog, great sites! Can I get some help with my account on the WSForum? It has been locked for years without posting privelidges.
Posted by on 11/12 at 08:15 AM |
#