Two maids get their bottoms blistered
It is so hard to find good help these days. After a hard strapping, my maids seem to be working a little harder.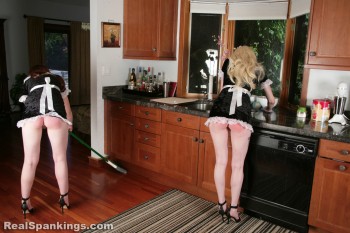 Comments:
What an excellent still. It looks like the ladies are close to being finished. But I do see streaks on the front of the dishwasher. She's going to have to bend down and give the front of it a quick wipe with Windex.
Mr.M, Where are you finding such great help?...Lol.
Have a great Summer!
Razor
Posted by on 05/23 at 03:33 AM |
#