Three girl School Swats
Due to popular demand, I have recently been reviving the schools swats series on Realspankings.com. I recently did a three girl school swats that turned out very well. Here are some preview pictures from this event. This is from a future update in the member's area of Realspankings.com.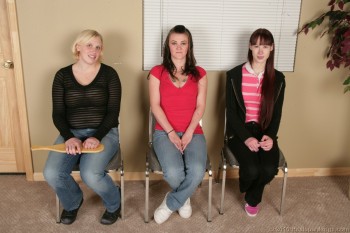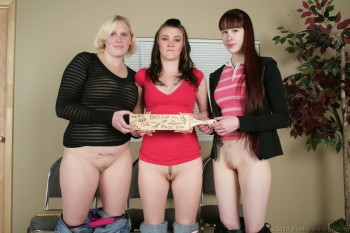 Comments:
I really like the new model Angela. I prefer ladies with a fuller figure like hers. I would like to see more fuller figure -- even chubby or fat -- young ladies on RSN sites.
This three girl paddling is the best clip I have seen on your site for awhile.
Lila though still doesn't have a clue on how hard the teachers truly paddle in school. I didn't grow up in Texas but the stories I have heard about make it clear it was similar to when I grew up in Florida.
We had one coach who took pleasure in making the kids cry ( Ninth grade). He could get four licks in in less than a second and they were as hard as the ones in the clips below.
http://www.corpun.com/vidsc15.htm
Vids one and two