The wake up spanking
There are very few things more shocking to the system than then wake up spanking. It may be that the naughty wife, girlfriend, or daughter went to bed before the person tasked with her discipline came home for the night, or it may be as a result of her once again sleeping in one to many times. Either way, the spanking can no longer wait and discipline needs to be administered at that very moment.
The young lady below did indeed oversleep on a school day, so he is sure to wake her up in a manner that she will not forget. She is startled as she is woken up to the covers being pulled off of her. Her nighty is then yanked up, as her panties are pulled down, and he gets right to work with his gym shoe. There is no warm-up and there is nothing gentle about any of it. He spanks her tiny bottom as hard and fast as he possibly can and she is instantly more awake than she ever has been in her life. The hard spanking with his shoe continues until her bottom is quite sore and her eyes are filled with tears. Sitting on the hard wooden school desks is not going to be an easy task for her that day, and the day after, but there is no doubt that she will never have another "alarm problem" again.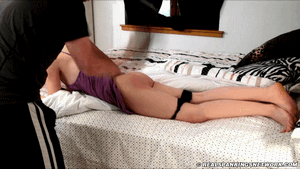 Comments: