Spanking hairbrush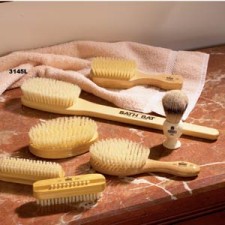 We have always bought our hairbrushes for spanking from the Vermont country store. Recently I received a catalogue in the mail that featured classic hairbrushes from Kent, an English company that has been making traditional hairbrushes for more than 200 years. They seem to have three that are well suited for spanking purposes, the "firm bristle", the "extra soft", and the "bath bat". All seem to be solid wood and thick, making them ideal for a bottom blistering that will be remembered for days to come. You can visit the site HERE. I have placed an order for all three, so I will let you know their effectiveness as disciplinary implements in the future.
Comments:
I am sure the models will be SOOOOOOOOOOOO grateful for the purchase

Good thing you found an alternate supplier for bathbrushes.
I just read (like 30 seconds ago) on a discussion forum that the Vermont Country Store has discontinued their bathbrush. The poster had apparently ordered one, and when it didn't arrive, he called and was informed that they're no longer carrying it and had sold out.
Did a quick search of their website, and the only bathbrush available is a plastic version. The wooden one is nowhere to be seen.
End of an era, if you ask me.
Kent is an excellent product, have been using one of their brushes for two years now. I don't see my particular model in the picture - oval, 10 inches long, I think the model number is LS7. Anyway, well worth acquiring. As for the bath brush, I opted instead for one from a company called Simply Good.
In my opinion, the Kent hairbrush is not as serious as the Vermont Country Store's, but with adequate wrist action and sufficient application time, it should produce good results (not if you ask the recipient).
Looking forward to your results.
In response to Fireman Chris's comment about the Vermont Country Store discontinuing their wood bath brush,
http://www.vermontcountrystore.com/shopping/product/detailmain.jsp?itemID=5538&itemType=PRODUCT&RS=1&keyword=bath+brush
does that link work for anyone else? That looks like a wood bath brush to me. The More Product Information link says Hard Maple, to be specific. What's up with this?
Hmmm, that didn't post as a link, so I guess anyone who's interested will have to copy the address into a browser.
As a follow-up, this address
http://www.vermontcountrystore.com/shopping/search/searchresultsmain.jsp?fresh=1&searchType=advanced&iMainCat=0&iSubCat=0&attribute14=0&attribute15=0&attribute16=0&RS=1&keyword=hair+brush
, if it works, finds several wood hair brushes at Vermont Country Store, also.
Michael, the first link does bring up the infamous 12" bathbrush, but also lists it as being currently unavailable. The person who posted the info said that they'd ordered one and it never arrived, and when they called, they were told it had been discontinued.
The second link appears to be dead.
Well, drat. I apologize for not being more careful, Fireman Chris. I didn't notice the "not available" part. In fact, I'm not sure that was THERE when I looked at it, and I'll tell you why. Yesterday a search for either "bath brush" or "hair brush" returned that item. Today it does not. But the specific item page is still there! So maybe the search function does not return out-of-stock items. Now I'm *really* confused. But if the bath brush truly is permanently unavailable, that's a shame. End of an era, indeed. Our only hope, since they haven't removed the item page, is that there's a temporary problem with the supplier and they hope to offer the item again later. But it's just as likely they've left the item page up out of laziness.
The second link was a search result, so I'm not shocked it doesn't work. However, repeating the search -- and paying attention to the part of the item page where it says if something is available (I hope I don't make THAT mistake again soon!) -- I still find some wood hairbrushes there, like
http://www.vermontcountrystore.com/shopping/product/detailmain.jsp?itemID=12059&itemType=PRODUCT&RS=1&keyword=hair+brush
(rosewood, not maple) ,
http://www.vermontcountrystore.com/shopping/product/detailmain.jsp?itemID=10589&itemType=PRODUCT&RS=1&keyword=hair+brush
(beechwood) and
http://www.vermontcountrystore.com/shopping/product/detailmain.jsp?itemID=10590&itemType=PRODUCT&RS=1&keyword=hair+brush
(also beechwood). So until they discontinue those it may not be time to give up on them entirely.
Those are some nasty looking brushes