Schoolgirl Paddling
I have always liked the spanking pictures that lend themselves to a realistic scenario. While I took this picture many years ago, it has always been one of my favorites. There is no bare butt, the camera is not all zoomed in, and you cannot see the expression on poor Tiffany's face. Instead, it has more of a voyeur quality in which you simply get a glimpse of how a paddling in the school setting is really administered. I also like the intense look on Dee's face as she puts everything she has into the swing. From Realspankings.com.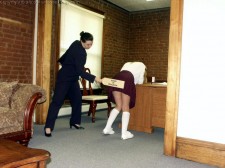 Comments:
Indeed - that's a lovely (and inspiring!) picture. Thanks for digging that one up out of the vaults!
Ah, Tiffany; gorgeous, curvaceous Tiffany. I don't remember a scene from which that still could have been taken; was it a promotional photo that was never used? From what I remember of Tiffany, it would have HAD to be a posed still (no matter how intense Lady D's expression), wouldn't it? Tiffany never took a full-strength paddle swat in her life, did she? But whatever the circumstances, it's a nice pic, and it's nice to have a reason to remember Tiffany.
High Mike
Could you express to Dee my appreciation of the many hours of pleasure I have gotten from the work she has done for you. It is most pleasant. Thanks
Thats a great picture. Like the fact that it does look like a real school paddling.
I grew up in a time and place where school paddling existed(in the public schools). Never once did I hear of any clothing being removed.
Thats why this school paddling photo struck me as so realistic.
Lady D always had her own technique and style when using a paddle or a strap. She'd generally shift most of her body weight and strength to the left as she would follow through with her strokes. I've been paddled, strapped and flogged by more women in my life than I can remember..and I can still submit to you that I've never been hit harder by any other woman than Lady D.
Razor
I went to school in the 70's and can tell you that scene looks so familiar to what we endured. Although clothing was never removed sometimes it was not added. Getting paddled while changing in the locker room meant you got it on underwear or a jockstrap. In Ohio the law is that all corporal punishment must happen over one layer of clothing. Underwear and Jockstraps are considered one layer of clothing.