Paddling Needed
paddling_needed_visible_panties3.jpg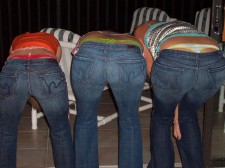 It seems it is slowly fading as a fashion trend and I will sure miss it when it is gone, the visible thong. To me when a woman displays her panties as part of her outfit she is saying two things, "look at my lovely bottom", and "I am a bit naughty, a spanking may be needed". Click on the "MORE" link to look at a small gallery dedicated to multiple young ladies showing off their panties and assuming the position, now where did I leave my school paddle…
paddling_needed_visible_panties1.jpg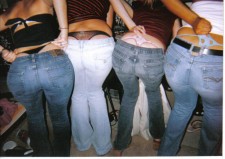 paddling_needed_visible_panties4.jpg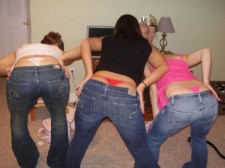 paddling_needed_visible_panties5.jpg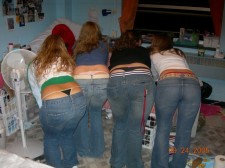 paddling_needed_visible_panties6.jpg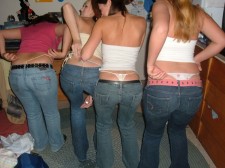 Comments:
Lets hope its NOT fading as a fashion trend. Have to say I still see quite a bit of bare midriff around-of course its getting colder and that may be a factor.
Of course Britney Spears may have started a new fashion trend-NO panties, not even a thong!
I don't think its fading. If anything it is getting better all the time. At the college I am attending there has been a dramatic increase in exposed thongs in just a period of two years. Girls, if you want to know if us guys are noticing, trust we are

Poor girls.If only they new we thought they were so cute with their pants down.I would only do it with there consent though.Even then I hesitate.But it temtping.
Here's a great idea for a School Paddling video. A private all-girls school where exposed thongs are a major problem. Add a stern Headmistress and her paddle-well, you know the rest.
I am not big on school uniforms-rather just have the school have a dress code where violators who expose too much get paddled.
I can helo with that.Hehe.(Evil grin)