Sarah is getting kinky
Last week I posted to let you know that our wonderful model Sarah is back. I thought I would share some additional fun information. As I stated before, Sarah returned after a long time away. We were suprised to see her back because we knew that she is enjoying great success with her own business and the money has become very good for her. As someone who had previously been somewhat of a reluctant model, we have been blown away by her new enthusiasm. You must understand that Sarah is a model who does not enjoy being spanked. In addition, she has a fairly low pain tolerance so even our lighter scenes really have an effect on her. As I stated in my last post, with her return she mentioned that she would really like to do some girl/girl sex scenes. Last week when she came in for her shoot she asked if we could do a scene that kind of plays on the "rape fantasies" that she has.
She told us specifically that she wanted to do a scene in which she was over powered by two women and stripped of all her clothes. There was some additional stuff that she wanted done to her, but that did not really fall within the theme of spanking, so we were not able to accomodate that request. We did however script a scene in which she could be overpowered and stripped by two women. The scene was shot for the RS Institute and she was overpowered by Betty and Kailee when she refused to undress for her spanking.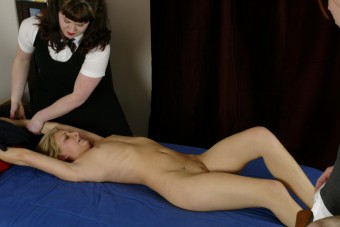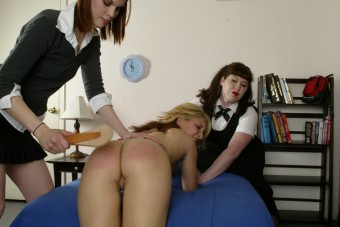 We are not sure what has gotten into Sarah, but we are very happy with the transformation. When she was just doing this for the money, she never seemed all that thrilled to be here. Now that she does not need the money, she seems to be using our shoots as a venue to explore her sexual fantasies. For whatever reason she seems as into this as one can get. When she returned for a shoot after being away, we filmed a scene in which we had a new male member of our production staff behind the camera. On the next shoot she asked if we would use him behind the camera again because "I like getting naked with strangers in the room". At the end of the day she told me that she has no problem with having multiple people in the room for her shoots and that she would be willing to do a scene in front of an audience because "being forced to strip in front of a bunch of people really gets me hot". Wow! Where were girls like this when I was 18? You should all look forward to her future updates on Realspankings.com and RS Institute, she has brought a new level of enthusiasm with her and it shows in the videos. It is also wonderful to watch a scene in which you know the model is getting all hot and bothered throughout the process.
Comments:
I just want to tell you that I have started a community on
http://www.livejournal.com/
It could be found here:
http://www.livejournal.com/userinfo.bml?user=spanking_fetish
I started it just last night (03/14/05) and I just want to tell you I advertised this blog on the journals user info. Perhaps you can return the favor? I bet a lot of people who read this blog have livejournal and would just love to find a place where they can talk and participate and post. Thank you!
This is a great thing you are doing. The featured spanking, although very exciting, reminds how little there is in the way of mature spanking. As you point out in a later entry spanking triggers all sorts of reposnses from endorphins to personal exploration. I think many of us would love to se images of older women, say 40 ish, getting disiplined. The cruel teacher, unfair boss etc. in spite of a slightly less tight rump would still make for very stimulating pictorials.
Mr. M,
I seems as if you could use Sarah effectively in BiSpankings to explore some of her new interests. I remember a scene with Claire and Jasmine where Coach ordered them to masturbate. This could include being "forced" to strip and could include a punishment spanking. The butt plugs that you have utilized on this site could also be part of these scenes and might go toward Sarah's rape fantasies. Sarah conveys fear of punishment better than any of your models and that is always hot to me. When she cries, you should be sure that the camera captures her tears. It's often missed the close-up views in her previous videos. But it's great to have Sarah back!
R-
Hey, i just have one thing to say, all spanking sites do a great job of showing nive bottoms being spanked, there are two things missing however, number 1, The girl being spanked should be scoled. I can't think of a real spanking that was done willingly or preped by a real sounding scolding, followed by A your going to be spanked loung lady, & the giel should & would protest & fight all through the ordeal.
#2, Where are the tears, all the girls yell, scream, beg & kick, but where are the tears rolling down there faces, all spanking sites claim to have real spankings, I ask if there real sound hard spankings, why arn't these girls really crying,
Thank you,
Is there anyway way to contact sarha, by e-mail, or will she contact others, via e-mail, I would like to talk with her, plus it would be a freat selling feature for the web site
expedient Edinburgh
http://www.citieshotel.info/dilatory_United
Kingdom/brine_Northern Ireland/expedient_Belfast_1.html