Punishment spankings with a belt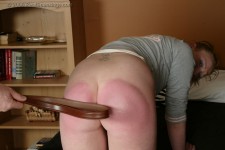 My profession has given me the unique opportunity to interview hundreds of young ladies in regards to the discipline they received growing up at the hands of their parents. I would estimate that of those that received corporal punishment beyond the age of 10, at least 90% report being punished with a belt or a strap of some sort. I would guess that this has to do with availability and tradition. A good example is Becky and Roxanne.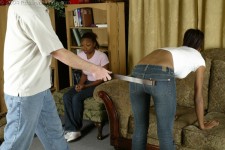 These two young ladies are beautiful young black women that grew up in a neighborhood and, by their own accounts, a culture in which being spanked with a belt was the norm, not the exception. In my pre-interview with them, I touched lightly on the fact that I had the perception that corporal punishment was fairly common in African American households. I told them I did not want to play on any stereotypes, but wondered if they would mind shedding some light on the subject because I was curious. They had no problem with the subject and during their punishment profile video I was able to ask all the questions I wanted without fear of being offensive. They were very honest and I was even a little surprised by the picture they painted of where they grew up. They flat out told me that they did not know a single male or female that they grew up with that did not experience corporal punishment as the primary form of discipline. In addition, they expressed that the punishments went farther into the teen years than most models I had interviewed. Keep in mind that these are girls from the West coast, not deep into the Bible belt.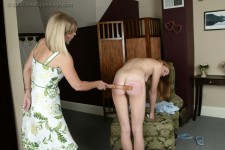 On the other hand, I did indeed grow up in the South and moved there from California at the age of 12. I experienced extreme culture shock as I quickly realized I was about the only kid in my neighborhood that was not spanked. As you would guess, with the exception of one girl I knew who was paddled at home, the belt was the primary implement of discipline. I will never forget the time when I went to a friend's house (who later became my best friend), just a few weeks after having moved in. I rang the doorbell and my friend and his sister came to the door. He shyly told me that he couldn't come out at the moment, and she proudly announced (obviously just to embarass him) that he couldn't play because "they were about to get their whuppins". Honestly, it took me a moment to even figure out what she was even talking about. She said if I hung around outside, it would be over soon and they could probably play then. She wasn't kidding and they did indeed get their "whuppins". But after hearing all the racket, I did not stick around, I ran home with my heart racing.
So, while I feel very strongly against spanking between anyone except consenting adults, it is alive and well in America. And while my account happened more than 20 years ago, Becky and Roxanne's happened in the 21st century. You can watch their full interview in the "punishment profiles" section at Realspankings.com. In addition, Realspankings.com has the full video to go with each of these photos.
Comments: