New Model Bianca
We just finished shooting a brand new model, and I have to tell you, I have not had this much fun for someone's first shoot in quite some time. First of all she is just adorable and as sweet as can be. She is 23 years old, and it was clear when we first interviewed her that this was going to be a perfect match. There are girls who have a desire to be spanked, and then there are girls with a spanking fetish. It is safe to say that this girl really has a spanking fetish (I joked throughout that she should be paying us). During her profile interview, she discussed the fact that when she was young she was rarely spanked, but as she entered into her teen years, this frequency of her dad taking the belt to her increased as a result of her behavior. Shortly after puberty, something became very clear to her...as much as the belt hurt, she began to enjoy the spankings on some level.
Currently she seems to have the problems that many young ladies with a spanking fetish face, when dating men their age, she cannot find someone to really give her the spankings she desires/requires. She desperately wants to be in a relationship in which she is held accountable for her actions and punished appropriately, but just cannot find the right guy willing to give her a severe enough spanking. She told me that over the weekend, while looking at spanking content online, she came across a video of me giving Lila a severe spanking with a hairbrush, and told me "that looked like so much fun". She admitted that part of the reason why she was even here was the fact that she wants a severe spanking, "from a professional" so she can actually experience a severely bruised bottom is a safe environment. She wants to know what it is really like to have trouble sitting down the next day after a spanking.
As we always do, we did take it slowly on her first day, but even during her profile spanking, she asked if Betty would spank her a little harder. Who are we to deny this sweetie such a fair request? We progressed as we typically do on a model's first day until we got to the last scene, which was her first spanking from me. She made it very clear that her fantasies revolve mostly around the belt (imagine that, the implement she was spanked with growing up), so I told her we would be using the belt for her first RSI scene. I have been doing this long enough to get a sense what a particular moment calls for and I decided to give her everything she desired. After a little while in corner time in the Dean's office, I decided that it was time that this young lady feel what it really is like to be in trouble. After a short lecture, I laid her over a little stool and got to work with the belt. We typically stay on the lighter side of things on the first day, but she was not looking for just a paycheck, she wanted a disciplinary experience. Since she seemed to go into the scene with a little bit of a smile, and I could detect a little sarcasm each time she said "Yes, Sir", I decided to strap the sarcasm right out of her, making her say "Yes, Sir" after each stroke of the belt on her bare bottom. It took no time at all for the sarcastic tone to be replaced with tears. While I still took it fairly easy, she left with a gently bruised bottom, and no doubt the first real disciplinary experience of her adult life. You will be seeing much more of Miss Bianca in the coming weeks, she already has booked her next shoot. Watch for her punishment profile in the next couple of weeks.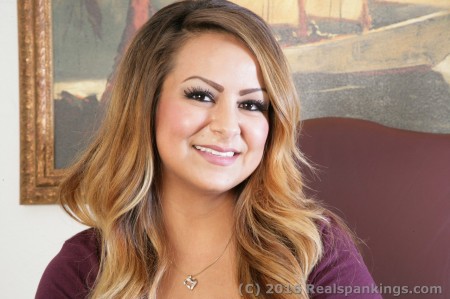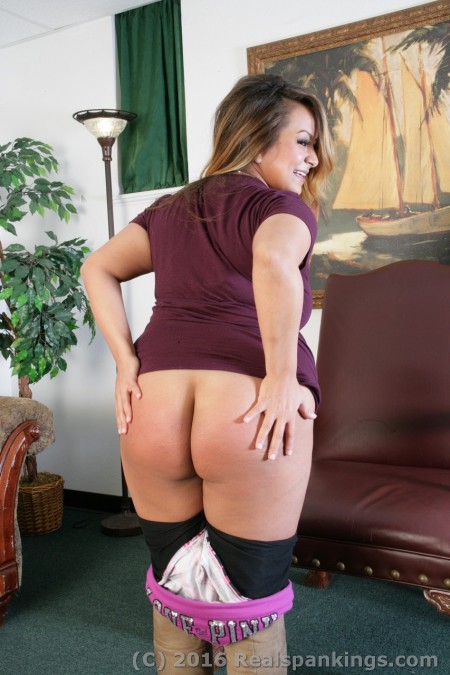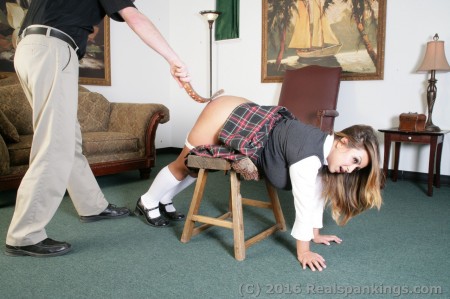 Comments: