More experimental school paddling videos
When we 1st moved into actual studio spaces, I experimented quite a bit with scenes, camera angles, settings, etc. and came up with some videos that were quit different. These next two go along the lines with the Brandi school paddling video I just posted, in that they are not filmed in a traditional manner. Once again, these scenes are quite old, and the resolution is limited at best, but I thought I would share. Which also brings about a question...do you all like videos in which you do not get to see all the action up close and personal? In these two videos from the member's area of Spankingteenjessica.com I tried different things. The first one, is Jessica and Katie being paddled in the office with me balanced on a ladder outside the office capturing the action from above and at a distance. I tried to accomplish two things with this videos...the 1st is the anticipation of the girl waiting to be paddled, standing outside the office, listening as she waits her turn. The second part of this video was actually Jessica's idea, in which after she is paddled, she stands outside the door and plays with herself for a moment and she listens to Katie's paddling. Here is a frame grab and the only picture I could find from the shoot in which we see the results of Katie's bruised bottom. Click the text link below the pics to download the free video.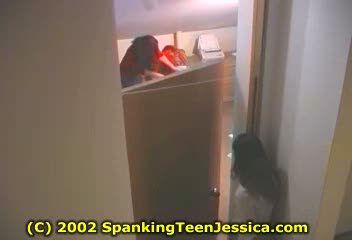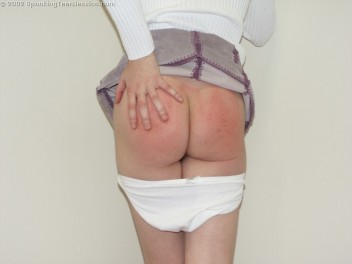 Voyeur camera office paddling with masturbation video
The next video is more along the lines of the Brandi video below. I took the idea of a school paddling captured on a security camera, and built off of it a little. In this video, we get to see two seperate angles at the same time. We have the four girls in the hallway waiting to be paddled, as each is taken into the stairwell one at a time for her paddling, we also get to see the girls gathered at the door listening. Once again, there appear to be some audio issues, and I was only able to hear anything for Jessica's paddling. I am indeed looking for input as to if you all would like to see creative filming like this in the future. Here is the four girl school paddling pictures and clip.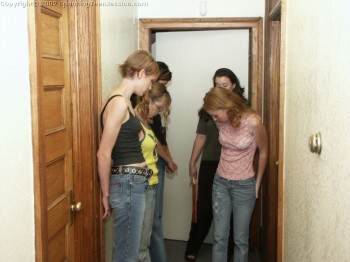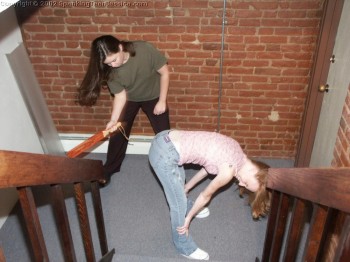 4 girl school paddling caught on security camera video
Comments:
No Thanks, I want to be right there in the room, with a very clear view
I've seen a lot of people try to get creative with spanking videos and more often than not, the result is just distracting. I think you'd be better off keeping it simple.
I was always very impressed with your early creative work both in stills and videos - especially the early Jessica and Brandy.
I think it would be a waste of a good paddling in the modern era when you can shoot 1080p video cheaply to just shoot a distant voyeur angle and not shoot it close and well lit at the same time. It is very worthwhile though to try the experimental or different shots
I'm also a big fan of those evocative stills that show very little but tell a whole story.
Good idea, but I think jean spanking videos are better in color.