It's all about that thud
I find that thud is one of the most important elements when it comes to a punishment spanking. Yes, sting is an integral part of any spanking, and will generally accompany the thud at some level, but the real long term learning comes for as much thud as possible. Don't get me wrong, the goal of any punishment spanking should be for both to exist as we certainly want to set her bottom on fire. A leather implement goes a long way for providing discipline as long as it is actually being applied, but that sensation tends to fade fairly quickly within minutes after the spanking is over.
With an implement such as a heavy wooden paddle, or a hairbrush, there is the potential after several heavy swats for so much adrenaline and endorphin production to create an overall numbness. But thuddy implements such as these are more for long term learning than short term. Certainly those first few are going to hurt very much, but each one after is more for the benefit of a sore bottom over the next few days.
Ideally, the punishment will start with something that stings as much as possible and should be applied for a couple of minutes at least. We are looking to make that very moment in time as uncomfortable as we possibly can. But when that is over, if that is the end of the spanking, she will just be left with nothing but a warm glow. This is why something thuddy is essential. With a heavy wooden paddle we are able to go beyond just stinging her skin, we are able to bruise her bottom in a manner that leads to changes in behavior. Let's take a closer look.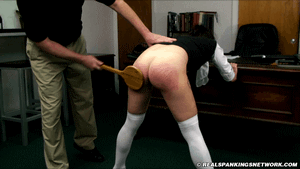 In this scene, poor Devon has been quite bad at the RealspankingsInstitute and clearly some discipline was required. This paddle is so very effective at providing the type of thud I am describing. With a round head, it is the perfect size to cover a good portion of her gluteus maximus with each swat. The paddle is oak, quite heavy, and a little more than ½" thick. This is not at all about the sting and all about the thud. It pushes the skin and fat out of the way and gets right to the spot we are looking for. After just a dozen of these we are assured that she will be sitting gingerly for a few days.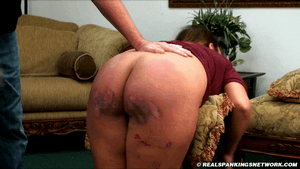 This is our newest model Bianca and I also serve as her disciplinarian. This is a real punishment session that was filmed and just went online at Realspankings this week. While she has a little extra paddling on her lovely bottom, you can see how the bath brush compresses her skin and is able to make contact with the muscles of her bottom. Each swat leaves a mark, and with my concentration on her sit spot, there is no doubt that this lesson will stay with her for several days.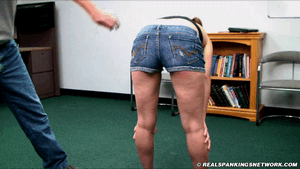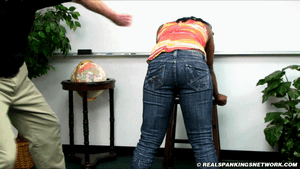 In these next two, we can see why school paddling is so effective as a disciplinary tool. Syrena, and new model Rylee, show that even when fully clothed, a nice thuddy paddle can still achieve results. In both cases, with a full force paddle swat, you can see the waves as the paddle digs deep and makes contact with the desired area. While the amount of overall sting is limited, you can tell from their body reactions that this is still an effective punishment. In both cases they were left with very bruised bottoms after only 10 swats. Sometimes black and blue is a requirement for a punishment, and even though not on the bare bottom, with the heavy paddle, we were able to achieve our goal. Both scenes are from the member's area of Realspankings.com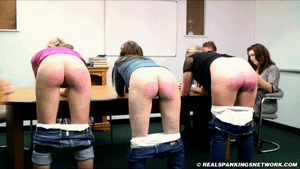 Even better is the opportunity to administer a school paddling on the bare bottom. For this Realspankings scene, all three girls are paddled on their bare butts in the teacher's lounge, with witnesses present. By this point I have already made several passes and you can see that there are bruised bottoms all around. A bare bottom paddling adds a great element of sting while still achieving long term soreness which was the goal.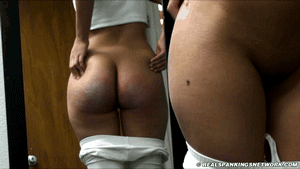 In the above animations we can see the exact result that can be achieved with a proper paddling. For this Realspankings scene, young Kiki is sent to the office for an intense paddling. The yoga pants do very little in the way of offering protecting so there is still a good amount of sting. However, as you can see, once she is back in the locker room, that we still achieved the desired results. She has deep bruising at the lowest part of her bottom and will be sore for more than a day.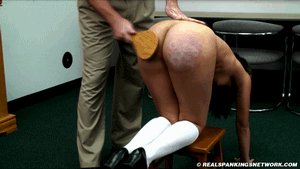 In this next scene, for RealspankingsInstitute, we once again have Kiki, and while I am not using a heavy wooden paddle, I have made adjustments to make it just as effective. By having her bend beyond 90 degrees, her bottom is pulled tighter bringing the muscles closer to the surface. This allows me to target the same areas that I would with a heavier paddle, achieving similar results. You can see that her bottom is reacting just as I would want, leaving her little bottom bruised and sore.
Remember, using a heavy wooden implement can be dangerous and is not for the beginner. Great care has to be taken to avoid the tailbone at all cost. But when done properly, a young lady will be left sore and sorry for days, assuring that a long lasting lesson is learned. All of these animations come from updates from the last few months at Realspankings.com and RealspankingsInstitute.com which together, currently have 4,285 scenes online.

Comments: