Firmhand Productions
My thoughts on Firm Hand Productions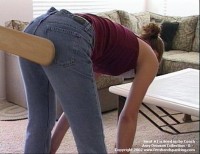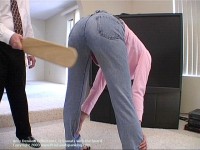 There are very few spanking sites that I have a membership for their member's area. One that I tend to join off and on is Firm Hand Productions For me, their content is either hit or miss. Some of their content I just love, there is a good deal of it that I can do without. I think the thing that does it for me the most, is the fact that they often feature a position and implement that I tend to love to see the most. This would be a girl bent over, grabbing her ankles, waiting for hard swats with a paddle. Because I tend to be attracted to the more realistic scenes, I like the ones in which girls are paddled while retaining clothing. While the sets they use often distract from the scene (like a "school paddling" done in a living room with a big screen TV in the background), they make up for it with intensity and realism. Many of the school type paddling scenes are done just like I knew them to be done growing up in Texas. They also have a considerable amount of research material that details real school paddlings that have taken place over the last several years. They have even gone as far as recreating the famed Amber Page paddling that took place at Grand Prairie High School. If you are at all a fan of watching a girl bend over in tight jeans, grab her ankles, and then take a hard paddling with a large school paddle, they have enough content to keep you busy. I have included some frame grabs from selected scenes, so you can see what I am talking about.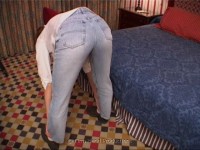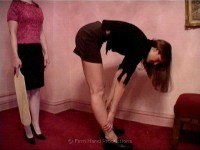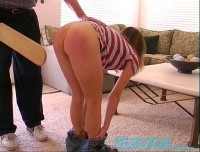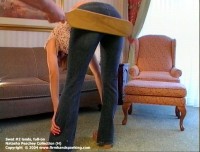 You can visit their site at Firm Hand Productions

Comments:
Hai,
I have read your total spankingblog and I find it most exiting. Me and my husband have a domestic discipline relation and I am whole my life into spanking. The punishmentspankings are the most exiting for me but they make also the most impression. I hate the pain of a punishment, but the submission and to be dominate exites me a lot. The fantasy is the most exiting but a also can not without the real thing. My husband enjoys the power he feels when he is punishing me, to make me feel the pain is also exiting him very much. When there is a reasen for a real punishment, he will go on till tears are flowing, a good reaction is also a thing that exites him. I think you regognise these things as the spanker you are.
I hope you will write a lot more on these blog, I find it very exiting to read. Thank you!
I am sorry that I am not very good in the English language, I am aware that I make mistakes in it.
Greetings,
kitty
Posted by on 01/18 at 03:28 AM |
#