Cute new model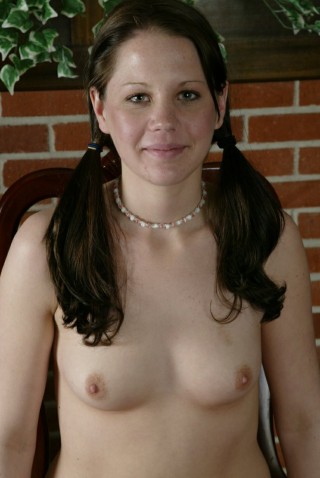 We recently shot a new model for Realspankings.com, which is nothing new for us, but due to the way she was hired, I thought I would share it with you. We held our company Christmas party at my house this year, and had a very full house with more than a dozen employees and their significant others. A new employee of ours who runs our shipping department, brought a girl with him to the party. The funny thing is that this was a first date and they had met at an online personals site. Being that this was not an ordinary company Christmas party, on the drive up to the mountains, he explained to her what it was that we did. Surprisingly, she thought that it sounded like fun and was excited to be at the party.
While the pictures that I will post with this do not do her justice, all of the guys (and a few of the girls) were completely blown away by this girl. Having just turned 18, she obviously had a young look about her. What I think really did it for all of us was the way that she carried herself. You could tell that this was a very fun, dynamic, and sexually confident girl. I am someone that sees naked, gorgeous, 18 year old girls every day at work and even I could not help checking her out every chance I got.
I did my best to contain myself and made a point of not trying to hire her. I did not want someone feeling pressured at my party, in my house, so as much as I wanted to pitch a job to her, I did not. Later in the evening we did one of those crazy gift exchanges in which people can steal other's gifts. Being that she is not an employee, she did not bring a gift, nor did she receive one. The gift that I provided for the party was the "rub my duckie" vibrator. It is basically a rubber duck for the bath, but when you squeeze him just right, it turns on and becomes a waterproof vibrator. When Dee ended up with this gift, the girl began to complain in a playful way. She told us "Damn, I wish I would have been part of all of this, I just broke my vibrator and I desperately need a new one". You must understand that this is a girl that turned 18 a few months before, in a room full of people that for the most part have at least 10 years on her. She had known all but one of us for less than 2 hours and here she was discussing her masturbation habits. I do not know about you, but when I was 18 I did not discuss my masturbation habits with my friends or girlfriends, much less a room full of strangers. It was very clear that she was a sexually open girl and probably a whole lot of fun.
The night progressed and as I was making the rounds visiting all of the groups, as a good host should, and I saw that her and Dee were having a conversation. I sat down and realized that this girl was asking Dee about becoming a model for us. Since the girl had broke the ice, I got involved and answered all of her questions. I made it clear to her that we gave real spankings in our studio and that this was not acting. She was very excited to give it a try, but I felt she needed to make more of an informed decision. When she left that night I sent her away with a list of our websites and passwords to access them. I told to her to look long and hard at the videos before she decided to come in and give it a try. She e-mailed me a few days later and told me that she was still interested, but that she was now a little nervous having seen our content. I wrote her a long e-mail and helped her to fully understand the process. After a couple of weeks of thinking about it, she wrote me back and stated that she was ready to be spanked. She stated that while very nervous about the pain involved, the thought of the whole shoot had begun to turn her on. It was not so much the spanking that was getting her excited, it was the thought of being naked in front of the cameras and the people involved in the shoot. Into spanking or not, it was clear that she was our kind of girl.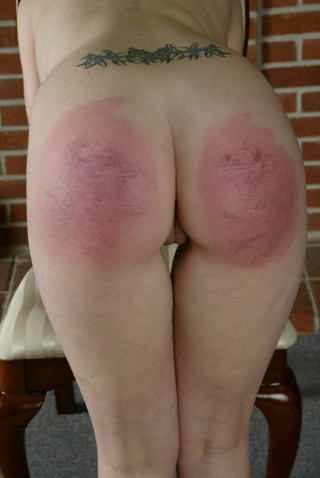 She has now finished her first shoot and it went very well. She surprised us and herself, by being able to take much harder spankings than our typical model can on her first day. She took three very hard spankings that left her wonderful bottom black and blue. She did so well that I even sent her home with a brand new vibrator to help her release the sexual energy that she had clearly built up over the course of the shoot. When I handed it to her, her eyes lit up and she told me that she would put it right to the test the second she walked in the door of her house (in the privacy of her room of course, she still lives with her parents). She is scheduled for her second shoot next week and I am confident that you will be seeing a lot of her. Now if we can just get her to go back to the hair color she had when she came to the party, it suited her much better. I do not feel the pictures from her first shoot do her justice, but we will make an effort during her next shoot to capture the innocent beauty she displayed at the party.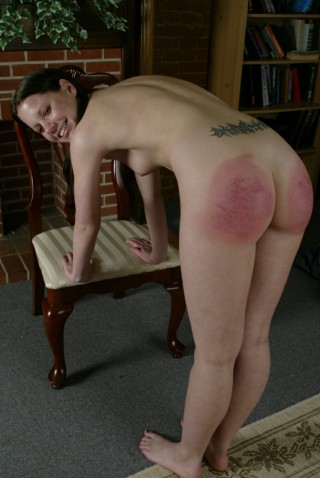 Her first few scenes will be featured at Realspankings.com in the weeks to come and you can hear her tell her version of being at our party during her interview for her "Punishment Profile". We are glad to have Tanya as a new addition to our shoots.
Comments:
Very nice. How's her acting skills? I'd love to see her featured in a RealSpankings Institute Arrivals scene, playing the disobedient role. I love when lady d lets the girls know how it is, forces them to strip, while lecturing them on "no modesty here" etc. I'm excited about this girl, great find!! Does she have friends she may want to bring in??

Onegr8om
Her acting seemed on par with most models for their first day, probably a little better. She was much more relaxed than our typical first day model due to the fact that she already knew us. She does have a friend who really wants to come in with her, but she has to wait a couple more months to be 18. Dee's exact words were "we will see her the day after her birthday".
Oh i can't wait for her friend already! A real birthday spanking! nice. Even if its a day after her Bday, that still qualifies in my book. Maybe an Arrivals scene together for these two??

Wishful thinking!
Onegr8om
ordinand Sorrento
http://www.hotelscare.info/virulent_Italy/heliochromy_Campania/ordinand_Naples_1.html