Caning pics that relate to the post below.
Alright, now you all will be confused. Read the post directly below this one and then come back up here. I was mentioning below that Holly from Realspankings.com who is the model in the caning video below, really liked to have her butt bruised during a spanking. On occasion after a real good punishment from one of us, she would come back to the studio for the next couple of days to just show off her marks. Honestly, I never quite cared for marking anyone quite as much as she liked to be, but it was her thing. After one particular caning (not the one in the video below) when she came back to show off her bruises we snapped a couple of pictures. I will include pictures taken during the caning and then pictures from 48 hours later. Please remember that the intensity and severity of her scenes were always by request. She is the only model to ask for the "hardest caning I have ever given"...actually I believe I may have heard those words come out of Monica's mouth as well. Either way, the pics are a little graphic for my front page, so click the "MORE" link below for the pictures. For you Realspankings members out there that have not watched the caning video that led to these marks. It is from the April 18th, 2003 video labeled "Holly's Severe Caning" which you should easily be able to find in the member's area.
During the caning: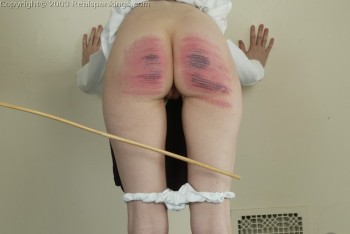 Two days later (note the smile on her face):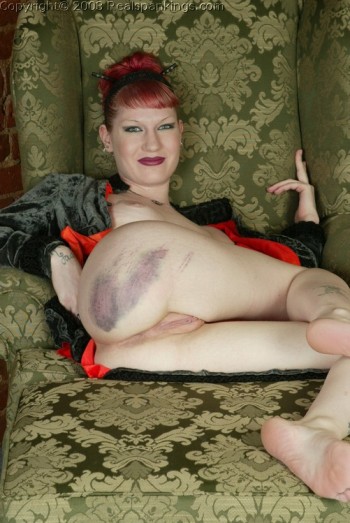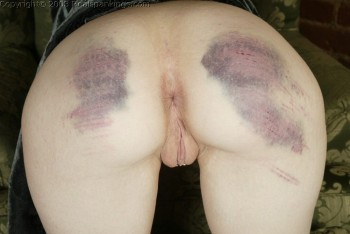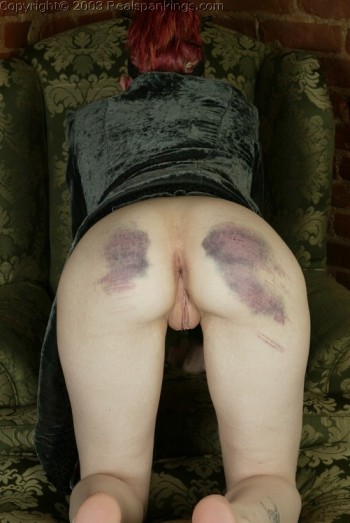 From the video "Holly's Severe Caning" at Realspankings.com.
Comments:
Aha, my memory has played me false -- which is not a rare event. (That's why I hope I'm never called as a witness in court. So much of the time, I'm certain, but wrong.) I thought those "results" pics WERE from the "video monitor" caning (and I said so, in my reply to the other post). My bad.
They're impressive photos no matter what caning they followed. But I wonder if her bottom was even MORE purple after the "video monitor" scene.
If this isn't too personal a comment to make, Holly's bottom had a very unusual characteristic (at least in my experience). When she was straight at the hips, it was plump, round, voluptuous. When she bent at the hips (as in the photos above), it became lean, almost scrawny. The difference in degree of display of her pudenda is what makes it so dramatic -- her butt cheeks were together if she was straight, so the view was quite modest, but as soon as she bent, they opened wider than the Red Sea for Moses, and she had no secrets at all. I do not think most girls' bottoms have that dramatic, drastic a difference. At first it kind of weirded me out. But Holly was such a great model I learned not to be distracted by it.
Posted by Michael -- but NOT Michael Masterson on 03/28 at 10:30 PM |
#