Bruised bottom from a severe paddling.
There are times that a very memorable spanking is required. During these times the use of a belt, hand, or a wooden spoon will not do the trick. This occasion calls for a wooden paddle that will leave her bottom bruised and sore for at least a week.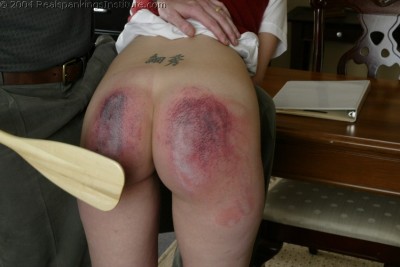 Comments:
I remember that one. Kailee cried her eyes out. It was a classic!
Great to see you blogging again, Michael!
A job well done. I reckon it would take several weeks for this poor girls bottom to recover. However, I think a wooden spoon can also do the trick if you use it hard enough! Maybe you have some archive pictures that prove the point?