Bottoms that need a spanking
I generally do not post non-spanking pictures here, but I figure that most of you out there that like spanking, also love to see beautiful bottoms. When surfing the web, I occasionally come across pictures of bottoms that you just know need a good spanking. Recently, I came across these pictures that fit this category nicely. I always credit the source of the pictures and in this case, while the source is credited, I cannot vouch for the quality of the sites, I know nothing about them.
This first one certainly conjures up the thought of school girls prepared to be paddled as a group. This image has a copyright for TiffanyTeen, but in researching the source, it looks as though TiffanyTeen has been merged under the website Phil Flash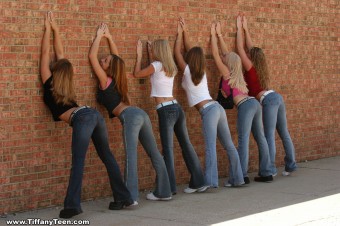 The next pic comes from Abby Winters and is just a bunch of wonderful young bottoms.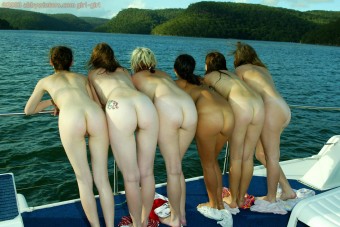 Just for fun, post what you think is a good spanking caption for these pics, in the comments section. Enjoy!
Comments:
For the top pic: Decisions..Decisions Or Alright!..which one of you ladies has been the naughtiest? One more: Ok ladies, the one among you who can get her pants down the fastest will recieve the least amount of swats.
For the bottom Pic: The Winning Catch Of The Day..Indeed. Or Ok, where's my cane?...oops, I mean my fly rod?
OK girls, the wind's died down and this sail boat needs a little help.
Ok, not a spanking caption per se, but a funny one none the less IMHO
For the top pic:
*Giggle* "Do you REALLY think he's going to SPANK US?"
For the bottom pic:
"Oh, Lordie! We're in trouble...He's swimming back with a CANE!"
that top one is my new wallpaper....

"Did you see that...Why that guy is naked on the beach!"
We can't wait to be spanked!!!

for the first one "So this is what happens when you go party and you're grounded..." and for the second one "we must tan evenly so our blushing will be best on all four cheeks"
Caption: Nice Scenery
People into spanking are usually into asses, here's a site you might like
http://www.40inchplus.com/main.htm?id=