Bare your bottom and present it for your spanking
As a lifelong spanko there are many aspects of spanking that I find very exciting. I think everyone in our kinky little community has their own particular things that turn them on about spanking. I have talked at length about many of these topics, but today I wanted to discuss the presentation of the bottom to be spanked. For me, this is one of the most important and most exciting aspects of a true punishment spanking. Many people simply see it has functional, but for me it means so much more than that. It really is the heart and soul of a spanking as it defines the whole process.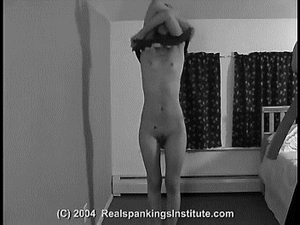 I will never find a spanking exciting in which one person has to hold another person down in order to apply a punishment. A spanking, one that is truly deserved, and has been earned, should be a cooperative event. The person that is to be spanked knows on some level that they have earned this spanking. The entire reason this event is even taking place is as a result of their behavior. The person applying the spanking is not doing it for personal gain, it is the exact opposite. They are taking the time out of their day to apply a spanking because it is needed.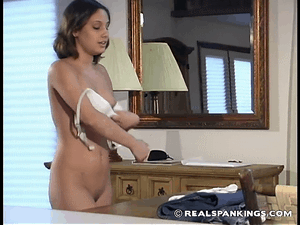 When the naughty young lady presents her bottom to be spanked, it is an acknowledgement that she knows that she misbehaved. Yes, she could run or refuse to be spanked, but instead she bends over and presents her bottom to be punished because she knows she needs it. She knows that the person tasked with her discipline is doing it for her own good. By presenting her bottom she is also giving consent to be punished.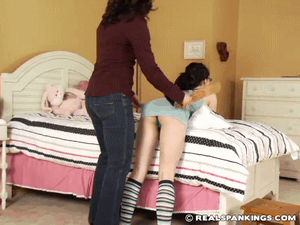 There are a few variations on this process, both of which I find appealing. The first is in which I personally bare her bottom for her spanking. This gives an added dynamic of control and clearly defines who is running the show. There are really no situations in life, outside of sexual interactions, in which one healthy adult undresses another. In a sexual interaction, people undress each other in anticipation of pleasure and it is an act that is very much looked forward to. But when I lower a young lady's pants and panties as a result of her behavior, it will be anything but pleasurable.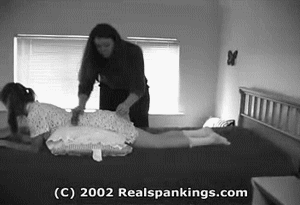 It demonstrates that her behavior has led us to a place in which I now need to take charge. I am not only in charge of her discipline, but if I choose to, I will also undress her to the level that I feel is required to make the point that needs to be made. This also tends to take her back a little and adds a parental feeling to the whole process, which is a good thing, as if she is acting in a manner as an adult that requires a spanking, then she has some growing up to do.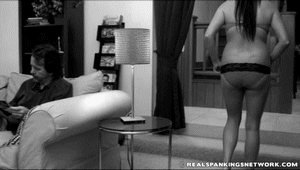 While I feel there are many situations that call for me removing the necessary clothing for the punishment, there is also something quite exciting and powerful about her presenting her own bare bottom to me to be spanked. Once again, her clothing is not coming off for pleasure and the moment she starts to unbutton her pants, she knows that things just became more serious. She now knows that her behavior requires her to go through a process that is going to make things much more painful. Even better, I am not going to this for her, she is going to have to go through all the steps on her own to put her bottom is a state that will allow more pain to be provided.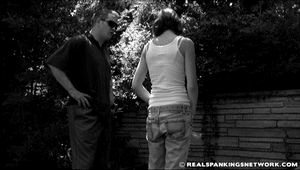 The last thing she wants is to be spanked, and even worse to be spanked on the bare bottom. But at this moment, under these circumstances, she finds herself doing exactly as she is told because this is her spanking and she has earned it. A lot of the spankings I provide in private are to young ladies that I may actually be meeting face to face for the first time. The overall punishment value is raised considerably when a man that she is not intimate with is demanding that she expose herself from the waist down. Before the very first swat her punishment has already started as a result of having to lower her pants and panties in front of someone she does not even know.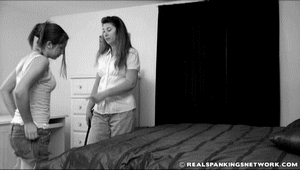 Even more exciting for me in this process, is the fact that she will now have to present her bottom in whatever manner I find to be the most effective for the application of pain to her bottom. There are many steps in the overall process of a spanking, but it is pretty clear that once a bottom is bared, and then presented to be spanked, that all that is left is the actual spanking. Many roads have led to this very moment, but it is actually happening and is now very real. This is not always easy for many young ladies and I have seen people struggle to actually perform this task.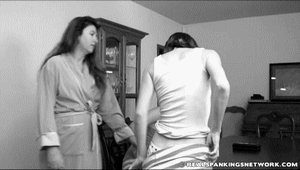 You can see the hesitation, fear, and apprehension in their eyes as they are told to bend over. They know this is the last thing that they not only have to do before getting spanked, but do so voluntarily. I am not going to bend her over, she needs to find the courage to do it herself, and knowing what will happen once her bottom is in the air, it is not always easy. But this is one of the most important parts of a spanking, as until she has bared her bottom and presented it properly, she has not submitted or surrendered to the fact that she is indeed going to be spanked.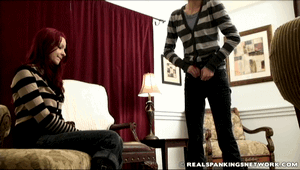 This is the moment in which she fully owns the behavior that led her here in the first place. It is a physical act that acknowledges that what she did was wrong. It allows her to take total ownership for her attitude or behavior that was found to be clearly unacceptable. This makes it HER spanking, she has earned it, it is not for me, it is for HER. If she was in trouble and I grabbed her forcefully, pulled her over my lap, and held her in place for her spanking, it would not mean as much for her personal growth.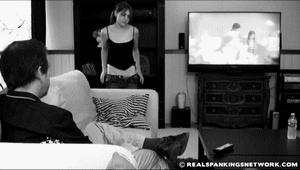 Another difficult part of this very important process, for the person that is about to be spanked, is that they are not only baring their bottom and presenting it, they are actually doing so in a manner that allows me to provide the most effective spanking as possible. Position is very important in regards to what implement will be used. When I am asking her to present her bottom for a spanking, I am asking her to present it in a way that will allow me to apply as much pain as I can. When she sees that heavy wooden school paddle in my hands, and I tell her to lower her pants and her panties, then turn around and grab her ankles, this is not as easy task.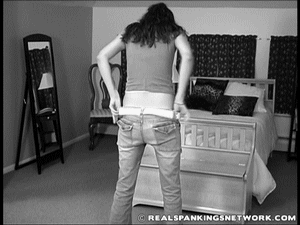 She does not want to expose herself from the waist down for me. She absolutely does not want to be in such a vulnerable, humiliating, and embarrassing position in front of me. She does not want everything between her legs to now be on display. But most of all, she does not want anything to do with my heavy paddle being applied forcefully to her bare bottom. But when it comes down to it, even with her whole body shaking, she finds herself doing exactly as she was instructed.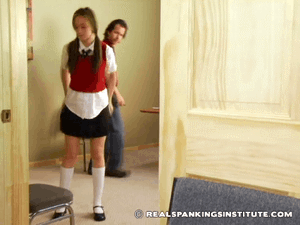 The reason she is doing this, is because it is being done for her. She may fear it on every single level that she can, but she still complies with what she has been instructed to do. She knows, deep down, that this process is going to help her be a better person. She knows that this behavior, that she cannot seem to control on her own, has a good chance of being eliminated as a result of this entire process.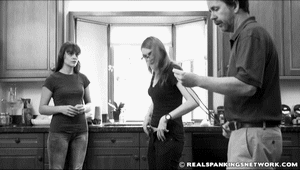 She knows as she is lowering her pants and baring her bottom that it is going to hurt so much more. She knows that by grabbing her ankles that this paddling is going to be just about as bad as a paddling can be. She also knows that once she actually goes through with bending over, that a pain that she has never known before will be just seconds away.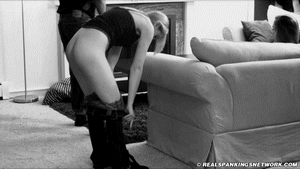 She also knows that she has earned everything that she is about to receive. She knows that I will apply this spanking in a manner intended to permanently change her behavior. There will be tears and they will last for quite a while. Her bottom will hurt very much during the spanking and will continue to hurt for a few days. She will learn a very real lesson as a result of very real discipline and if all goes well there will be a very real change in her behavior.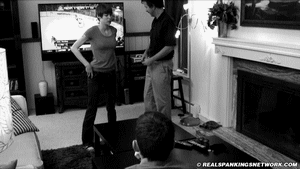 But none of this can actually happen until she bares her bottom, turns around, a presents it to be punished.
All of these animations and the young ladies presenting their bottoms to be spanked below are from video in the member's area of Realspankings.com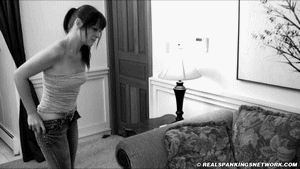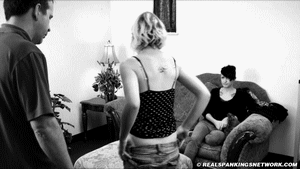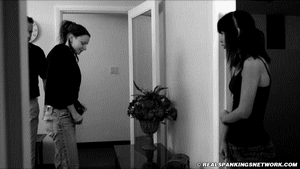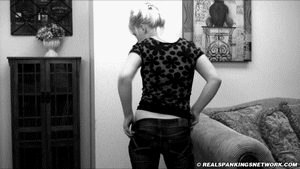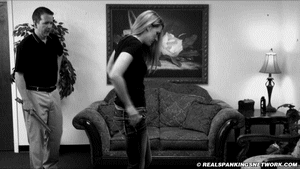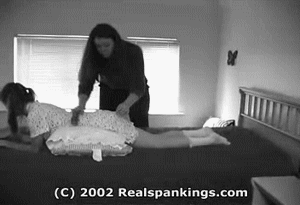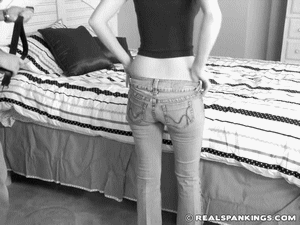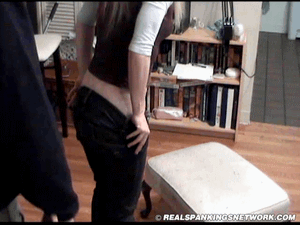 Comments:
What a great post Mike. Not to be difficult, but what's up with WSF? No one can post on that sight.
Nevertheless, I still like reading your blog once or twice a month.
I wish You and Your loved ones a very Merry Christmas.
Posted by on 12/23 at 02:13 AM |
#