A Woodshed Punishment and a Real School Corporal Punishment Paddling
Once again our newest model at Realspankings.com is doing fantastic. Yesterday was her second shoot and we jumped right in to the hard stuff. The day began with her being sent to the woodshed for now completing her outside chores. She made made to wait with her pants down and her shirt up, being fully on display for the neighbors to see: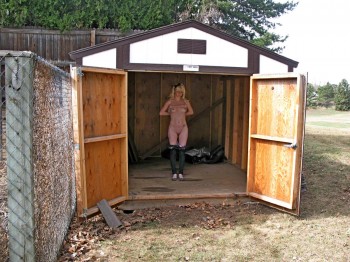 After she had plenty of time to consider her transgressions, she was made to bend over in the woodshed, legs spread wide, for a long and hard handspanking: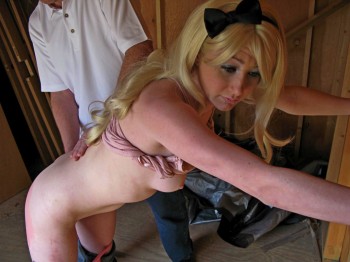 After her bottom blistering spanking, she was once again put on display for the neighborhood to see. This time it was her bright red bottom that was left facing the street so everyone can see what happens to naughty girls who do not get their chores done.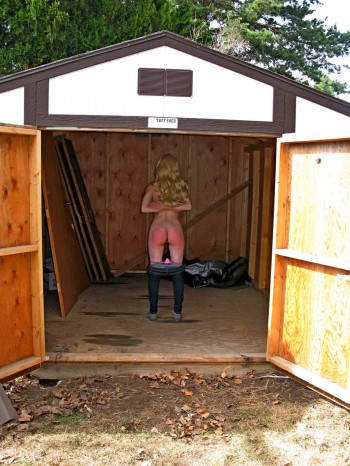 For her next scene we jumped right in an did a school swats scenes with beautiful Allison. She was interviewed about her thoughts on school corporal punishment, which she was surprised that is still occurred in the US. She was then given three large wooden paddles with holes and made to choose which one she wanted to be used on her young bottom. She was then bent over the chair and given ten licks with the paddle, as hard as I could swing. She had much trouble holding still, and there is no doubt that it was a very effective punishment. She then lowered her pants and panties to show us the result, which was indeed a bruised and sore bottom. She felt that for the most part she would do whatever was needed to avoid that type of punishment in school, but that there are those times that she desires a spanking, and that is she was indeed still in high school, she might go out of her way to get the occasional paddling. She finished the scene by adding her name to the signature paddle, adding herself to our little piece of corporal punishment history. She is now one of the fifty girls to go through the school swats experience. You can see a much more detailed post regarding girls who have done a school swats scene at the School Paddling Blog. The full scenes described here will be in the member's area on Realspankings.com at the end of this month.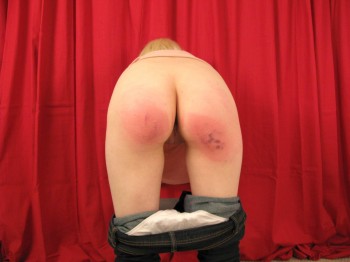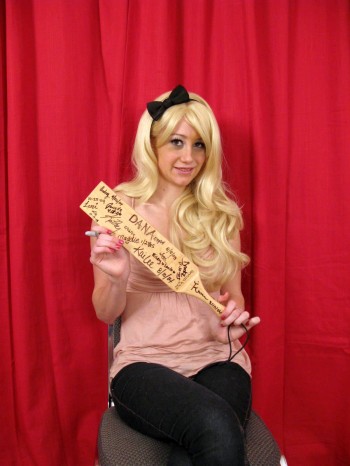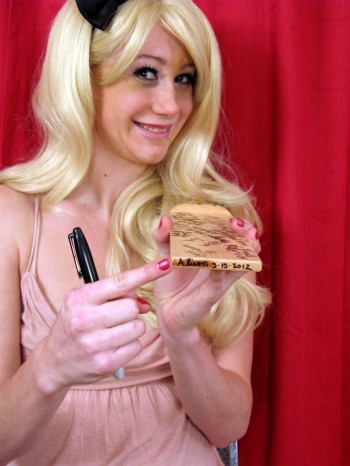 Comments:
This may seem an odd thing to focus on, but what's up with her hair? It was black the first time and it's very blonde this time. Is that a highly effective dye job? Or was she wearing a wig one of the times? Maybe she was wearing a wig both times; based on the color of her eyebrows, her natural hair color is light brown.
I like the second woodshed shot; it's a classic.
If the girls are having to sign the edges of the paddle, is it time for a new paddle? Looks like a penmanship challenge.
An actual woodshed!! EMMKAY, I'm impressed!! Seriously! If the use of the woodshed should be extended for WSM shoots, I'll gladly fly in for a weekend.
Can you think of another studio in the big leagues who has an actual woodshed? I sure as hell can't. Both Punished Brats and Firm Hand have discussed this option over the last couple of years. Shadow Lane would like one too but then again, they're in the middle of the desert...so it's highly improbable.
Ever need a male Top or bottom for filming in your part of the land, lemme know. Flying into DIA for a weekend isn't a problem.
Great shots, Razor