Young Ladies Paddled at School
It should be no surprise at this point in time to know that I have a fondness for school paddling scenes. I grew up in Texas where corporal punishment was used at all grade levels, and as a young spanko, this spoke to me in a very big way. While many of you out there really only like to see bare bottom spankings and paddlings (which I also film plenty of), I am a huge fan of very realistic school paddlings. Unfortunately, in the land of the Interwebs, there are not all that many sites doing it the way I like to see it. For me, a proper and realistic school paddling is administered in exactly one way, and it does not involve a warm-up. I fail to recall a single instance of school paddling when I grew up, in which the VP was in some way trying to make the paddling somewhat bearable for the naughty girl. They only had a fixed number of swats to work with, as defined by district policy, so they made every swat count.
Luckily, I have an outlet for such fantasies and I do my very best to film very realistic, and more importantly, very hard school paddling scenes. The concept is quite simple. There is a brief discussion with the young lady in trouble about her behavior, corporal punishment is sentenced, and she is then required to assume the designated position. A heavy, and realistic school paddle is then produced, and she is properly punished for her offense. There is no discussion between licks and the goal with every swat is to bruise her bottom and change her behavior. While most schools I attended limited the number of swats to 4-5, in most of my videos I give between 8-10 swats. I tend to use heavy oak paddles and I always achieve the desired results. While the majority of my realistic school paddling scenes involve a young lady being punished over clothing, after the paddling there is a "reveal", in which she bares her bottom for the camera and shows her bruised bottom. I thought I would take a little time today and highlight some of the recent paddlings I have administered for Realspankings.com and RealspankingsInstitute.com, and if you haven;t been around in awhile, show you some of the new faces at the studio.
These young ladies are Maya and Rae, real life best friends that thought it might be fun to try out being spanking models. They generally shoot together, and to date, they have taken several serious paddlings together. From their "school swats" scene, to being sent to the principal, to be kept after class, they have had their bottoms blistered. Here are a few samples.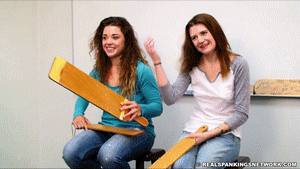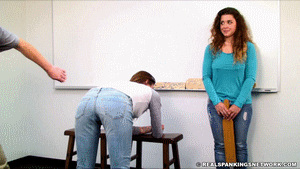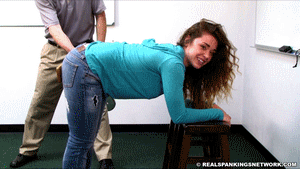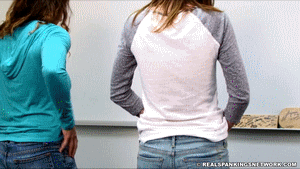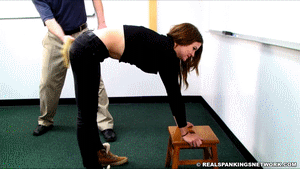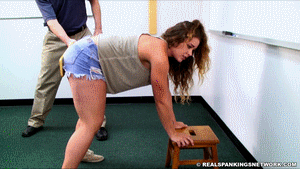 This is Nuna, a dear friend of mine and a hard wired spanko. While she loves to be spanked, at the harder level like my school paddling scenes, it is very clear that she does not enjoy any part of it. When I take the paddle to her bottom, full force, I get tears every single time. This is not acting, this is the real results of a serious school paddling.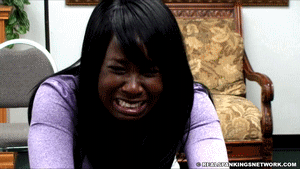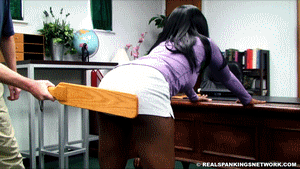 Next we have the young and amazing Cleo, who has the most amazing body, and is just a sweetheart. Another hard wired spanko, she drove all the way from the deep South to shoot with us and she did not disappoint. She took 10 swats for her "school swats" scene, and I laid them on hard. She left with a bruised bottom and a smile on her face.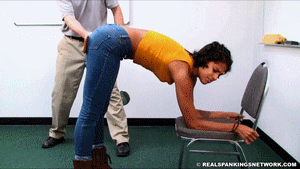 Next we have a newer model, the lovely Peaches. She has the most amazing and tiny little bottom and is such a cutie. She shoots with us many times a year, and being that she is a little bit of a brat, I work extra hard to make sure she gets what is coming to her. She has shot many school paddling scenes with us and always leaves with her cute little bum black and blue. On her last shoot, in which I was paddling her over thin yoga pants, I decided based on her attitude during her paddling that they pants and panties needed to come down, I then repeated the entire paddling on her bare bottom.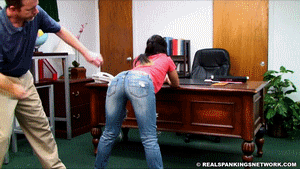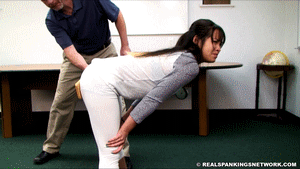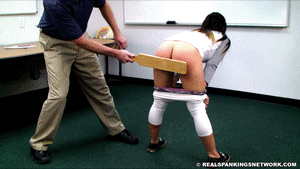 Next we have Syrena, a long time model of ours, that took a couple of years off. Now that she is back, her tolerances are back to square one and she cried during each and every paddling. If you are a fan of real tears and a bruised bottom to sore to sit the next day, the recent Syrena school paddling scenes are for you.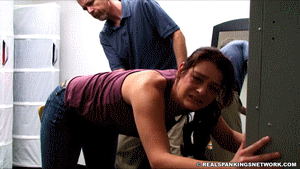 Finally we have the lovely Stevie Rose. Stevie and I have a close relationship outside of the studio, and on occasion she reports to me for off camera discipline. I know her well enough that I am always able to push her limits farther than most models and the scene chemistry is always apparent. All of her scenes are quite hard and the school paddling scenes are intense.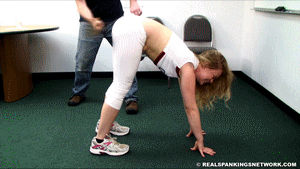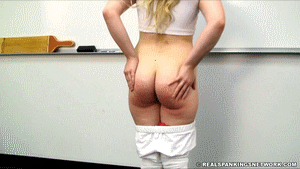 With the exception of the bare bottom paddling scene of Peaches which comes from the member's are of RealspankingsInstitute.com, the rest of these gifs are from the member's area of Realspankings.com. All current scenes are high res, at 1920x1080 and can be viewed full screen at HD quality. Each scene featured the entire paddling shot from both the face and bottom view, with a bare bottom reveal at the end. If hard and realistic school corporal punishment is your thing, and you havenlt checked us out in awhile, we are doing some of better work than ever before.
Comments: