The paddle, cane, and hairbrush
Over my years as a producer of fairly severe spanking videos I have found that there are generally a few implements that models would prefer to avoid. For those that have experienced it, hands down, the hairbrush is the most dreaded implement. The brushes we use are heavy wooden brushes; much like they made 50 years ago and they really pack a punch. The majority of our models have never experienced the brush as it takes a very special girl to be able to handle such a spanking. We only use a hairbrush on models that tend to be really into spanking, like a "thudy" implement, or are ones that like to really have their tolerances explored. But for those that have indeed been over my knee for a session with the hairbrush, it is typically not a trip they are looking to repeat anytime soon.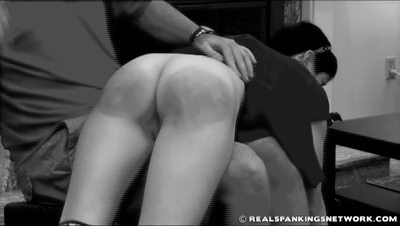 For the majority of our models, that have shot at least a dozen scenes, and have felt a wide variety of implements, they are split almost 50/50 as to the implement they hate the most, which is either the wooden school paddle or the cane. It shows that a couple of hundred years of school corporal punishment, in different parts of the world, has indeed identified what implements are most effective. On shoot days in which I allow the model some latitude as to what she would like to be spanked with, they rarely choose an implement and it is more often stated as "anything but a wooden paddle", or "anything but the cane".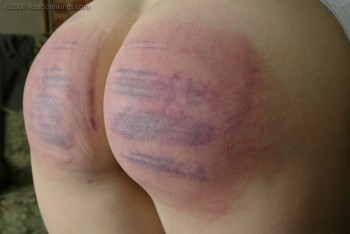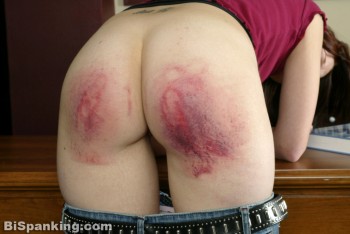 I am a little more flexible as to a model being able to decline the use of the cane, as it is a very specific implement and some of them really cannot tolerate it at all. Lila, who is a very tough model, with a very tiny bottom will do anything in her power to avoid the cane. On the one occasion that she was caned, it was one of only a very few times that she immediately burst into tears, and it was applied over her jeans. This is coming from a model who I have given one of the hardest on camera hairbrush spankings of my life, and she finished that with dry eyes.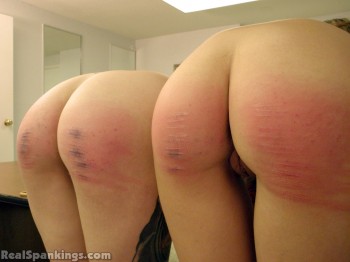 For the models that are able to tolerate a caning, they are pretty specific as to the diameter of the cane that they prefer. Most models prefer a much larger diameter cane than you would think and typically the bigger the cane the better. We have a new shipment of very large "tiger canes" some of the biggest canes I have ever used, and models who previously hated to be caned are actually warming up to them a bit. I think it is the sting vs. thud factor and for many a "thudy" cane is just easier to tolerate at the time. This is not to say that it does less damage, and when I see theirs bottoms a few days later, it is clear that a large diameter cane is a gift that keeps on giving.
Unfortunately for those models who will take anything but a heavy wooden school paddle, they really have no choice in the matter. School paddlings are the bread and butter of our sites and certainly a personal favorite of mine. We have always worked very hard to produce realistic school paddling over the years, and they are still the very highest rated videos on all of my websites. It is to their benefit that a realistic school paddling video is typically applied over jeans and panties, but with the paddles that I use and the force in which I apply them, being fully dressed does little to protect them. Yes, a paddling over clothing does sting a little less, but it does very little to stop the overall force of a proper paddle swat.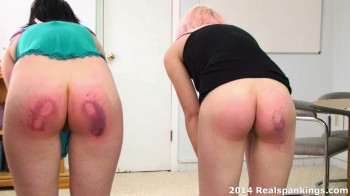 Another aspect of the paddling that they often dislike is the fact that a severe paddling, if being applied in a safe manner, is typically going to involve every swat landing in the same spot. Many of our models have tiny little butts and in order for me to stay far away from their tailbones, I have to paddle the very lowest part of their bottoms and even just a little of the tops of their thighs. Ten hard swats to the very same spot, leads to a very swollen and very bruised bottom. When we film the results of a paddling, in which they pull their pants and panties down, the spot where the paddle landed is raised up and almost flat. Just as with a proper school paddling our models go home with a bruised butt that is sore for many days. For some models this is the hardest part and for others, this is their favorite part.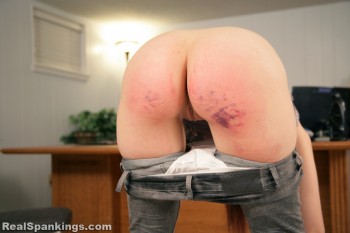 A couple of our current models have told me that they masturbate 2-3 times a day after a hard paddling and continue to do so as long as the soreness persists. Another recent trend with some of our newest and kinky girls is that they really do love the marks. There are currently 4-5 models who always ask me to take pictures of their bruised butts, with their cell phones, after every shoot. They are so proud of their bruised bottoms and the pictures are always on Fetlife just a few hours later. For the young ladies who really like the marks, while it is often hard to get through a school paddling, they like the results when all is said and done.
Comments:
I love this stuff. I grew up in the 60's and 70's when spanking was the norm. All my neighbor girls were spanked regularly and I could hear the punishment almost every day. Sometimes it would spill out into public site, my neighbor's daughter once ran into the back yard naked and her father caught up to her and whipped her with a belt until he dragged her back inside, she screamed for at least the next 5 min. as i heard the strap landing on bare ass. The next day her older sister talked to me in the back yard and joked about her and her mother seeing me watch her sister get whipped. She said with no shyness she stripped and stood there and took it without complaint or it would just be worse, she didn't know what her sister was thinking to run. She was in 11th grade, 1 year behind me, and I knew she had a crush on me. She Had a woman's full figure with at least D cup breast and the thought of her naked being whipped was very cool. Then for the next few weeks the windows were always open when the girls were whipped, I could hear everything. Finely I had to take a look, I heard the strap doing it,s work and drifted over to the window. In plain sight was the full figured older sister naked standing, bent over the dinner table, covered in wealts, balling her eyes out as her dad lectured her about her behavior. Then he went back to whipping her, very harshly, she was screaming and crying out of control. Then I caught her mother looking at me. I saw a faint smile come across her face and she looked away as if she didn't want me to know. The next day the girl was in the back yard so I spoke to her. She seemed more reserved, then she took a deep breath and asked If I liked the show last night. I paused, she said my mom told me you saw everything. I didn't know what to say. She said her mom opened the windows hoping I would see. She wants us to be together. I was dumbfounded. But not for long, I asked her if she wanted to come in, she said yes. I took her hand and lead her to my room. I closed the door and said sternly take your dress off. she did without delay. She was covered in bruises. I inspected her and said your father was very through. i only kissed her once then threw her on the bed. So began a 10 month affair of constant sex, spankings, and watching her dad whip the hell out of her. Knowing her mom set it all up
Posted by on 07/10 at 06:00 PM |
#