The lovely Raquel returns for an intense school paddling, a whoopin from dad, and nude discipline
It is always nice when a highly popular model returns for some hard hitting spanking fun. The beautiful Miss Raquel made her 1st trip to our new studio, and her third visit since she returned to shooting with us. While in the old days we used to have to go quite easy on Raquel, as she does not have much of a pain tolerance, this is no longer the case. She came in having made a very informed decision, knowing that pretty much every model leaves our studio with a bruised bottom, and today was no exception.
For her 1st scene she received a three part strapping for RealspankingsInstitute.com. It seems she is having trouble with her study habits, so the Dean decided to help motivate her. She is brought to study hall and given ten hard strokes with the tawse to make sure she is awake. She is then required to put in her study time while kneeling on a hard wooden stool. After 30 minutes of studying the Dean once again visits her, requires her to remove her skirt and shirt, and then applies another 10 hard strokes to her bottom. She is once again required to kneel and study for an additional 30 minutes. On the Dean's last trip in, she is required to strip fully naked for her final 10 strokes. For the last hour of studying, she is not allowed to sit or kneel, and instead is required to bend over, while still fully naked, and complete her studying from this position.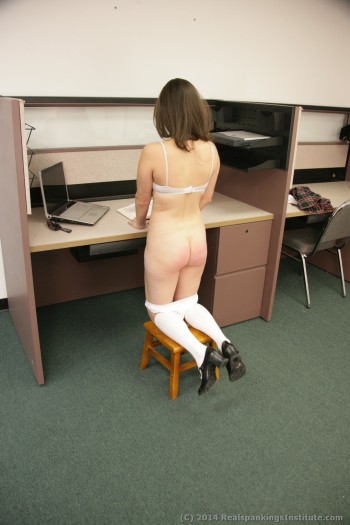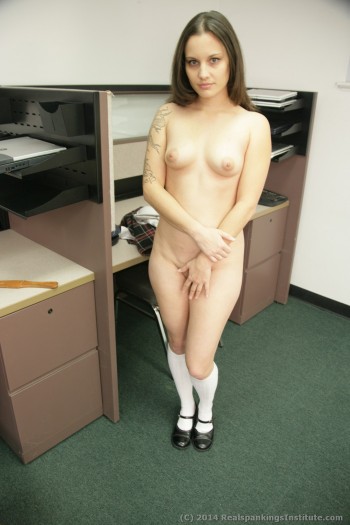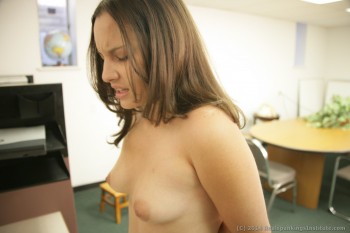 For Raquel's second scene of the day, this time for Realspankings.com, she is introduced to a good old fashioned whoopin as applied on a daily basis to the bottoms of teen girls throughout the Southern US. When she finds herself in trouble her only excuse is "I was not thinking". I decide that her not thinking is exactly the problem, so she is given plenty of time to think. She is required to stand in the middle of the living room, bend over and grab her ankles, and properly present her bottom for a long session with my belt. Instead of whoopin that bottom right away, she is left in that position for several minutes so she will indeed have "time to think". When I finally do get to strapping her pretty bottom, I demonstrate to her what a real Southern whoopin is all about. She receives 30 strokes with the belt, applied full force, and before I am done her bottom is not only on fire, but there is plenty of bruising. This is not something we used to be able to do with Raquel in the old days, and to top it all off, the scene ends with her in tears. She was a little surprised at her own emotion, but once you see the strapping she received, it will make sense. After I tear her butt up with the belt, she is once again allowed some time to think. She is required to lower her jeans and her panties, once again grab her ankles, and given several minutes to think about the actions that she engaged in that left her bottom so sore.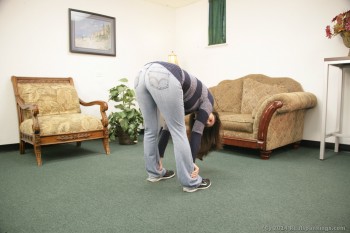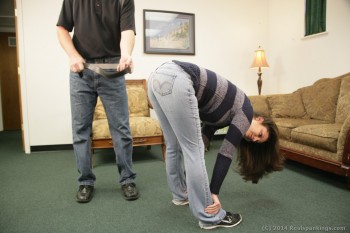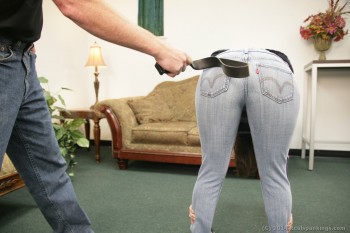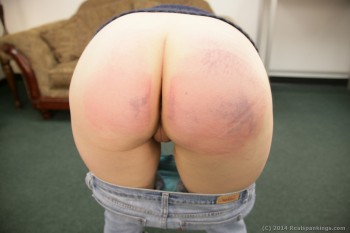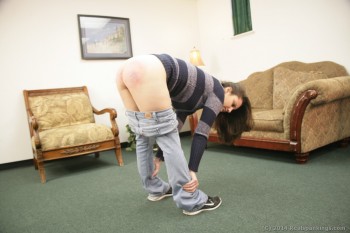 In sticking with the Southern theme, for her last scene of the day, we decide to recreate some good old fashioned school corporal punishment. This scene was based on a recent school paddling policy I read about for a high school in Texas is which for the 6th occurrence of a tardy for a single class over the course of a semester would result in "9 licks, applied 3 a day for 3 days, and 3 days of ISS". We took this punishment, but instead of applying it over three days, we did three swats, three times over the course of the same day. Miss Raquel was dressed as a typical Texas high school senior would be, with skin tight jeans and a t-shirt. For the first of her licks, I made her bend over, arms reaching out forward, with her hands on the edge of my desk. While this may be a paid model for a spanking video, I like to do my best to do the best job possible when trying to recreate school corporal punishment. I think the goal of any school paddling is indeed the girl leaving with a very sore bottom, so I do my best to make this the case in my shoots.
Using a heavy oak paddle, the same dimensions of a typical school paddle, I applied her first three licks, very hard, all to the lowest part of her bottom, each lick landing on top of the last. I find this allows me to more safely apply hard swats, while also assuring that the part of her bottom that makes contact with a chair when she sits, becomes as sore as possible. After three hard licks, with her fighting back the tears, I sent her on her way, telling her to return after she eats lunch. After a couple more classes and then lunch, she returns to my office for the second set of three licks. I can tell you she was not thrilled at the prospect of three more licks after her bottom had cooled down. It is certainly much easier to take nine swats all in a row as endorphins kick in and there tends to be some numbness after a few hard swats. With a break in between, there is nothing in her body to help her combat the pain, and by this time her bruised bottom is already quite sore.
In my quest to provide whoever I am paddling, the sorest bottom that I possibly can, I had her alter her position a little from the previous one. For these 3 licks, she is required to bend over and place her hands on her knees. This allows her bottom to be pulled just a little tighter, assuring that these swats will effect her just a little deeper. The goal of a hard school paddling should never be just to bring some sting to the naughty young lady's bottom. Yes, a stinging bottom can help teach a lesson, but long term soreness should always be the goal when using a heavy wooden paddle. For the next three licks, they were once again all placed on the same place on her bottom...nice and low where the thighs meet the bottom. This assures that the "sit spot" will become properly bruised and that the lesson is long lasting. Barely able to maintain her position for all three licks, Raquel is once again sent from my office, with an even more bruised and swollen bottom.
Unfortunately for this young lady her day is not over. She is told to return 3 hours later for the final part of her paddling. With an already very sore bottom, Raquel is not all that thrilled about the final punishment she is to receive, nine total swats was exactly what she was sentenced and what we agreed upon. To make completely sure that I achieve the overall long term soreness that is my goal, for her last three licks, she is required to grab her ankles. I have learned over my many years of doing this that when a young lady is required to grab her ankles, it really pulls her bottom tight. This pulls the padding that a young lady has on her bottom very tight and allows less protection for the muscles of her bottom. Long term learning takes place when a hard paddle swat is allowed direct contact to these muscles. This assures that her bottom will not just be red and stinging, but will be bruised and sore. A real school paddling is done in such a manner that when this young lady gets out of bed the next morning, that she will remember that she was in trouble. It will not be a punishment that she simply forgets about once it is over. If done right, which is always my goal, her punishment will continue every time she sits down for the next couple of days. In order for this to be the case for Raquel, I make sure the last three licks, while she is grabbing her ankles, really count. Her vocal reactions and the after pictures of her very bruised bottom demonstrate that I did my job well.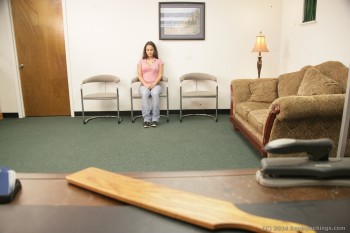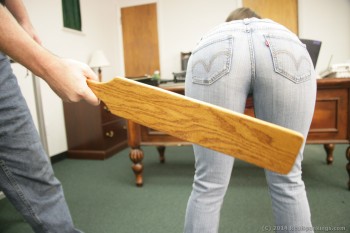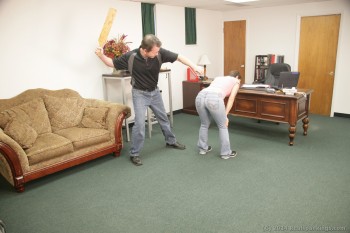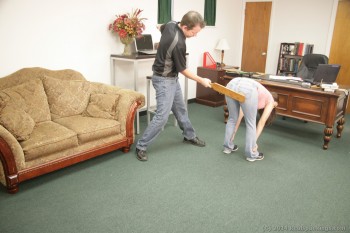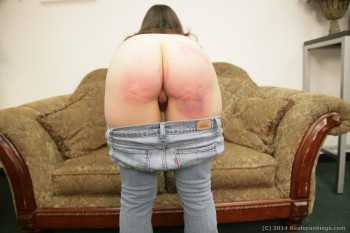 Raquel may be a paid spanking model, but I assure you over the course of today, she went through an experience that is all too common for high school aged girls in the South. I did my very best to make the experience as real as it can possibly be and there was nothing easy or gentle about it. Her bottom was torn up with my belt until there were tears in her eyes, and she was properly paddled until I was assured that she will be sitting gingerly for a few days to come. The tears and bruises do not lie as Raquel left having had the most intense corporal punishment experience of her life. This was just filmed today but will be part of future updates in the coming weeks, in full HD at, Realspankings.com and RealspankingsInstitute.com.
Comments: