Mom Spanking Daughter on Beach
Sometimes a spanking just cannot wait until you get home, especially when a young lady feels she is a little too old to get a spanking from her mom. This mom decided she had had enough and decided to take care of things right there on the beach. She found a tiny little piece of privacy, sat down on the sand, and pulled her teen daughter over her knee. Regardless of the onlookers, her bikini bottom was lowered, assuring she felt the full sting of every smack to her young bottom. A long and hard, public, bare bottom spanking was exactly what her transgressions called for. I am guessing she learned her lesson.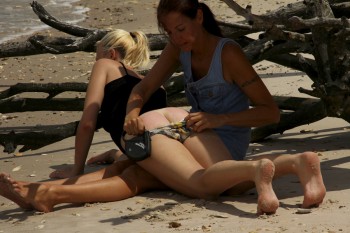 Comments:
A flip-flop spanking... Where ever did you find this image, because I would love to see more of it.
That is from the website SpankingBareButts.com
this is little Bryanna being spanked .