Belt Spanking gallery added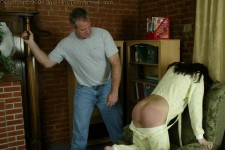 Today I added a gallery to the Free Galleries that focuses on strict corporal punishment applied liberally with a belt.
Comments:
Awesome, one of my fav. types. Thanks for the work. And I am glad to see you back. I checked back every now and then just to see. Keep up the good work.
I appreciate the new free galleriers Mike. It is just so nice to see young ladies getting spanked naked and with the belt. I hope you will add more as time and circumstance may allow.
Mary Nung
look i liike what u say about naked punishment's i mean whenever i punish my students i make them each recive their punishment in the middle of the school naked and they have to wait until everyone is done before they can leave, it embarrasses so much.
male strippers getting money from women