A severe spanking with a belt for a long term change in behavior
There are many spanking implements that are used around the world to change the attitude of those that require it. Within the US, probably the most common implement in use today is the belt. At least one exists in every household, and it is fairly common for someone to have one on their person at any given time. There are very few spanking implements that someone always has with them, which is why the belt is ideal as an implement used for punishment.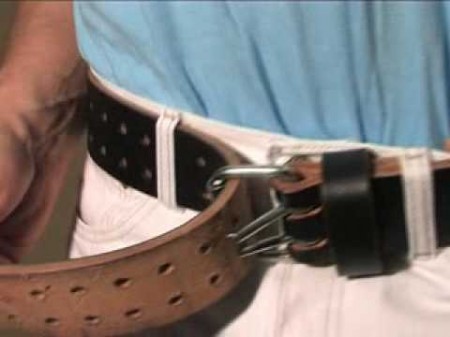 Not all belts are created equal when it comes to administering a proper spanking and a leather belt will always be the best when discipline is required. For households in which a belt is the primary implement used for spanking there is often a belt that is purchased exactly for this purpose. Whether it is a dad with older teens, or a husband that is involved in a domestic discipline agreement with his wife, this will be a belt that is rarely worn around one's waist. This will be the belt, with a perfect crease in the middle, and that is often hung in full view as a reminder to those that are subjected to the pain it is able to produce.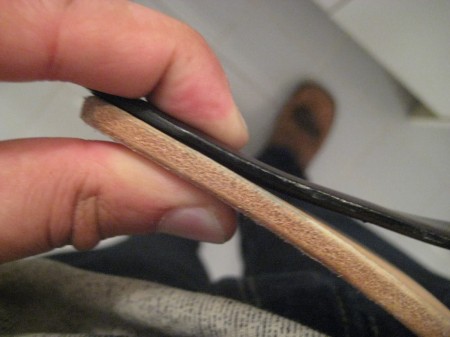 The most effective type of belt when serious discipline is required will be one that is quite thick. A thin belt only produces a sting, especially when used over clothing, and while this might seem efficient at the time, it does very little to produce long term discomfort. A punishment that is over, once the actual spanking has stopped, really does not teach a long lasting lesson. A thick and heavy leather belt is better in that it not only hurts like during the course of the punishment, but it is able to make a long lasting impression and has the potential to leave a bottom sore for days.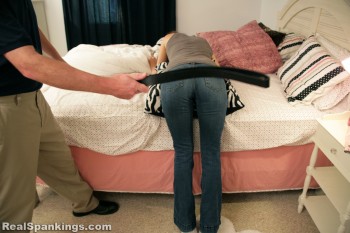 While a proper punishment strapping can be achieved over clothing, certainly it is better served on the bare bottom. A bare bottom punishment will always be more effective for many reasons. The first is obvious, and that is the simple fact that the less clothing there is, the more the belt will hurt when it hits the bottom. The primary goal of any punishment spanking is indeed to produce pain. The more pain that is produced, the less likely the chances of the undesirable behavior being repeated. If the young lady's behavior warrants it, and the situation allows for it, then a bottom should be bared whenever possible.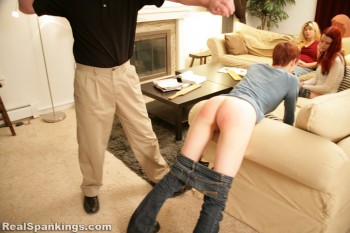 There are other benefits to a bottom being bared for a proper strapping, one of them being the submission factor. There are few instances in a woman's life when someone can command her to pull down her pants and bend over. By her doing this very thing when she is in trouble, she is fully submitting to her punishment. This allows her to take some ownership of her infraction, as no one is going to hold her down and spank her. She is a part of the process and she is presenting her bottom to be spanked with the belt. A bare bottom strapping can also add to the overall embarrassment of the punishment, especially when others are present. It is one thing to get the belt to her butt over jeans in the family room, but it is an entirely different event to have to bare her bottom regardless of those who are present. We are not talking about humiliating the naughty girl, but a little embarrassment can indeed add to the overall effectiveness of the punishment and make her think twice about future transgressions.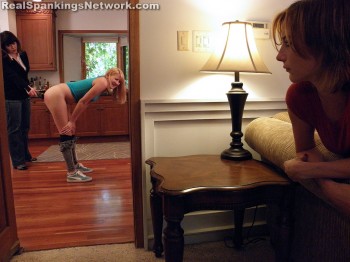 Unlike a heavy wooden paddle, a belt can be applied in just about any position. With a paddle there is always the concern of hitting the tailbone, but with a belt, leather to the tailbone is not a safety concern. My personal preference when applying discipline with a leather belt, as with just about any other implement, is for the person being punished to have to assume a position that is somewhat self-supporting, like hands on her knees or grabbing her ankles. This ties in again with the submission side of the punishment. She does not just get to lay there and try and suck it up while her ass is being blistered, she has to be an active participant. It will take effort and work on her part to maintain one of these two positions and that is exactly what I want. By holding her position, regardless of the severity of the punishment, she has to assist. It is her punishment, she has earned it, the whole thing is being done for her benefit, so it should not all just be up to me. She is going to keep her ass in the air for as long as I require, and she is not going to move too far out of position, or there will be hell to pay.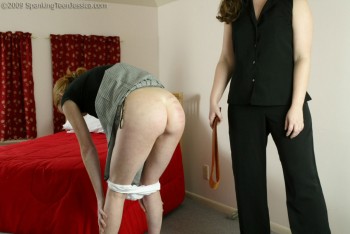 It is also quite common for a strapping with a belt to be applied with a young lady laying down flat on a bed, or with a pillow under her hips, especially when it is a parental spanking. In a domestic discipline relationship, a certain amount of submission is expected, parents might not be able to achieve the same sort of results with an older teen girl, and therefore sometimes a spanking with her lying down makes more sense. Too much struggle in that situation tends to result in the belt hitting somewhere other than her bottom, which tends to hurt more, so it is often a self-correcting problem.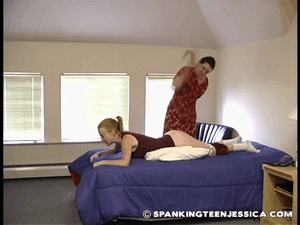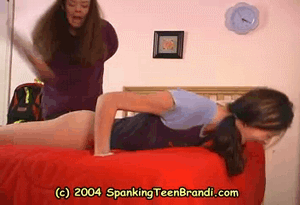 If we are looking at a severe punishment, it certainly takes a little more effort on the part of the spanker than it would with a paddle or a hairbrush. Severity can be looked at in two ways, the duration and overall pain during a spanking, and how long there is additional discomfort. If we are really dealing with a severe offense, which will often result in "the spanking of her life" than I think we are talking about at least 2-3 days of soreness. A spanking with a light belt, over jeans and panties, might result in tears, but within minutes the pain from the spanking will have almost completely left her. Her body may have even started to produce endorphins during the spanking itself, making the last half of it completely tolerable. In the grand scope of an effective spanking, this does not lead to long term learning.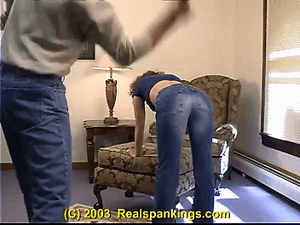 For long term learning to really take place, unfortunately for the woman being punished, it will indeed require a strapping that does indeed lead to a bruised bottom. What we are looking for is for her body to continue to send messages to the brain, telling her that her behavior was not acceptable and that punishments like this need to be avoided in the future. In the most severe cases, we are looking for every time she sits down, walks, and uses the bathroom for the next three days, that she is reminded of her behavior. We want her to sit down for dinner, on a hard wood chair, and not be able to just forget that she misbehaved. We need her to be shifting her weight, trying to find a position of comfort, and not be able to. This is how very real learning is actually achieved, especially if in a relationship with a woman who is turned on by the overall concept of spanking. She might like the idea of being in trouble, and maybe even bending over and being spanked, but a sore bottom three days later, is exactly that, a sore bottom.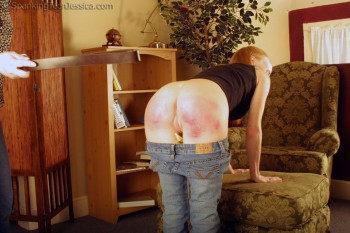 With a paddle or a hairbrush, this state of soreness can be achieved relatively quickly, as a hard swat alone can produce a bruise. With a belt, it is much more of a process and can take a good deal of time to achieve the proper results. In my personal relationships, in which I am punishing for very bad behavior, and I use a heavy wooden paddle, I am able to achieve the results I am looking for in 30 swats of less on a bare bottom. That is all it takes for full on crying, the kind that continues well after the punishment is over, as well as a bruised bottom that will stay that day for as long as a week. With a heavy leather belt, used full force on a bare bottom, 30 is nowhere close to getting the job done. It clearly depends on the woman I am punishing, but 30 is typically the number required to get the tears flowing as hard as they need to. But if I am teaching a long term lesson, tears alone are not the deciding factor as to when it is over. It will not be over until her bottom shows the results that I am looking for, the results that tell me that she will be sitting gingerly for many days to come. There have been occasions for me in the last couple of years in which it took well over 200 strokes with a belt to get the results I am looking for.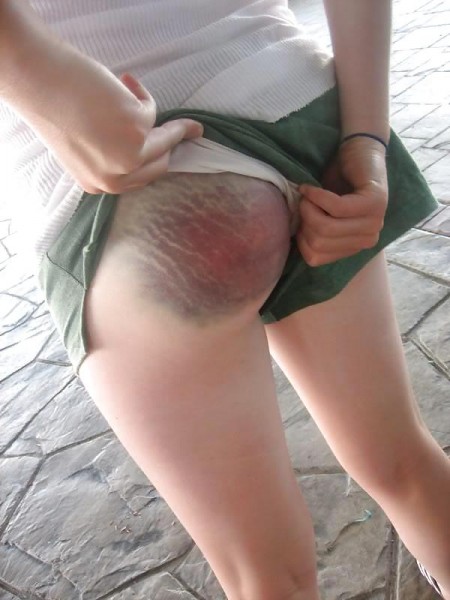 All of the pictures and animations come from very real and very severe punishment strappings from the Realspankingspass.com family of sites.
Comments:
Mike, although I've never actually met you in life, You very much remind me of one of my uncles and you remind me of the actor Billy Bob Thornton (whom I actually have met and talked with.)
There's a suggestive presence about a girl who wears a black or gray leather belt with holes throughout. I feel that way both as a Top and as a bottom. In both of my restaurants, (fine dining) we allow our cocktail servers to wear pretty much anything they like so long as it's black. Well today I had a partial day off and I went to a restaurant in Olathe KS called Twin Peaks for lunch. The girls there wear plaid tops, daisy dukes for shorts and cowboy boots or hooker boots. Plus they make a mean spicy grilled chicken Caesar salad for lunch. (Think of an upscale Hooters)
As a fellow pervert and spanko, I noticed most of the girls were wearing black belts with holes throughout the sash of the belt. I thought that was just hot as hell. I asked my bartender if she'd ever popped anyone with that belt if they didn't pay their Tab accordingly. She said "No, but there is a first time for everything." The fact that she looked me in the eye and said that with such confidence bought her an extra $50.00 tip on top of the bill. Mike I just love women like that. I call it the perfect (Fuck you Attitude) For me, sexually and emotionally, it just works regardless as to who is dominating who. It's all about personality and attitude. That's what I've actively learned in my short 41 years of life.
Nevertheless, this is a great post you have about the belt. I say that because the belt can be a very suggestive implement on many emotional levels and in many different kinds of scenes.
Give Ms. Betty a slap on the butt for me when you see her next week.
Thanks, John
Hey Mike,
One last thought before hitting the hay.
Why don't you have a plug on WSF for this very blog? You have the active ability to point out and discuss what it's like to spank 20yearold girls on a daily basis, both in private and on camera. Why not shout out such a wonderful "Sinsation" to the rest of the spanking world?
Mike you've created a great blog and a serious series of great sites over the years. Be proud, Be happy!!
Always, Razor